OSCAR INDEX: Will Groundswell Of Academy 'Amour' For Emmanuelle Riva Lead To Best Actress Upset?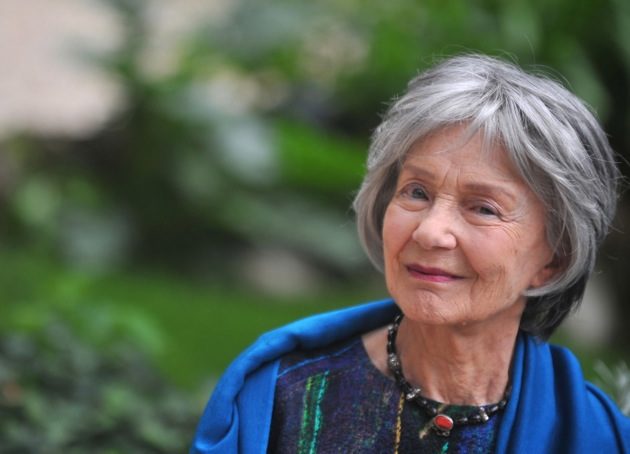 With less than two weeks before the Academy Awards, the Oscar conversation is veering from "What now?" to "What if?" Amid all the talk of frontrunners and inevitabilities, some pundits are pondering the inscrutable. What if Oscar voters suddenly ignore all that Argo mojo (which got a further boost last weekend with Best Picture and Best Director wins at the BAFTAs)? What if the Best Supporting Actress race isn't fait accompli, but instead, as Roger Ebert observed, asserts, as in years past, its independence as the category "where the voters like to throw a curve ball?" What if a BAFTA win earned Emmanuelle Riva a little Oscar Amour?
Let's check out the Gold Linings Playbook to see how the pundits are calling the races this week: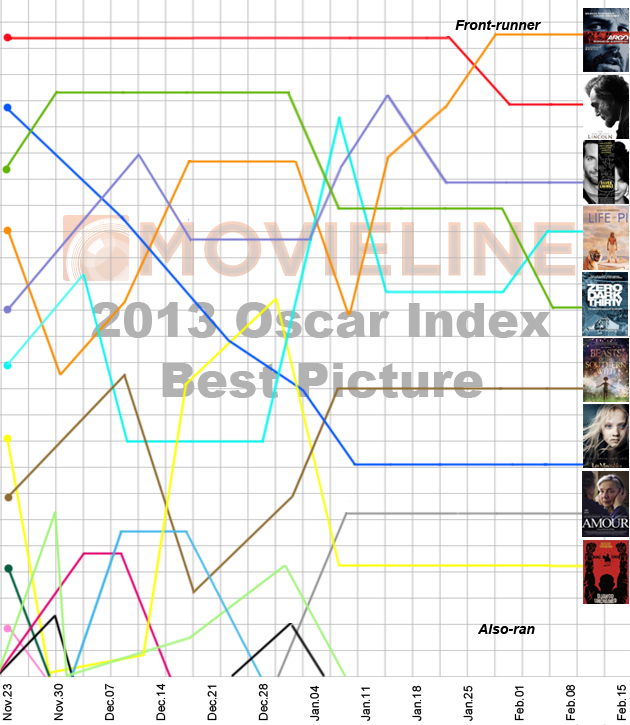 Academy Award For Best Picture
A producer, an actor and a director — that sounds like the beginning of a joke, but this anonymous trio shared their Oscar ballots with The Los Angeles Times' Glenn Whipp. The results are another indication that several of the major Oscar races are at this late date, too close to call. They also hint that Oscar voters might want to, in the words of the Director, "reward the wealth of great work."
For Best Picture, the producer chose Zero Dark Thirty, the Director Argo, and the Actor Silver Linings Playbook. The latter should please Hollywood Elsewhere's Jeffrey Wells, who this week issued a provocative call to arms against Argo to Oscar voters:
"At this stage of the game, a vote for Lincoln or Pi is effing wasted…. Why stick to your guns at this stage? To what end? So you can say to yourself "I refused to budge!...I stuck by my principles!"? That and $1.75 will get you a bus ticket (Editor's note: I checked with Metro and $1.75 won't get you on the Silver Line—insert your own Playbook pun here). If you want to make a difference you need to stand up, man up, give it up and cast your vote for the one movie that has a real chance of stealing the Best Picture Oscar away from Argo.…"
Wells' ideal choice would be Zero Dark Thirty, but he puts it in the same "can't possibly win" boat as Lincoln or Pi, and so he suggested Silver Linings Playbook for the block. This did not sit well with a good portion of commenters to his post. which Wells acknowledged the next day ("My suggestion was mocked, spat upon. But at least it was honest and constructive….").
Which brings up the role of the Oscar pundit: Is it to objectively track the ebb and flow of the Oscar race, or to act as advocate? I asked Awards Daily's Sasha Stone, one of the first of the Oscar bloggers 14 years ago. She graciously emailed back:
"Job one for an Oscar blogger is to read the race as accurately as possible…Every time an Oscar blogger pretends to know what all of the Academy are thinking God kills a kitten. Usually that information is coming from a publicist — an old trick that rarely works anymore. But sometimes it comes from someone like Anne Thompson who really works the beat, goes to the parties and screenings and talks to members. I don't think it's a foolproof way of producing reliable results but I usually take Anne's word over just about anyone else's because I know she's in the thick of it.To survive in today's (competitive) climate, you have to be a little of both: someone who can read the race and someone who advocates when necessary."
Discuss.
1. Argo
2. Lincoln
4. Life of Pi
6. Beasts of the Southern Wild
8. Amour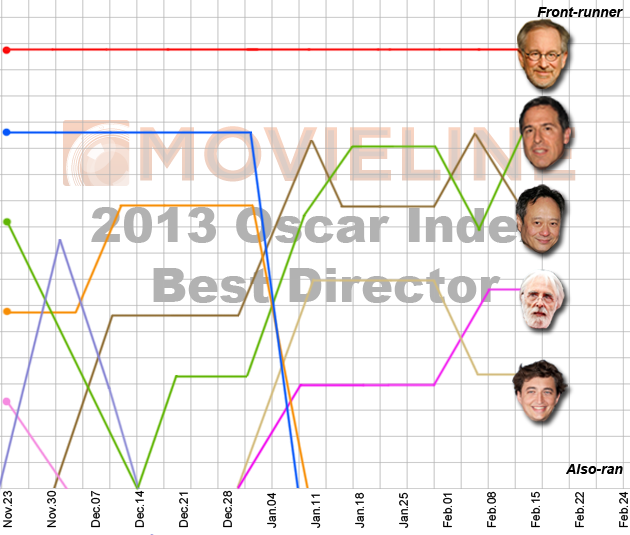 2013 Academy Awards: The Best Director Nominees
With Ben Affleck, Kathryn Bigelow and Tom Hooper not even nominated, this category seems the most elusive. "It's an exciting twist that leaves the Oscar race almost unprecedentedly free of bellwethers, as the five men in the running have won scarcely any major precursor awards between them," writes In Contention's Guy Lodge.
In the aftermath of the BAFTAs, Vanity Fair's Julie Miller offered some tips for adjusting your Oscar pool ballot.  She, too, seems stymied by this category. "The safe bet is on [Steven] Spielberg," she suggested, "for rallying Daniel Day-Lewis and screenwriter Tony Kushner and commandeering a decades-long production to make Lincoln."
Once again, the anonymous Academy voters who shared their ballots with Whipp were all over the map when it came to the Best Director race. The Director chose Benh Zeitlin for Beasts of the Southern Wild ("just floored me in the originality of his vision"), the Actor David O. Russell for Silver Linings Playbook, and the Producer Spielberg, but only because he couldn't vote for the snubbed Kathryn Bigelow (It has come to this for Lincoln: On Abe's birthday this week, the Associated Press interviewed several filmgoers who reported falling asleep during the film).
1.Steven Spielberg (Lincoln)
2 David O. Russell (Silver Linings Playbook)
3. Ang Lee (Life of Pi)
4. Michael Haneke (Amour)
5. Benh Zeitlin (Beasts of the Southern Wild)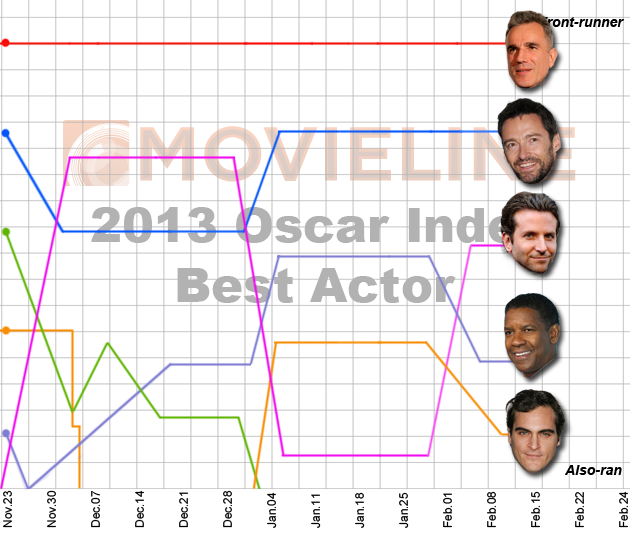 2013 Oscar Nominations For Best Actor
Another award and another awesome acceptance speech. Daniel Day-Lewis was in self-deprecating mode at the BAFTA awards poking fun at his painstaking and meticulous method and character preparation. In accepting his Best Actor award, he remarked that he had "stayed in character as myself for the last 55 years" in anticipation of winning a BAFTA." Cannot wait to hear what he will say at the Oscars.
1. Daniel Day-Lewis (Lincoln)
2. Hugh Jackman (Les Miserables)
3. Bradley Cooper (Silver Linings Playbook)
4. Denzel Washington (Flight)
5. Joaquin Phoenix (The Master)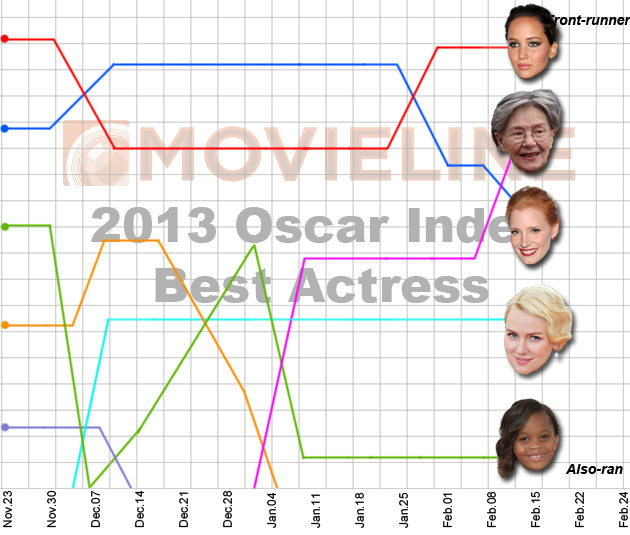 2013 Academy Award Nominations For Best Actress
Is a BAFTA upset win for 85-year-old Emmanuelle Riva really a game changer? Deadline Hollywood's Pete Hammond and The Wrap's Steve Pond think so. And there is some precedent. BAFTA-winner Marion Cotillard went on to win the Oscar without the benefit of a SAG Award.  The last two Best Actress Oscar-winners, Meryl Streep and Natalie Portman, were also BAFTA recipients. Oscar voters might also be swayed, not just by her devastating performance, but also by the fact that the actress whose screen breakthrough was in 1959's Hiroshima, Mon Amour would become the oldest Academy Award winner (she turns 86 Oscar night). When she attends the ceremony, it will be her first time in Los Angeles. Will Oscar voters be able to resist that backstory?
Meanwhile, Jennifer Lawrence and Jessica Chastain did themselves no favors by agreeing to appear on Zach Galifianakis' Funny or Die diss-com series, Between Two Ferns.  The "Oscar Buzz Edition" premiered online this week, and it was a hit and mostly miss bag. Anne Hathaway, playing drunk, Christoph Waltz, Sally Field and Amy Adams acquitted themselves nicely, though. Adams, especially, should be given at least an honorary Oscar for the gravitas she brought to the line, "Don't you ever fart on my tits again."
Me; I prefer Jiminy Glick.
1. Jennifer Lawrence (Silver Linings Playbook)
2. Emmanuelle Riva (Amour)
3. Jessica Chastain (Zero Dark Thirty)
4. Naomi Watts (The Impossible)
5. Quvenzhane Wallis (Beasts of the Southern Wild)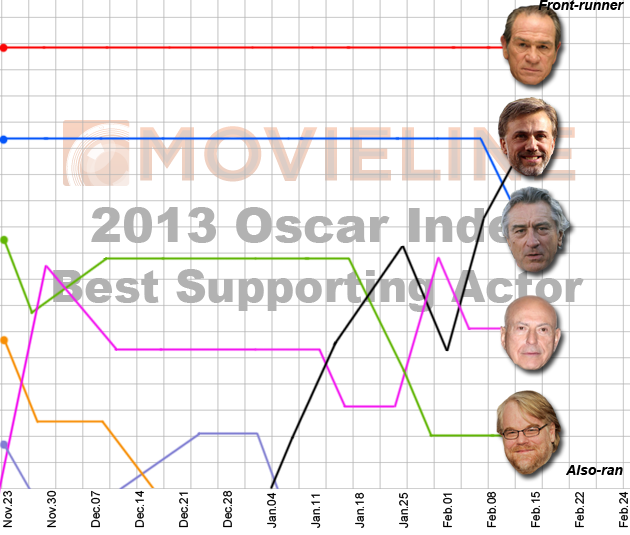 2013 Oscars: Best Supporting Actor Nominees
Here, too, something may be in the air: a groundswell for Christoph Waltz, who earned a BAFTA award last weekend and also won a Golden Globe. He hosts Saturday Night Live this weekend and the mostly male, presumably Quentin Tarantino-loving writing staff will most likely be more inspired than they were for Jennifer Lawrence. While SAG-winner Tommy Lee Jones remains the frontrunner without doing any campaigning (he's Ebert's pick in his Outguess Ebert contest), Vanity Fair's Julie Miller reminds that "the only time that Jones has triumphed in the category at a major awards show this season was at the SAG Awards, where Waltz was not nominated." Meanwhile, the Weinstein Company is going full Scorsese for Robert De Niro (whom the Producer and the Actor picked on their Oscar ballots). In addition to the ad reminding voters that DeNiro hasn't won an Oscar since Raging Bull, Glenn Whipp reports receiving a targeted ad which replays DeNiro's recent emotional appearance on Katie Couric's talk show. Over the top? That's what they said about Melissa Leo's self-produced glamor ads on behalf of The Fighter. And she still won.
1. Tommy Lee Jones (Lincoln)
2. Christoph Waltz (Django Unchained)
3. Robert De Niro (Silver Linings Playbook)
4. Alan Arkin (Argo)
5. Philip Seymour Hoffman (The Master)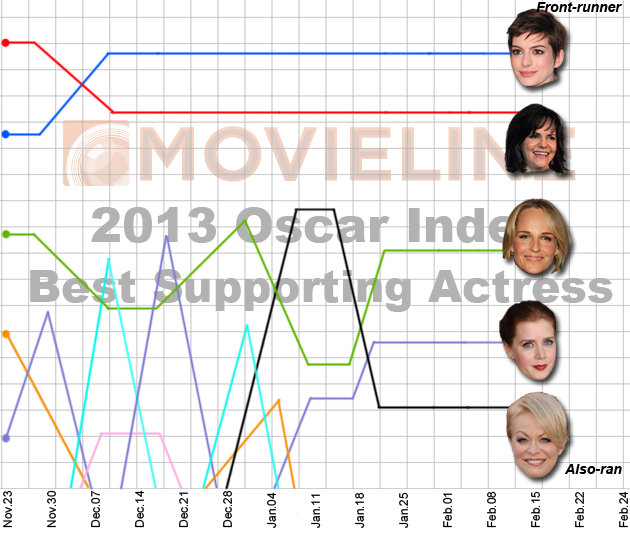 2013 Academy Award Nominees For Best Supporting Actress
The aforementioned director and producer both picked Anne Hathaway (the Actor went with "underappreciated" Jacki Weaver). She is the near-unanimous choice among 24 out of 25 of the Gold Derby pundits and the unanimous pick of the Gurus o' Gold, who include Thompson, Hammond and Pond. New York magazine's trendspotting Vulture column asked it best this week: "If Not Anne Hathaway, Then Who?" The question is moot (but this being an historically "gotcha" category, one hastens to add the qualifier, "or is it?)"
1. Anne Hathaway (Les Miserables)
2. Sally Field (Lincoln)
3. Helen Hunt (The Sessions)
4. Amy Adams (The Master)
5. Jacki Weaver (Silver Linings Playbook)
Last Week on Oscar Index:  
Follow Movieline on Twitter.