Oscar Index: Killing 'Lincoln' Is All The Rage As Academy Voting Begins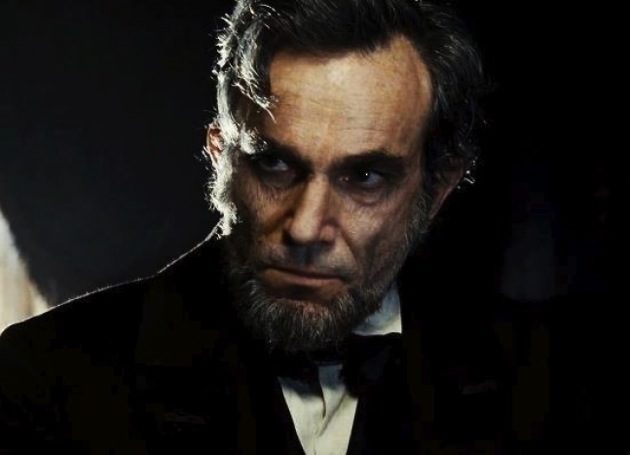 The mailing of the final Oscar ballots this week signals the final stage of what has been the most volatile and tumultuous Oscar race in years. Between the snubs and the snark (that Anne Hathaway spoof has topped 500,000 hits), this year's races rival for drama Frank Fane's ruthless pursuit of Best Actor in The Oscar. At this late date, several races are still very much up for grabs. Let's go to the Gold Linings Playbook to see how the major Oscar categories are shaping up this week.
Best Picture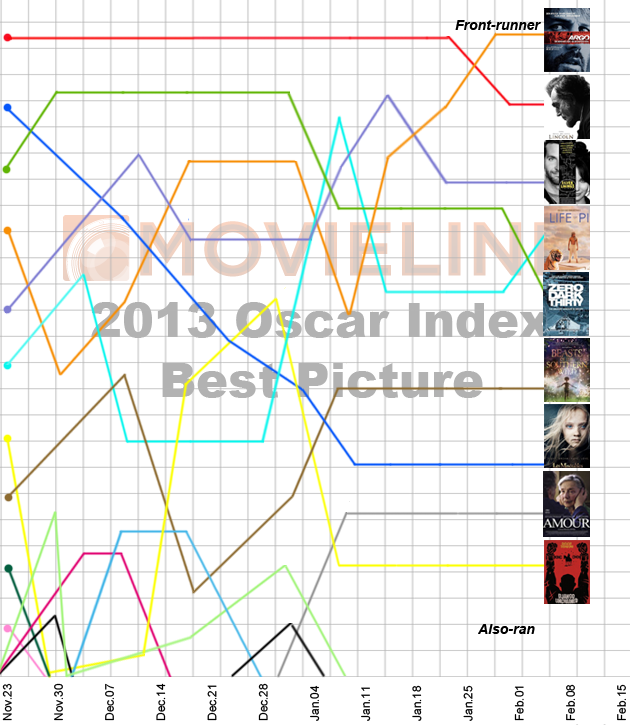 Oscar pundits, we have a problem.
In this corner, Hollywood Elsewhere's Jeff Wells,  who, reveling in Lincoln's  dwindling Best Picture prospects, called out "all the Gurus of Gold, and Gold Derby prognosticators who stuck with Lincoln all through December and especially January," before dismissing the picture (and its 12 nominations) as "a grandfather clock of a movie." And in the opposing corner we have Awards Daily's Sasha Stone and Entertainment Weekly's Thom Geier, Lincoln's staunchest defenders, railing against those who would question its Oscar cred.
Stone calls Lincoln Spielberg's "meditative masterpiece," and, rather than switch to Argo, resolves to "adhere to the stats in the face of confusion," while Geier, during a podcast with GD's Tom O'Neil, reasoned:
"I find it hard to imagine that when you're filling out a ballot with 26 categories, the only thing you're checking off is Argo for Best Picture. It's possible that it could pick up some technical awards. It might pick up adapted screenplay over Lincoln. It could get editing. But it's kind of hard for me to imagine an Argo sweep, which is what you tend to get with a Best Picture winner." (Except in the case of Crash, O'Neil countered).
The latest broadside against Lincoln came this week, from of all places, Connecticut. Congressman Joe Courtney, in an open letter to Spielberg that instantly went viral, hit the meticulously mounted film where it hurts: Its historical accuracy. In the film's climactic roll call, two of three Connecticut's representatives vote against abolishing slavery. Historical records prove otherwise and Courtney cried foul:
"In many movies, including your own E.T. and Gremlins, for example, suspending disbelief is part of the cinematic experience and is critical to enjoying the film. But in a movie based on significant real-life events—particularly a movie about a seminal moment in American history so closely associated with Doris Kearns Goodwin and her book, Team of Rivals—accuracy is paramount. I understand that artistic license will be taken and that some facts may be blurred to make a story more compelling on the big screen, but placing the State of Connecticut on the wrong side of the historic and divisive fight over slavery is a distortion of easily verifiable facts and an inaccuracy that should be acknowledged, and if possible, corrected before Lincoln is released on DVD"
And then there's Argo. Ben Affleck's triumph last weekend at the Directors Guild Awards sealed the deal on this scrappy film's frontrunner status. Those not onboard the Argo bandwagon have pointed out that in 80 years only one film--Driving Miss Daisy-won Best Picture without receiving a Best Director nomination.
But this week, a new narrative emerged: the spectre of Ron Howard's Apollo 13. Like Argo, Apollo 13 rocketed through the awards season. It won the Producers Guild Award, the Director's Guild Award (without a corresponding Best Director Oscar nomination), and an ensemble honor from the Screen Actors Guild. And then on Oscar night, it lost to Braveheart.
Glenn Whipp, in The Los Angeles Times, offered a reality check to supporters of the other eight Best Picture nominees:
"…the Argo opposition's last-gasp hope — that Oscar voters will look at all this awards-season love and somehow wearily decide that enough is enough — is patently absurd. People in Hollywood, like moviegoers in general, genuinely like this movie. And with a preferential system that rewards films that voters rank near the top of their ballot, passion counts and polarity dooms."
In other words, proclaims Huffington Post's Michael Hogan on his "For Your Consideration" blog, "Caveats here for the cliches "nobody knows anything" and "it's not over 'til it's over," but: we know something, and it's that the Best Picture race is over."
1. Argo
2. Lincoln
4. Life of Pi
6. Beasts of the Southern Wild
8. Amour
Best Director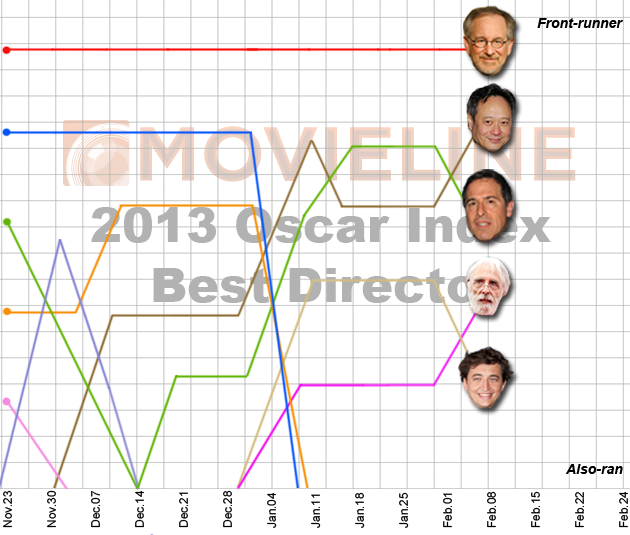 So where does that leave the Best Director race? Only six times since 1949 when it was first presented has the DGA Award not anticipated the Best Director Oscar-winner. This year's Oscar slate does not include Kathryn Bigelow, Tom Hooper, or Ben Affleck. Affleck's snub would seem to be Steven Spielberg's gain. Lincoln, its Connecticut gaffe notwithstanding, has the most Oscar nominations, three of its cast members are up for the major acting honors, and it's Spielberg.
His closest competition, according to pundits, is Life of Pi director Ang Lee. Gold Derby's Tariq Khan this week counted down five reasons why Lee could pull an upset. Some are subjective ("He really does deserve it,"  "The Academy may enjoy seeing a surprise here"), others more provocative ("He may get the most support from the tech branches").
And what of Michael Haneke, whose Amour, Stone notes, may be pulling a Polanski with a film that, that like The Pianist is catching fire at the last minute? Variety's Bob Verini this week summed up the situation succinctly: "The Oscar race is up for grabs for sure."
1.Steven Spielberg (Lincoln)
2. Ang Lee (Life of Pi)
3. David O. Russell (Silver Linings Playbook)
4. Michael Haneke (Amour)
5. Benh Zeitlin (Beasts of the Southern Wild)