'Aftershock' Red-Band Trailer: A Body Count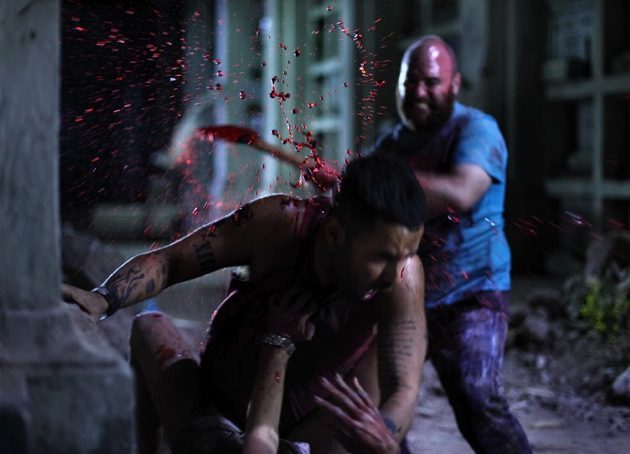 The deaths keep coming in the red-band trailer for Eli Roth's earthquake gorefest Aftershock. I count seven distinct deaths in this clip, which is just shy of two minutes, but with all the lootin' and a stabbin' going on in the background,  I'm  clearly being conservative. Roth gets to preside over his own frightfest, too. He's front and center in this video as Gringo, a sensitive-sounding guy who just wants to meet a nice girl at an underground Chilean disco. Alas, as the old Nazareth song goes, "Love Hurts." 
Here's my tally of the grisly deaths (and one amputation) that take place in the trailer. I left out the very last scene because, no matter how bad things look, it's no fait accompli.
*Death by nightclub speaker
*Death by cement pillar
*Amputation by falling shelving unit
*Death by immolation
*Death by falling concrete slab
*Death by Ax
*Decapitation by  speeding truck
Can anyone out there tell me whether that large crucifix that falls over in the movie has an actual human body nailed to it?  I've paused it a few times, and I think it's just a life-size facsimile of Jesus, but I'm not entirely sure.  That would up the body count to eight.
If The Earthquake Doesn't Kill You...
Follow Frank DiGiacomo on Twitter.
Follow Movieline on Twitter.