INTERVIEW: Sandra Bernhard Says 'It's Too Late' To Remake 'The King of Comedy'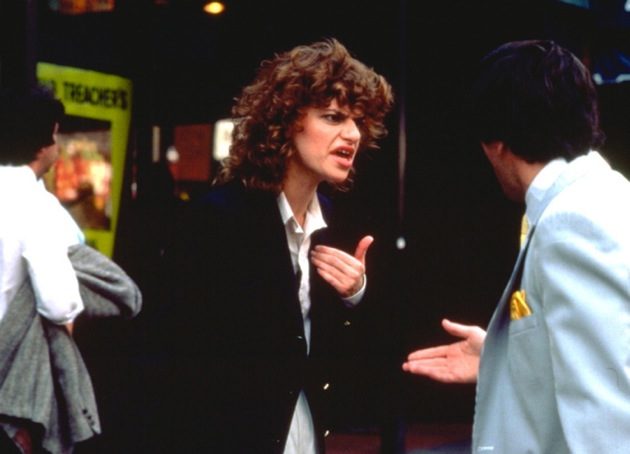 A longstanding gig will keep Sandra Bernhard from attending the Tribeca Film Festival's closing-night screening of The King of Comedy on April 27, but it's not like she needs her memory jogged. The comedienne recalls that making Martin Scorsese's prescient and oh-so-dark 1982 comedy about a deluded stand-up comic (Robert De Niro) who kidnaps his favorite talk-show host (Jerry Lewis), was a "coming-of-age experience that left me a changed person."
Talk about a breakthrough. Bernhard played Masha, an obsessed  and similarly deluded fan of Lewis' Jerry Langford character, who after helping to carry out the the kidnapping, entertained the duct-taped Langford in her bra and panties. Great comedy is often deeply unsettling, and Bernhard's portrayal of Masha is so unabashedly off the wall that she left movie audiences squirming and Jerry Lewis genuinely aghast.  It's one of the purest comic performances captured on film.
Here's a little taste:
The Monster Masha
I talked with Bernhard about her experience making the movie, her scene with three-fourths of the British punk band the Clash, and her thoughts on whether a movie as prescient as The King of Comedy could be re-made at a time when the world is full of Rupert Pupkins and Mashas.
Movieline: Let's start with all the talent you beat out for the role of Masha.  You've talked about how Debra Winger and Ellen Barkin were in the running, but Meryl Streep wanted that part as well. Any others that come to mind? 
Sandra Bernhard: I had heard that as well. So many people were up for that role, but I don't know who exactly because they obviously didn't tell me. I only knew about Ellen because I heard from her directly.  I know that the part kind of came down to me and another actress, but I don't remember who it was.  Somebody did tell me at one point but it wasn't anybody really compelling.
How has the movie's meaning for you changed over the years? 
I haven't seen the movie in a long time. How many times can you watch yourself, you know?  It's uncomfortable.  I am curious to see it again all cleaned up and restored.  The film was so representative of an era in filmmaking when people would  take their time in a scene. It wasn't a case of rush, rush, rush onto the next moment. You had room to breathe, and I think that in itself made people uncomfortable because the topic was so weird and out of left field at the time.  Now, expectations of fame and desire run so extreme that the film almost seems tame in comparison, but there's still something about The King of Comedy that's very disarming and offbeat and something you'll never see again.  And so those are the emotions I feel. It was very evocative.
I agree. One of the reasons the film is so memorable is the way the camera lingers on the discomfort that you and De Niro create in your scenes. It's very visceral and pure in a way. 
Exactly.  All of this extreme in-your-face social media doesn't really have any impact because it doesn't breathe. You don't have to stay with it. As quickly as you look at it, it's gone. This film has resonance and depth.  It's made of earth and mud and shit — stuff that sticks to you.
And yet, for a film that observes the old rules of filmmaking, it's pretty prescient when you consider the celebrity-obsessed moment we're now experiencing. 
Yes, but even though it was predicting where things were going to go, it did so in a much more human, relatable way that we've lost in the inception of all the things that The King of Comedy predicted.
Do you think this movie could be made or remade today?
No way.  At one point, Jack Black wanted to remake it, and I was like — I mean I love him, he's fabulous, don't get me wrong, but I don't think it would have worked. It's too late to remake it.  We're here and there's nothing to really predict.  It's just an ongoing conversation you have every day of the week like, "Can you believe he's famous?"  There's nothing to say about it.  We're in the middle of it.
Scorsese has said making the film was very difficult and trying because of the subject matter, and he and De Niro didn't work together again until 1989 for Goodfellas.  Was that evident when you were filming?
I don't remember it being that way, but I think Marty puts a lot of his own intellectual and emotional weight into everything he does.  He's a brooding kind of person and I think that things get under his skin and affect him.  I'm so the opposite.  I just go and do it, and then I pull out of it. I try not to stay with the feelings. Maybe it shook him up in a way that didn't affect me. When it's your film and you're making it, you've got a lot more at stake.
Do you have one particularly memorable moment of him directing you.  Did you crack Scorsese up?
I cracked him up more than once, but I think the most important thing I learned from working with him was keep to things very small.  I was used to working on stage where everything needs to be big and gesticulated and over-the-top.  Whereas, when you're making a movie, the littlest nuance and the littlest emotion are read very easily when the camera is right there in your face.  So he would always tell me, "tone it down."
Your performance is very real and that makes the movie all the more unsettling.  I remember flinching while watching the film and thinking, "This is so intense." 
It was, and in order to not, like, completely shatter the screen, there had to be a little bit of holding back.
You have a scene where you tangle with members of the Clash in the movie: Paul Simonon, Mick Jones and the late Joe Strummer. How did that happen? 
Marty was a big fan of theirs, and I think they were in town doing something and he just got them to do the scene.  We shot that in front of the Colony Records on a very, very hot day — sometime in July. It was nuts. They were just smoking and leaning against the place, you know, talking to me, and I said: "look at the street trash...."  It was crazy.
Did De Niro or Lewis give you any guidance on the set? 
Well, Jerry loves to direct.  Whereas he is not as magnanimous as the rest of them, he would still acknowledge a powerful scene or a great moment by his reaction.  He would register total fear and shock while sitting across the table from this lunatic Jewish girl. He had never seen anything like me.
In that respect, the movie also represents a real moment in comedy:  you've got Lewis, the old guard, starring opposite you, who was satirizing his brand of Vaudevillian comedy in your nightclub act. 
Absolutely. There couldn't have been two more disparate worlds than the ones Jerry Lewis and I inhabited in 1981 when we shot the picture. Jerry had never been in a movie with a lady like me. I was deconstructing self-deprecating female comedy and the kind of dusty shtick of that generation — my father's generation. I think that was another reason they liked me for the role: I brought that new avant-garde attitude to the whole thing.
Did you improvise the entire dinner scene with Lewis? 
There were parameters — points that I needed to get to throughout the scene — but Marty wanted me to bring some of the act I was doing at a time into it, and he just let me go. I was supposed to be this crazy character who was on her own in the world.  And I just tapped into who I was at the time and let it fly.
Both Masha and Rupert are incredibly self-involved characters seeking fame and attention. All these years later, it feels like a world of Mashas and Ruperts is being spawned before our eyes.  
That certainly was the most prescient part of the movie when you look at it now.  But at least they were interesting, complex characters.  Now they're just morons.  I'd do anything to see anybody as interesting as the two of us, God forbid. Look at the crap on all the different websites and the blogs.  It's like, sorry, you're not cutting the mustard.  You have nothing to add to this conversation.Can it.
Will you be in attendance on closing night? 
I can't  be there because I'm performing in Pittsburgh in association with the Andy Warhol Museum. The gig has been on the books for six months now. They wouldn't let me out of the gig so I said, at least I had more than 15 minutes of fame.
Last question.  What are you doing next?
I'm on the road doing my one-woman shows.  I'm in the middle of trying to set up this TV series for myself and another actress, but I don't want to talk about it as this stage. And I'm shooting a little independent small film in Brooklyn in the fall called Love in Brooklyn.  It's a cute film that supposed to take place in the '80s.  It has a dance vibe to it.
Follow Frank DiGiacomo on Twitter.
Follow Movieline on Twitter.