De Niro-Scorsese Comedian Rumors Beg Question: Is The King of Comedy Still Underrated?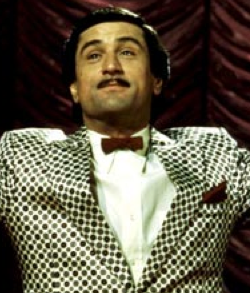 Rumor has it that Cannes jury focker Robert De Niro may work with Martin Scorsese, again, and star in The Comedian, a portrait of an insult comic written by producer Art Linson with help from Friars Club roastmaster Jeffrey Ross. Of course, De Niro and Scorsese collaborated on another comedian story, The King of Comedy, in 1982 -- and that's when I liked Jerry Lewis for a few minutes! Do you think that film still ranks among both De Niro and Scorsese's most underrated works?
What's more fun than an unhinged standup whose delusions lead him into mortifying confrontations with his idols and, eventually, some staggering success of his own? Well, plenty of things, really; the lasting greatness of The King of Comedy is that the story is so cringe-inducing, so palpably freaky and awkward, and so raw in its exploration of Rupert Pupkin's (De Niro) fame-driven insanity that it clenches you by the sides with its fingernails and doesn't lets you breathe. Worse, the insane Rupert Pupkin? Is sort of relatable. But I didn't tell you that.
Is The King of Comedy both De Niro and Scorsese's most underrated work? It was nominated for exactly zero Academy Awards, a fact that should ruin your day. Sound off below, sing the praises of Sandra Bernhard (or I'll do it for you), and try to survive this clip of Rupert Pupkin blithely invading his comedy hero's home.
· Scorsese could wind up directing De Niro again in 'The Comedian' [Showbiz411]