INTERVIEW: 'Antiviral' Director Brandon Cronenberg Discusses Fame & Father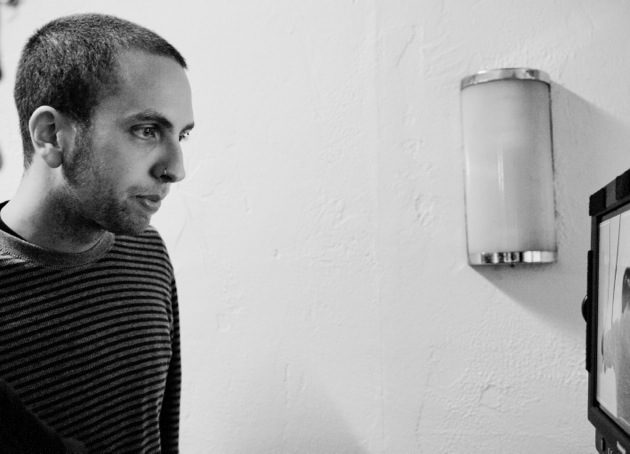 A word of advice: Don't go to see Brandon Cronenberg's unsettling Antiviral if you're getting over a cold or have recently undergone a medical procedure that involved the withdrawal of blood or a skin biopsy. The 33-year-old filmmaker's debut feature makes such effective use of hypodermic needles and flesh samples that I left the screening room on unsteady feet, feeling like I'd just donated a pint of my own plasma.  But do go see the movie.
In a world in which Jay-Z and Beyonce's trip to Cuba can hijack a news cycle that should be focused on gun control, sequestration and the false positives of our current economy, Antiviral is a squirm-inducing corrective for our obsession with celebrity that resonates long after the closing credits. The premise alone is perversely brilliant: Cronenberg has brought to life a queasy world in which preoccupation with fame has metastasized to the point where civilians pay good money to be infected with the copyrighted STDs of their favorite celebrity and to dine on pale, gristly cuts of meat grown from their tissue cells.
At the center of this story is Syd March, played by Caleb Landry Jones, a dour salesman of celebrity sickness who, behind his employer's back, is infecting himself with his company's offerings so that he can extract his own bootleg versions to sell on the black market. Phil's extracurricular dealings leave him constantly sick, but when he becomes infected with the most sought-after celebrity virus of all, things get much, much worse.
I sat down with the thoughtful, soft-spoken Cronenberg in New York on Tuesday to discuss Antiviral and his own encounters with celebrity as the son of Cosmopolis director David Cronenberg. He had some particularly interesting things to say about critics who contend that his film is too similar to his father's early work in the horror/sci-fi genre.
Movieline: One of the messages I took away from Antiviral was that the lure of celebrity is irresistible, no matter how horrific or deadly it becomes.
 Brandon Cronenberg:  The character of Syd definitely sees himself as superior to that culture and removed from it, but it has actually totally defined him and he can't escape from it. We're all products of our environment, and it's hard not to be affected by that stuff in a certain way. But I wouldn't say it's impossible to resist. I want the film to be partly an active resistance.
It does work as a corrective, especially if you are celebrity obsessed and squeamish about hypodermic needles.
I think we can change the part where we're not complicit in creating that kind of culture and supporting that industry by engaging with it in a certain way.
Antiviral also works as a metaphor for how celebrity has infected news reporting and even our government. Jay-Z and Beyonce are in the news today because of their trip to Cuba when there's so much more important stuff that should be dominating the news cycle.
In the film, no one's famous for any reason. It's purely the industry of celebrity going as far as possible — or almost as far as possible because there's still some loose connection to real human beings.  In Japan for instance, there are purely digital celebrities, and I think probably the most extreme level would be when human beings are abandoned altogether. Then it becomes an industry that fabricates digital celebrities and prints money because people are willing to do anything to feel somehow connected to these creations even if they're not real.
Celebrity dominates the news in a way that's often fairly stupid because it's not about anything really significant.  At the same time, it's what gets people's attention, and as long as those are the news stories that are getting the most hits or the biggest ratings, they will continue to get big play because news is a business.
Can you envision any kind of a turning point?  
I don't see it changing anytime soon, but it could in theory, so it's important to think about it.
I noticed that the name of your protagonist is the same as the artist and sculptor Sydney March, who was involved in the creation of Canada's National War Memorial.  Was that intentional?
What?
The name is even spelled the same.
That's one of the most interesting things I've heard all day.  I mean it's probably embarrassing that I don't know that, but that wasn't intentional. I just liked the name and probably some combination of Syd Barrett and [Cid from] the Final Fantasy video games.  I took the last name from the Saul Bellow novel The Adventures of Augie March.
You grew up with a fairly famous father. What was the take on celebrity in the Cronenberg household?  
I think there were two aspects to it.  One was that I saw people who were celebrities who had this media alter ego, or this persona that was so unrelated to who they were as human beings.  And that's definitely one of the themes in the film: celebrities as these media constructs or cultural constructs that exist purely in the public consciousness and are, in many ways, fictional and unrelated to the real human being.  The human being as an animal, as a body, becomes totally eclipsed by this idea that runs rampant. The body eventually dies and the idea lives on, for however many decades, to appear in commercials, to perform on stage — it goes on endlessly.  That sense of a runaway double that isn't related to the person was interesting to me thematically.
And then, on a personal level, I didn't experience anything too extreme because my father's a director and we're still living in Toronto. So, it's not like we were being hounded by TMZ or anything. But it still — I would go to a school and see someone I didn't know and they'd come up to me and be like, "I heard you were coming and we have a lot to discuss."  And that was pretty weird.
They behaved as if they knew you. 
Yeah, exactly.  So, I did have a taste of that weirdness that is fame by proxy or fame by association.
You've said that you immersed yourself in the tabloid world of TMZ and other celebrity media to research Antiviral. Did you, or do you find any celebrities genuinely fascinating? 
Not so much. I think there's a line between taking an interest in someone because you respect their work versus obsessing over them. I went through a period of reading a lot of Hunter S. Thompson and he especially puts his life — or his version of his life — in his work. So, through an interest in his writing, you can't help but be interested in what he's done and, [wonder] how much of his writing is his own fantasy of himself and how much of that is real. But I don't think anyone going to Cuba is that interesting. Most of it is an industry that thrives on hooking people with trivial but juicy details and playing to that gossipy society.
So who are some of your other influences? 
There are a lot of writers I like, and a lot of filmmakers and musicians. I wouldn't know how to begin listing them all, but I think [their influence] sort of comes to me subconsciously. I know some people usually have a particular influence that stands out and they emulate that person and learn from them.  But for me it's not really a conscious process.
I felt like George Lucas'  THX 1138  was an inspiration. 
Only in that I've seen that film once.  I'm not a huge THX fan and I wasn't trying to deliberately emulate that movie. Others have been talking about my "Kubrick shot" or whatever, and, again, I like Kubrick, but I'm not a huge fan.  I think it's more that those films and filmmakers have an effect on the language of cinema in general.
You told the New York Times that your father's films have actually played a smale role in your work as a filmmaker, but a substantial part of the critical discussion of Antiviral is how much the film resembles some of his early efforts.  I think you have a distinct style and vision as a filmmaker, but for those who don't, what would you say they're missing about your work? 
It's not so much what they're missing. I think there's an assumption about my intent when it comes to that discussion. The assumption is that [Antiviral] is a deliberate emulation, that I must have been watching my father's films since I was a kid and was brainwashed. It wasn't really like that. As a father he had a huge influence on me obviously – genetically and because I grew up around him and we have a very good relationship.  So, it's not weird that there are overlaps when it comes to our interests and our esthetic sensibilities.
Good point.
And then when I got into film, I just knew that if I worried about that, that would become everything, you know?  If I was just trying to avoid anything that could be associated with my father, that would be my entire career and that would define my work and that's a really shitty place to be working from. So I just decided to do whatever I felt like doing and it became this.  I can see the similarities – some of them are legitimate — but I also think some of them are very overstated because people like that narrative and they like to make that assumption.
It's an easy narrative.
Yeah, exactly. In terms of the similarities, I'd say I come to them honestly. They're honest to my own interests. For instance, some people talk about some of the hallucinatory, biomechanical stuff in Antiviral being related to his work.  And I guess it is, but that scene in the closet...
Where Syd merges with the machine that he's using to make the bootleg viruses?
Yeah.  That was based on some old drawings that I had done. I wanted to see what they would look like as a film, and I knew as I was writing it that people would make that connection [to my father]. But I thought I just had to make sure that I didn't avoid doing anything just to avoid that comparison.
Your father is not the only filmmaker who has explored those man-meets-machine themes. 
Right, and my father has done a lot of other types of movies, too. He hasn't really been making horror films for a while now.
What's the best piece of advice your father has given you about filmmaking?
I don't really have a good answer for that.  He has given me some advice but there isn't one thing that stands out.
Did you show him the film early?  Did he give you advice?
Not really – he was pretty busy during the actual making of the film.  I forget what he was doing: promoting A Dangerous Method or finishing Cosmopolis but he actually wasn't really around during production.  There's that point where you feel the film is polished enough to show to your family and friends to get as much feedback as possible, and he saw it then. I got notes from everyone, but I don't remember him having any dramatic advice.
You don't know what you're doing next at this point? 
Not really.  I mean, I am writing but it's still in the early stages.
Do you think your next picture will be in the horror-science fiction genre, or will you do something different? 
I don't really like target a particular genre in advance.  I wasn't thinking horror-sci-fi when I started Antiviral, but it developed into that.  And the next one probably will be, but I'm not specifically trying to do that. We'll see where it ends up.
More Antiviral coverage: 
Follow Frank DiGiacomo on Twitter.
Follow Movieline on Twitter.