OSCAR INDEX: J-'Argo'-naut! In Spite Of Academy Snub, Oscar Momentum Continues To Build For Ben Affleck's Picture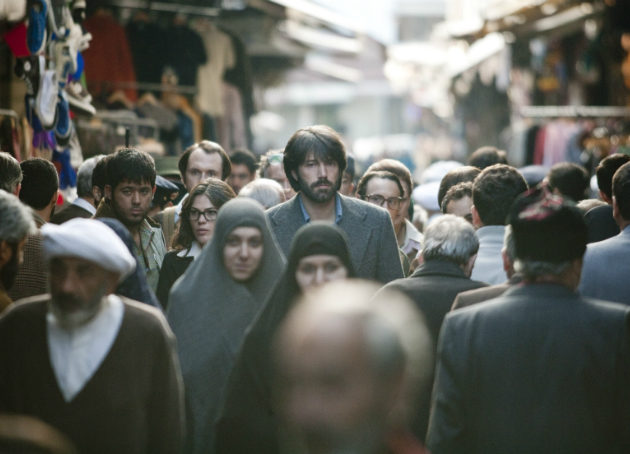 It's one month before the Academy Awards: Do you know where your Oscar buzz is?  This week has been rife with distractions from the main event, including the Sundance Film Festival and the presidential inauguration, not to mention the public spectacle of admitted liar Lance Armstrong and online hoax victim Manti Te'o. And then there's the little matter of new Academy rules that prohibit campaigning following the Oscar nominations.
Movies can be screened, but the Harvey Weinstein gravy train has come to a halt. Showbiz 411's Roger Friedman thinks it's a mistake:
"If this were the case in actual political campaigning, the correlation would be that prior to the conventions you could entertain potential voters. But between the choosing of the nominees and the election — from Labor Day til  November 7th or so — all talk of the candidates would cease."
Actually, that sounds pretty sweet. But the result in regards to the Oscars, he writes, "is that no one is talking about the Academy Awards at all."
That will change this weekend with the Producers and Screen Actors Guild Awards ceremonies on Saturday and Sunday, respectively. Throw in the Director's Guild Awards on Sat. Feb. 2, and it will be Oscar Unchained until the broadcast on Sun. Feb. 24.
And it wasn't an entirely uneventful week. Let's check the Gold Linings Playbook to see who's feeling the amour, who's miserables, and who's trying to achieve the impossible.
Best Picture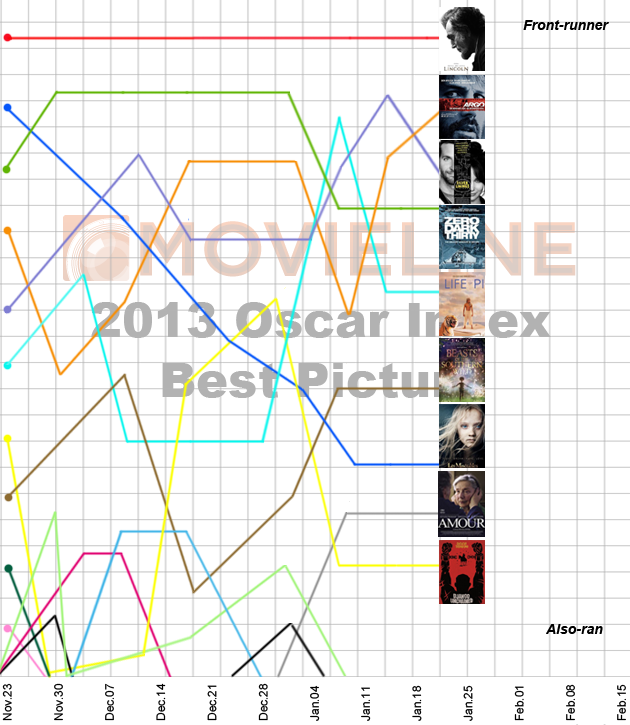 Lincoln remains the frontrunner on account of its 12 nominations. Marshall Flores, on behalf of Awards Daily, crunched the numbers and found that the film with the most nominations has won Best Picture 57 times.  But just as Zero Dark Thirty became a target for those who question its politics, its depiction of torture and the filmmakers' access to the CIA,  Steven Spielberg's biopic has amassed some detractors, too. Okay, it's mainly The New York Post and Hollywood Elsewhere's Jeff Wells, but still. Meanwhile, the Argo train is gaining steam with each passing week, further fueled by its surprise Golden Globe and Critics Choice wins in the wake of Academy's unfathomable snub of Affleck for a Best Director nomination.
The Daily Beast's Ramin Setoodeh offers, "If there's one thing the Academy loves, it's a comeback story—and a funny thing happened on the red carpet. The early precursor awards that were supposed to go to Lincoln went to Argo instead."  Plus, let's not forget that Argo portrays America, not to mention the film industry, in a heroic light.
Here's an interesting scenario posited by Gold Derby's Zack Laws:
"In every other category in which it contends, our experts are predicting another nominee to win. So you have to stop and wonder: can Argo be the first film since 1935 to win Best Picture without winning anything else? "
Silver Linings Playbook expanded nationwide to more than 2,500 theatres last week, and got an endorsement on Huffington Post from "Dr. Oz" ("The movie shows us the humanity and similarities in the lives of those who are challenged with major disorders").  Beasts of the Southern Wild, already available on DVD and Blu-ray, was also re-released in select theatres a year following its Sundance triumph.
1. Lincoln
2. Argo
3. Silver Linings Playbook
4. Zero Dark Thirty
5. Life of Pi
6. Beasts of the Southern Wild
7. Les Miserables
8. Amour
9. Django Unchained
Best Director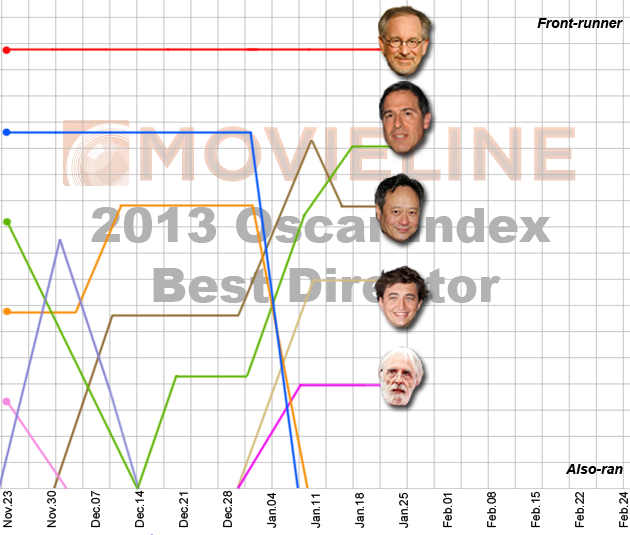 Lincoln may have a tenuous hold on its frontrunner status, but as Steven Spielberg knows all too well, there is precedent for a director taking home the Best Director Oscar without a corresponding Best Picture win. It happened to him at the 1999 ceremony when Saving Private Ryan, for which he was honored, lost to Shakespeare in Love. More recently, his fellow nominee this year, Ang Lee, won for Brokeback Mountain while Crash took Best Picture bragging rights. This year, we can't even be sure that the DGA, which is handing out its awards Feb. 2, will put this race into sharper focus. Three of its nominees are absent from the Academy's Best Director slate.
1. Steven Spielberg (Lincoln)
2. David O. Russell (Silver Linings Playbook)
3. Ang Lee (Life of Pi)
4. Benh Zeitlin (Beasts of the Southern Wild)
5. Michael Haneke (Amour)