SUNDANCE: Directors Tease 'C.O.G.,' 'I Used To Be Darker,' 'Shopping,' 'It Felt Like Love,' 'Austenland'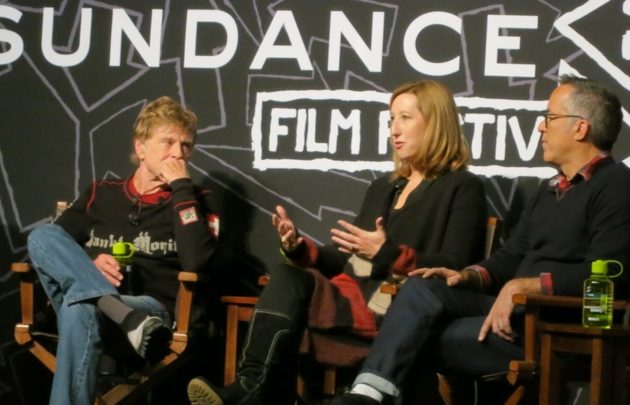 The Sundance Film Festival is passing its midpoint, but there are more world premieres of some of the films that will grace the Specialty Big Screen this year. Beginning last week Movieline posted details about this year's U.S. and World Competition films and filmmakers in their own words. In this round, Kyle Patrick Alvarez (C.O.G.), Matthew Porterfield (I Used to Be Darker), Mark Albiston and Louis Sutherland (Shopping), Eliza Hittman (It Felt Like Love) and Jerusha E. Hess (Austenland) preview their films.

[Related: WATCH: Get To Know 5 Sundance Film Festival Filmmakers (And Their Films) AND SUNDANCE: Directors Tease 'Dirty Wars,' 'Fire In The Blood,' 'God Loves Uganda,' 'A Teacher,' 'Narco Cultura']
C.O.G. by Director Kyle Patrick Alvarez [U.S. Dramatic Competition]
Synopsis:
David has it all figured out. His plan—more a Steinbeckian dream—is to spend his summer working on an apple farm in Oregon with his best friend, Jennifer. When she bails out on him, David is left to dirty his hands alone, watched over by Hobbs, the old farm owner and the first in a series of questionable mentors he encounters. First there's Curly, the friendly forklift operator with a unique hobby, and then Jon, the born-again rock hound who helps David in a time of need. This first film adaptation of David Sedaris's work tells the story of a prideful young man and what's left of him after all he believes is chipped away piece by piece.
With such beloved source material come great advantages and immense pressure. Writer/director Kyle Patrick Alvarez proves more than up to the challenge as he delivers a finely wrought story that remains true to both the author's voice and his own. Jonathan Groff perfectly embodies David and imbues him with abundant wit that masks the uncertainty that he hides. C.O.G. is a funny and poignant portrait of a lost soul searching for himself among the amusing characters in life's rich pageant. [Courtesy of Sundance Film Festival]
Responses by Kyle Patrick Alvarez
The C.O.G. quick pitch:
C.O.G. is the first film based on any of writer David Sedaris' work. It chronicles the time he spent as a young man working as an apple picker in the Hood River Valley in Oregon.
…and why it's worth seeing at Sundance and beyond:
I think that this is the first (and possibly only) time David Sedaris has allowed anyone to adapt his work before is notable enough. I also think our cast, which includes Jonathan Groff, Corey Stoll, Dennis O'Hare, Dean Stockwell, Casey Wilson, Dale Dickey and Troian Bellisario, is so strong and they're so good in the film, I can't wait for people to see their performances.
About getting permission and other challenges:
The first difficult step was getting Mr. Sedaris to agree to let me turn it into a film. After trying to reach him through more traditional means, I finally decided to just show up at one of his readings and give him a copy of my first film "Easier with Practice". Fortunately, he really enjoyed the film and we started a dialogue. I expressed my sincere intentions with the piece and broke down exactly how I planned on approaching the material. He agreed and has been incredibly giving and gracious ever since.
Financing took a long time as well. Even though people did like my first film and were intrigued and excited about the adaptation, the movie still tackles challenging themes about religion and sexuality. It has quite a dark edge to it that I don't think people will be expecting. Getting the movie made finally was a product of lowering our budget and our shooting days. It meant making production more challenging, but to have the opportunity to finally shoot the script was well worth it.
Shooting on location in Oregon was a truly great experience. We only had 18 days to shoot and encountered heavy rain and bad weather almost every day. We had to shoot up to 9 pages a day so it was always a scramble. Fortunately our crew and cast were so prepared that always met our days. We even shot right in the same areas David was actually in when he wrote the story. At one point our base camp was in the parking lot of the apple factory he had worked in (though we chose to shoot at a different factory).
And how Alvarez assembled his cast:
Mostly through the traditional process of making offers and meeting with the actors. I'm very hands on with casting, so for me it's a process of being very thorough and thinking of the actors out there I love and would be thrilled to work with. I'm still in awe that we got the cast we did in the film. I'm very proud of the work each and every one of them did.
--