SUNDANCE: Directors Tease 'C.O.G.,' 'I Used To Be Darker,' 'Shopping,' 'It Felt Like Love,' 'Austenland'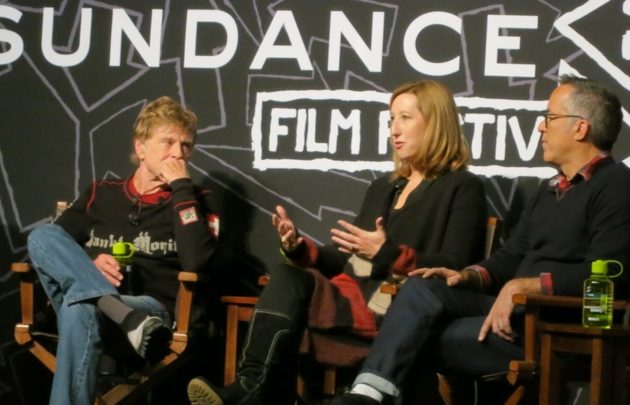 I Used To Be Darker by Director Matthew Porterfield [NEXT Section]
Synopsis:
When Taryn, a Northern Irish runaway, finds herself in trouble in Ocean City, Maryland, she seeks refuge with her aunt and uncle in Baltimore. But Kim and Bill have problems of their own: they are trying to handle the end of their marriage gracefully for the sake of their daughter, Abby, just home from her first year of college. I Used to Be Darker is a story of people finding each other and letting each other go; of looking for love where they have found it before; and, when that does not work, figuring out where they might find it next.
With his third feature, writer/director Matthew Porterfield focuses his delicate eye on this rip in a family's fabric and the emotional fallout it causes. Cinematographer Jeremy Saulnier beautifully tracks the bubbling revelations and suburban Baltimore landscape in this quiet story that is enlivened by live performance. [Courtesy of Sundance Film Festival]
Responses by Matthew Porterfield
The I Used to Be Darker quick pitch:
Taryn, A Northern Irish runaway, lands on aunt Kim's Baltimore doorstep just as Kim is leaving her husband, Bill. Bill and Kim are musicians, partners, and parents, trying to handle the end of their marriage gracefully for the sake of their daughter, Abby, just home from her first year of college. What follows is an honest story of family revelations told with empathy, buoyed by a score of songs written and performed by the principle cast.
…and why it's worth checking out at Sundance and beyond:
If I were being objective I'd say: there's a real sense of discovery in seeing a new film from a young director at a pivotal stage in his career, starring an incredible cast you've never seen before, with songs and images that stick in your head long after you've left the theatre. I Used to Be Darker is a film about how we communicate and connect to people through words and music. It's full of intimate performances that play out in duration, beautifully lensed by Jeremy Saulnier's handheld 2:35 cinematography. It features raw, risk-taking performances by actors that are new to the screen. For these reasons, and many more, I think it's a film worth experiencing collectively in a darkened theatre as soon as you possibly can.
About feeling hopeless and no money:
We were one week away from production with no money in the bank. I was feeling hopeless and trying to get stoked by listening to UGK in my car on a trip back from New York. I suddenly had the dumb idea to get the name of the film, I Used to Be Darker, tattooed on my arm as a commitment of faith. Then I had the idea that it might make a good Kickstarter video, so I had my friend record it.
Two days later we launched it on their site. The money we made from the crowd-sourcing campaign came two weeks into production and carried us through as we finalized our other equity deals. But more importantly, the tattoo carried me through an intense period of self-doubt, serving to remind me that I cared a lot about this work, and that others did, too.
There were two notable instances where I found the whole production disappearing down a rabbit hole because of some stuff we'd written in the screenplay that wasn't working for the camera. Both times, I threw out the script and we built something better and simpler with the actors in the moment. I don't think I would have had the confidence to do this if it weren't for the experience of making my second film, Putty Hill, which was entirely improvised, and taught me that directing is as much about releasing control as it is about asserting it.
And insight into the cast:
Amy Belk, my co-writer, met Kim Taylor in a previous life, when they were both teenagers at Bible college in Florida, shortly before Amy got kicked out and Kim dropped out. She shared Kim's songs with me when we started writing. Even before I met her and had her read for the role, her music and grace informed the story we were crafting. In many ways, Kim was Kim from the start.
I'd been friends with Ned Oldham for years, and knew his music well. When I showed Amy footage of Ned's bands, Old Calf and The Anomoanon, she wanted to meet him. We drove to Ned's home in Virginia. He showed us around his big yard, the trees, the garden, the creek, the music studio in the garage. By the end of the day, drinking wine at his table, he was Bill.
I met Deragh Campbell and Hannah Gross at the NY premiere of my second film, Putty Hill. They'd grown up together in Toronto and known each other since they were three days old, as their parents are good friends and actors in the same theatre group. Hannah was studying theatre at NYU and I thought she'd make a great Abby. I auditioned her and offered her the role the next day. Deragh sent me a tape soon after. I had no idea she could hit Taryn's dialect, but her mom was born in Belfast and she nailed it.
The next step was getting everybody together for a script reading in Baltimore, which we did in April, three months before principle photography. There was so much great energy at that table. Real relationships were born that weekend that we were able to build upon during the shoot. I really love the way it all came together.
About the trailer:
Trailers are tough. I think of this more as a "teaser". Our editor, Marc Vives, cut it to one of Ned Oldham's original songs, and I think he did a really good job conveying the mood of the film without revealing too much.
--