SUNDANCE: Directors Tease 'C.O.G.,' 'I Used To Be Darker,' 'Shopping,' 'It Felt Like Love,' 'Austenland'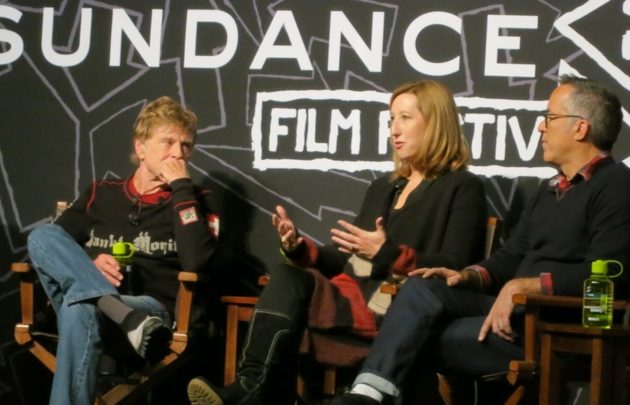 It Felt Like Love by Director Eliza Hittman [NEXT Section]
Synopsis:
Fourteen-year-old Lila is experiencing an ennui-filled Brooklyn summer. She awkwardly wears a Kabuki-esque mask of sunscreen at the beach and plays third wheel to Chiara, her more experienced friend, and Chiara's boyfriend, Patrick. Determined to have a love interest of her own, a bravado-filled Lila pursues Sammy, a tough but handsome older boy. Though Sammy doesn't respond to her overtures, he doesn't reject her either, and Lila—unable to resist spinning delusional fables of a relationship with him—manipulates herself deeper into his world. When her desperation and posturing carry her too far into unfamiliar territory, her inexperience is exposed, and she is forced to confront reality.
In this film shot from Lila's point of view and constructed with precise—sometimes startling—imagery and intimate moments, first-time feature writer/director Eliza Hittman confidently constructs a viewing experience that is completely subjective. Bolstered by a perfectly modulated lead performance from Gina Piersanti, It Felt Like Love unflinchingly reveals some of the rawest moments of girlhood in an authentic story of burgeoning identity and sexual awakening. [Courtesy of Sundance Film Festival]
Responses by Eliza Hittman
The It Felt Like Love quick pitch:

It Felt Like Love is about a fourteen year old girl who pursues an older guy she sees on Rockaway beach and her willingness to sexually degrade herself to experience intimacy.


…and why it's worth checking out at Sundance and beyond:

It's really relatable whether people want to admit it or not. It's about how far someone is willing to go to feel "loved". People never want to see themselves as being desperate, it's part of ourselves that we keep hidden. 

The casting challenges:
The biggest challenge was casting the lead role. I wanted the young actress in the main role to actually be young, with palpable vulnerability, and not someone over 18 pretending to be a kid. This legally limited some of the choices I could make and even with those limitations, it was difficult to cast. We scared away several girls early on that I was interested in.
When I approached Gina Piersanti for a callback and let her and her mother read the script, they declined. I was in total despair, because Gina was by far my favorite. I didn't know what to do and I was in dire straits as the shoot dates loomed. We were afraid we would have to push back another year, but thankfully the script lingered with Gina and her mother. Weeks later they asked for another opportunity to audition. There were lots of back and forth e-mails and questions on how things would be executed. It took a really long time to establish trust, build a relationship, and bring her on board, but eventually she decided to trust me. We also had to deal with a modest budget - we had three lights, no ACs, and used my parents' basement as a soundstage.


And more about the actors:

I used traditional and non-traditional methods. I had a casting director, Henry Russell Bergstein, who casts on Broadway and is an associate of Doug Aibel's. He set up several sessions with agent kids. I passed on all of them but one. I also attended a lot of high school plays. I saw the Crucible at LaGuardia and went to a lot of Brooklyn dance classes to find teenage girls. And I hung out in remote parks in Brooklyn, watching guys play handball, hanging out and talking to people.  I was looking for certain characteristics in each person, but I also wanted the real deal. Young adults from New York City. Really from New York City. I don't feel like I need to work with actors with training or people who are pursuing acting, I think anyone can do it if they have qualities that align with the characters.
 
--