SUNDANCE: Directors Tease 'C.O.G.,' 'I Used To Be Darker,' 'Shopping,' 'It Felt Like Love,' 'Austenland'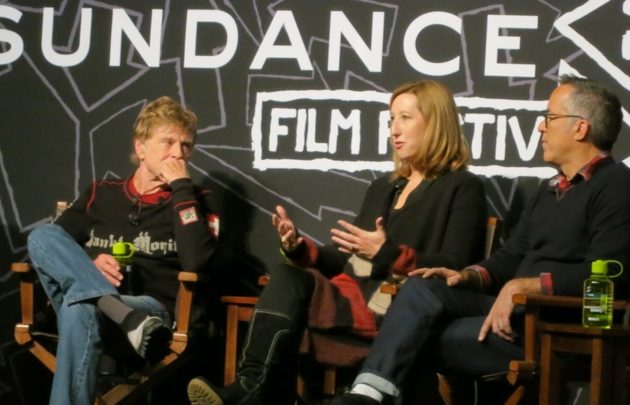 Shopping by Directors Mark Albiston and Louis Sutherland [World Dramatic Competition]
Synopsis:
Living in New Zealand in 1981 amid high racial tension, Willie, a half-Samoan teenager, is coming into his own. With an unpredictable father, Willie spends most of his time working at a department store or taking care of his little brother, Solomon. A chance encounter at work with an eccentric and charming "shopper" named Bennie lures Willie into a world without rules. As Willie begins to find a place in Bennie's reckless nest of criminals, Solomon grows increasingly vulnerable to their father's violent tendencies.
Filmmakers Louis Sutherland and Mark Albiston have masterfully conjured brilliant performances from Kevin Paulo and Julian Dennison to portray an authentic and powerful story of brotherly love in a harsh world. After awarding them the Jury Prize for International Short Filmmaking in 2010 for The Six Dollar Fifty Man, the Sundance Film Festival is happy to welcome back Sutherland and Albiston for their feature film debut. [Courtesy of Sundance Film Festival]
Responses by Mark Albiston and Louis Sutherland
The Shopping quick pitch:
Shopping is set in New Zealand, 1981. It's a film about a 16 year old called Willie who falls out with his volatile father and into the company of a 50 year old career criminal called Bennie. As Bennie's hold over Willie grows he finds himself in over his head; and when his younger brother Solomon is left to fend for himself at home, Willie's two worlds collide with shattering consequences.
…and what makes the film worth seeing at Sundance and beyond:
Louis Sutherland: Shopping has only been seen a few times by test audiences in an unfinished state (Sundance will be its world premier). We have had some incredible feedback.
Mark Albiston: The consistent feedback in our test screenings is that people leave the theatre but the film stays with them. It's is an emotional roller-coaster, funny, sad, tragic, uplifting, real. We have followed on from our shorts where we have told a story close to our hearts.
Sutherland: This story is inspired by a certain time in my Life so its come from a very real place and is inspired by characters that we grew up with. Shopping has a strong New Zealand flavor and great characters that can only come from us, but its a story that we feel will resonate with audiences where ever they live.
Challenges the third time around:
Albiston: We faced a number of challenges to make this film. After having two very successful short films Run and The Six Dollar Fifty Man which won at Sundance and Cannes, there was a lot of expectation for our first feature film. It took us a lot longer to write than we both anticipated stretching our development resources and relationships families, and I suppose some of the patience of the investors in Shopping.
Having the experience that we'd had on the shorts helped us to realize that we needed to start with a great story and good stories take time. There were a number of occasions during development when the hill seemed to turn into a mountain. The two of us were constantly reminded each other that we'd been in similar situations and challenges with our shorts and in the end it was this experience that helped us  to push through to production.
Sutherland: One of the biggest challenges on a feature film compared to a short, is its size. The duration of production seems very long compared to the length of preproduction. On our shorts we were in pre-production for 2 weeks with the cast for a one week production. With the feature film we had 2 weeks for a six week production schedule. We are firm believers in the power of preparation and the ability to play with the other creators on the film, our cast, the DOP, designer etc.  Mark and I really had to push for extra time to be spent here we ended up investing a lot of our time here but it still felt undercooked. WE WILL DEFINITELY BE REFINING OUR PROCESS FOR OUR SECOND FEATURE.  
Albiston: I guess its the way that it happens on an indie film you have to add value by investing with a lot of your own time and that was definitely the case with Shopping, but its the special sauce that makes the film unique in many ways.  The improvisations – the amazing location that took months to find, the cast that we plucked from the street.
Searching high and low for their lead:
Albiston: Louis and I cast the film ourselves. We wanted to put characters on the big screen that were inspired by our past growing up in the small beachside town called Raumati in New Zealand. Our young street cast actors are the heart beat of the film and are complimented by some great performers like Polish actor Jacek Koman who plays Bennie, a 50 year old career criminal.
Sutherland: We went to almost every school, night club and shopping mall in our region to find our young leads. Kevin Paulo who plays Willie (16yrs) was found at the local mall, Laura Petersen (16 yrs) who plays Nikki was cast at our ex college and Solomon played by Julian Dennison was cast in a massive sweep of the regions primary (elementary) schools. Willie's mother in the film was played by Maureen Fepuleai, who was also untrained. A friend recommended her to us.
Our other lead cast were chosen through local agencies and keeping an eye on local talent, two of our core cast are ex NZ Drama school students. Jacek Koman was our only well known international actor.   
--