SUNDANCE: Directors Tease 'Computer Chess,' 'Spectacular Now,' 'Emanuel And The Truth About Fishes,' 'Salma,' And 'Blackfish'
The Sundance Film Festival opens Thursday with a new crop of anticipated indies — some of which will define the cinematic year. Last year's narrative winner Beasts of the Southern Wild received a slew of Oscar nominations this year along with other titles. Which ones will emerge this year? Over the next week, Movieline will give a snapshot of the filmmakers themselves in their own words along with trailers. Here Andrew Bujalski (Computer Chess), James Ponsoldt (The Spectacular Now), Francesca Gregorini (Emanuel and the Truth About Fishes), Kim Longinotto (Salma), and Gabriela Cowperthwaite (Blackfish) preview their films.

Computer Chess by director Andrew Bujalski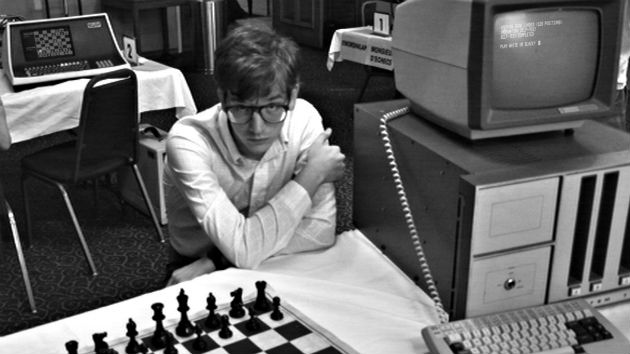 Synopsis (via Sundance):
"Is there a computer program in the house which can stand up against a human chess master?" That's the question posed by mastermind of the game Pat Henderson, head of an annual computer chess tournament. Set in 1980 in a nondescript hotel, Computer Chess follows several young geniuses as they try to make the ultimate chess program to beat a human player. As the nerdy guys sweat through various social situations (especially with the one girl there), and the convention overlaps with a group of new-age couples in therapy, things get really strange.
Computer Chess quick pitch:
Computer Chess takes place 30-some years ago at the dawn of the digital age, an era when nerds were nerds (not the well-paid guys with decent haircuts and cute girlfriends you see today), and the rest of us had no idea what was coming.
Why it's worth checking out at Sundance and beyond:
Who knows when you'll get another chance? I'm quite confident it won't be much like anything else you see this year.
How it all came together:
I'd spent the early part of 2011 trying to pull together a much more expensive project, with movie stars, etc (y'know, a "Sundance" kind of movie...) and when that hit a brick wall for that year, I determined to go make this cheaper, stranger dream project I'd been fantasizing about forever. So I called up some producer buddies and said, "Hey, wanna make a movie with me that has zero commercial potential? We don't have a dime for it, I haven't cast anyone yet, I also haven't written a script. It's a period piece, on a subject matter that I don't really know anything about. We're going to shoot it on an experimental camera rig that we'll have to design from scratch. We start shooting in, I dunno, 2 or 3 months. Whaddya say?"
Some background on the cast:
It's the greatest cast ever assembled! Some of Austin TX's hardest hustling actors alongside a whole bunch of explosive new discoveries. A lot of real-deal computer experts, as they bring knowledge and a feeling for that culture much better than I could ever instruct anyone to do. *Definitely* the greatest extras ever assembled. And the phenomenal Patrick Riester in the closest thing this broad ensemble has to a lead role — nothing would delight me more than for him to be the hot new flavor-of-the-week discovery out of Sundance, though I'm sure nothing would horrify him more.
Next: James Ponsoldt on The Spectacular Now, starring Miles Teller and Shailene Woodley
--