SUNDANCE: Directors Tease 'Computer Chess,' 'Spectacular Now,' 'Emanuel And The Truth About Fishes,' 'Salma,' And 'Blackfish'
The Spectacular Now by director James Ponsoldt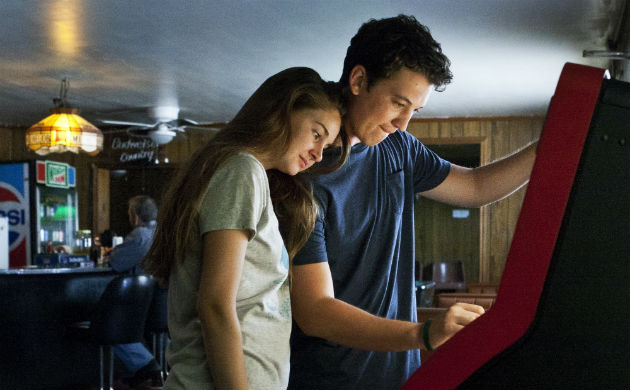 Synopsis:
Sutter Keely (Miles Teller) lives in the now. It's a good place for him. A high school senior, charming and self-possessed, he's the life of the party, loves his job at a men's clothing store, and has no plans for the future. A budding alcoholic, he's never far from his supersized, whisky-fortified thirst-master cup. But after being dumped by his girlfriend, Sutter gets drunk and wakes up on a lawn with Aimee Finicky (Shailene Woodley) hovering over him. She's different: the "nice girl" who reads science fiction and doesn't have a boyfriend. While Amy has dreams of a future, Sutter lives in the impressive delusion of a spectacular now, yet somehow, they're drawn together.
The Spectacular Now quick pitch:
The Spectacular Now is an emotional drama about a complicated romance — between two teenagers. However, the film transcends the usual pitfalls of "teen films." It's neither crass and cynical nor is it cheaply sentimental. It's big (we shot on anamorphic 35 mm) and bold and feels unbelievably honest. You'll love hanging out with the kids in our film.
Why it's worth checking out at Sundance and beyond:
Our entire cast is amazing (Brie Larson, Kyle Chandler, Mary Elizabeth Winstead, Andre Royo, Bob Odenkirk, and Jennifer Jason Leigh, among others), but our two leads — Miles Teller and Shailene Woodley — give stunning performances. They're both so vulnerable and honest. I was blown away. Seeing them on-screen will remind the audience of falling in love. And I think people at Sundance are really going to be excited by their performances.
How it all came together:
The decision to shoot on anamorphic 35mm was difficult on our budget — because it does add cost — but the results were so worth it. We have a timeless, gorgeous looking film that possesses scope and ambition. Of course we didn't have much time to shoot, but that's the story of every independent film. And then we shot in Athens, Georgia, in August, so temperatures were constantly pushing 100 degrees. On the first day of shooting we were in a convenience store parking lot all day and I got a terrible sunburn on the top of my ears. Who does that? The top of my ears?! It was pretty darn gross. After that, I bathed in sunscreen.
Some background on the cast:
It was really a team effort between our amazing casting directors — Barbara McCarthy and Angela Demo — the producers, and myself. The cast is an assembly of some of my favorite actors; they're all so compulsively watchable. Shailene Woodley was attached to the film before I was, and she's one of the reasons I wanted to direct the film. She's a brilliant, unbelievably natural actor. Shailene and Miles Teller have such incredible chemistry. Miles is one of the most charismatic actors I've ever met. And then with Brie Larson, Masam Holden, Kaitlyn Dever, and Dayo Okeniyi, we're got a lovely ensemble of young actors — who remind me of kids I grew up with. I could watch them all day long. And the adults in our cast — Jennifer Jason Leigh, Kyle Chandler, Mary Elizabeth Winstead, Andre Royo, and Bob Odenkirk — have played some of my favorite roles ever in film and television. I really love this cast. I felt so, so lucky to arrive on set every morning and know that I'd get to play make-believe with these folks.
Next: Francesca Gregorini on Emanuel and the Truth About Fishes, starring Kaya Scodelario and Jessica Biel