TALKBACK: Who Gave The Best (And Worst) Performances Of 'Les Miserables?'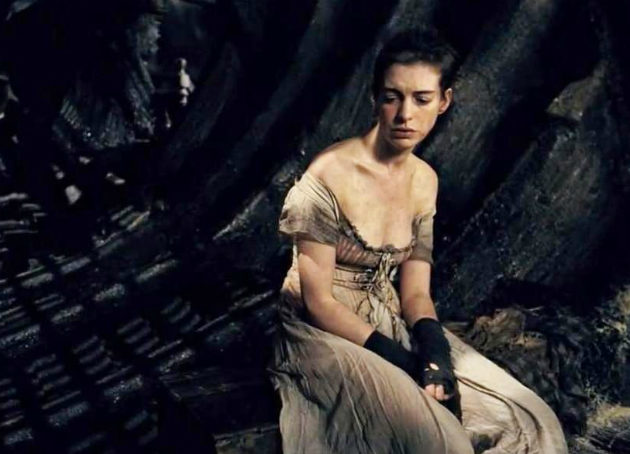 If you and the fam headed to the multiplex to watch one of the season's big new releases this week, chances are you caught Tom Hooper's epic weepie Les Miserables or Quentin Tarantino's Django Unchained. (Or maybe the in-laws dragged you to Parental Guidance, in which case, my condolences.) We'll get spoilery all over Django later, but for now let's get to hashing out the answer to the question that's been on every showtune-lover's mind for months: Which Les Miz cast member totally nailed the live-sung suffering for the big screen (and whose warblings made us les miserables)?
I'll start: Anne Hathaway? NAILED IT.
I'll admit I was tres apprehensive at first listen when the trailers featuring her tremulous Fantine cry-singing hit the web. Watching the whole film, however, it's clear Hathaway and Hugh Jackman are leading a masterclass in sing-acting for the entire Les Miserables cast, and in context the breathy imperfect perfection of Hathaway's "I Dreamed A Dream" is downright heart-wrenching.
It's been said before, but the Oscar already belongs to that hitch in her voice that hits as she's choking on tears while wailing about her miserable prostitute life with Hooper's camera all up in her face — one of the only performances in the film riveting and emotional enough to sustain those damned extended close-ups.
Runner-up for best performance in Les Miserables goes to Jackman, who wows in Jean Valjean's pre-bath scenes with a filthy, feral energy that I honestly didn't think he had in him. Pacing back and forth in the bishop's chapel during "What Have I Done?" Jackman is riveting; you can see Valjean's confused, broken mind reeling as Jackman spits and cries out in song, and Hooper's camera work actually fits the number. It's a shame, then, that the nearly three-hour running time of Les Miserables suffers from Jackman fatigue by the time Valjean's singing his umpteenth song.
On second thought, I'll give Jackman a tie for runner-up with the little kid who plays Gavroche. (His name's Daniel Huttlestone. He's 12. He started his career on the West End. What have you done with your life lately?)
Talk about making the most out of a handful of screen minutes; I'd trade a dozen of Jackman's blah Valjean scenes for more of the impish street urchin who fights on the front lines with the students. I'd watch Gavroche picking pockets, or scamming rich folk, or stealing hearts up and down the dirty streets of Paris. In fact, can we just make him the Han of Les Miz and give him his own Fast & Furious-style prequel where he goes on a Moonrise Kingdom-esque adventure that never ends?
(Also great: Samantha Barks as Eponine, the patron saint of girls harboring unrequited life-and-death crushes on boys who are too dumb to see what's in front of them, Eddie Redmayne with the Eton-trained voice, surprising everyone as the unexpected MPV of the pic, and Aaron Tveit AKA Tripp from Gossip Girl as Enjolras.)
Now for the not-so-great performances. Let's just say that Amanda Seyfried's birdlike soprano trill is totes fine, but I daresay she was wasted in the role of Cosette, AKA The Most Boring Girl In All Of France. I can take or leave Sacha Baron Cohen and Helena Bonham Carter as the Thenardiers, whose slapsticky numbers took some folks out of the abject misery of Les Mis but didn't move the needle for me in either direction.
Russell Crowe did himself no favors in my book with his mismatched 30 Odd Foot Of Grunts belting, but Hooper made it worse with those CG crane shots of Javert, wailing existential above the sewers in a dead-armed stance. I love me some Russell Crowe, but by the time he finally jumped to his death with a sigh of despair, I was rooting for it. Sweet, sweet relief.
So, Movieliners: Did you hear the Les Miserables cast sing? Who made your heartstrings ache the hardest? Who sang the sweetest through the tears? Which cast members would you let warble their most miserable miseries in your castle on a cloud?
READ MORE ABOUT LES MISERABLES:
'Les Misérables' Hits High Notes, But Also Skitters
Great Moments In 'Les Miserables' Mania: Katie Holmes Sings 'On My Own' On 'Dawson's Creek'
Early Reaction: Oscar Race Heats Up As NYC Screening Of 'Les Miserables' Prompts Cheers & Tears
Follow Jen Yamato on Twitter.
Follow Movieline on Twitter.