Great Moments In 'Les Miserables' Mania: Katie Holmes Sings 'On My Own' On 'Dawson's Creek'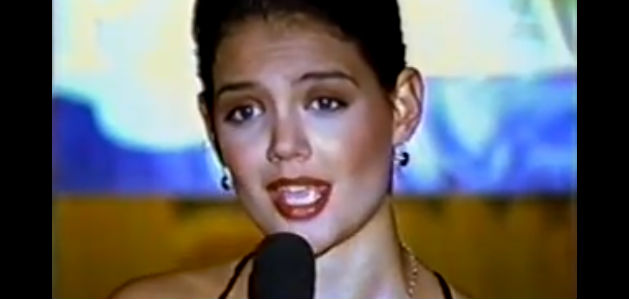 With this season's Les Misérables mania in swing, many a moviegoer has been obsessing over those familiar songs and weepy French revolutionary dramatics in anticipation of the Christmas Oscar pic. I've been thinking a lot about the classic Les Mis tune "On My Own," about one girl's unrequited love for a boy who loves another — but not as sung by Eponine about Marius and his beloved little songbird Cosette. I'm talking Joey Potter's Miss Windjammer rendition from season one of Dawson's Creek.

If you were a teenage girl growing up in the late '90s, chances are you watched the seminal WB series. And if you had any sense at all, you identified not with wannabe Spielberg Dawson Leery (James Van Der Beek), adorably feckless Pacey Witter (Joshua Jackson), or the hot-but-troubled new girl in town Jen Lindley (Michelle Williams), but with the tomboyish girl-next-door, Joey Potter (Katie Holmes).
So when Joey reluctantly entered the local Miss Windjammer beauty contest (for college tuition money!) and warbled the Les Miserables ballad "On My Own" — prompting stupid Dawson to see past Jen and notice Joey for the first time ever — you LOVED EVERY SINGLE SECOND OF IT. Joey was the Eponine of Capeside, Massachusetts, and Dawson was her Marius, and this Eponine was finally getting her man.
I'll admit with no small shred of embarrassment: I've probably seen Joey sing "On My Own" dozens of times in my life. As soon the Internet invented YouTube, I found it and watched it again. (There was that one lost evening when I fell down a k-hole of Joey-Pacey YouTube videos, but that's another story.) I'd never seen Les Miserables onstage, so Dawson's Creek marked my introduction to the soulful, wistful "On My Own" — and in the hazy euphoria of nostalgia, despite Dawson's terrible '90s mane and Joey's reedy baby voice, I still think back on it fondly.
Clearly Holmes doesn't hold a candle to a performer like Samantha Barks, the professional West End veteran who plays Eponine and absolutely slays "On My Own" in Tom Hooper's film adaptation. But the reason why both versions work — Barks as Eponine in the familiar Les Mis tradition, and Holmes as Joey singing to Capeside's finest — is that they both hit that Some Kind of Wonderful sweet spot. Les Mis the musical was written over a decade before Dawson's Creek and the John Hughes gem, and Victor Hugo's novel 130 years before, but they share the same essential DNA: The overlooked girl-next-door pining for the boy who's too blind to see, who loves him so much she'll help him woo the girl of his dreams — even if it kills her.
This is, incidentally, why Some Kind Of Wonderful is so great; Watts gets her happy ending. And a pair of diamond earrings.
Read more on Les Misérables, in theaters December 25:
Early Reaction: Oscar Race Heats Up As NYC Screening Of 'Les Miserables' Prompts Cheers & Tears
Follow Jen Yamato on Twitter.
Follow Movieline on Twitter.