Early Reaction: Oscar Race Heats Up As NYC Screening Of 'Les Miserables' Prompts Cheers & Tears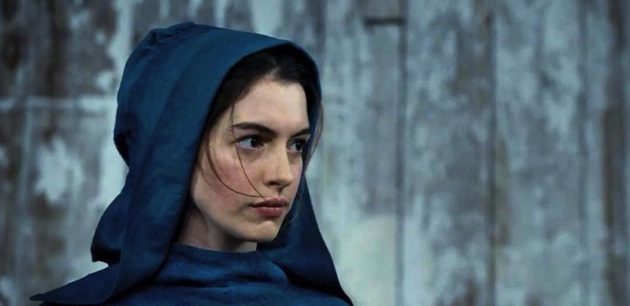 Judging from a raucously well-received  New York screening of Les Misérables on Friday afternooon, the most exciting aspect of the 2013 Oscar race will be  a contest between the precision of Steven Spielberg's Lincoln and the passion of Tom Hooper's epic musical. An enthusiastic audience that included Anne Hathaway's actress mother Kathleen Ann (she gave her daughter a big thumbs up from the crowd), applauded and sniffled its way through the two-hour-39-minute feature and a post-screening at Lincoln Center's Alice Tully Hall. 
Hooper was kidding when, during the Q&A session that also featured cast members, Amanda Seyfried, Samantha Barks,  Eddie Redmayne  and Hathaway, he told the audience that he put "a lot of gaps in the edit" to allow for applause. And yet, the picture had the audience — which seemed to be packed with Broadway aficionados — cheering at the end of each musical number, weeping during the tear-jerking final scenes and delivering a standing ovation at film's end.
Based on their applause, Hugh Jackman, who anchors the film as the ex-con Jean Valjean, and Hathaway, who plays the doomed grisette Fantine, are shoo-ins for Best Actor and Supporting Actress nominations, despite the latter actor's much-too-brief screen time. (Thank you, Jamie, for setting the record straight.)
One reason there aren't a lot of musicals on the big screen these days is that they're hard to take seriously in a world where Saturday Night Live has come to rely on half-baked musical parody as a weekly crutch — Les Miz got the treatment when Hathaway hosted two weekends ago — and Trey Parker and Matt Stone are doing both musicals and musical parody better than anyone. (The Book of Mormon is that good.)   If you're a fan of South Park, there will be a moment early on in the movie where you'll find yourself anticipating the inevitable Les Miz parody that Cartman, Stan and Kyle will enact (Cosette's tattered rag doll, which is literally a knotted rag is a guaranteed punchline), but if you suspend your disbelief for just a bit longer, Hooper and his cast will make you glad you did.
In a movie season that is largely about holding onto humanity in a cruel world, Les Misérables fits the bill beautifully. Both Jackman and Hathaway give raw, heartfelt performances, helped by Hooper's decision to have his actors sing live instead of lip-sync to a pre-recorded soundtack.
During the Q&A, Hooper said that Jackman was not only his first hire for the movie but that the actor's "existence is central to this film."   I get what he means. Jackman gives his all in this movie, and his performance is a tour de force of passion in the same way that Daniel Day-Lewis' portrayal of Abraham Lincoln is a triumph of precision. At this point, the Best Actor race is all about them.
If Hathaway's role didn't require her to die a third of the way into the picture, she could easily have been a contender in the the Best Actress category where the front-runners right now are Marion Cotillard, who's brilliant  (and, in keeping with the Academy's love of physical adversity, legless)  in Rust and Bone, and Jennifer Lawrence, whose mouthy earthiness in David O. Russell's Silver Linings Playbook will resonate with Oscar voters.
Hooper told the crowd that he cast Russell Crowe in the role of Inspector Javert because there aren't many actors who could "get the better of Wolverine" and "Russell Crowe is at the top" of that short list.  Despite that rationale, Crowe is the weak link of the movie. It's not that he can't sing. Indeed, he becomes more engaging as the movie progresses, but his performance is not in sync with the rest of the cast. Crowe's voice reminded me of  Station to Station-era David Bowie, and, in some ways, so did his cool portrayal of Javert, which was at odds with the fervent performances that Jackman, Hathaway and and the rest of the cast deliver. If I'm going to choose a Best Supporting Actor candidate from this picture, it's Redmayne, who portrays Marius. When he mourned the deaths of his fellow revolutionaries by singing "Empty Chairs at Empty Tables," in the final scenes of the movie,  people were weeping on either side of me.
Other aspects of Les Misérables  not so convincing either. Sacha Baron Cohen and Helena Bonham Carter are very entertaining as the corrupt husband-and-wife innkeepers, the Thénardiers, but the broad comedy of their scemes feels at odds with the emotional intensity of the rest of the story.  And  Young Daniel Huttlestone, who plays the urchin revolutionary Gavroche, is memorable in his debut role, but his Cockney-Shirley-Temple dialect is illustrative of Hooper's decision to freight a movie about a French revolution with British accents. The script may be peppered with the word "Monsieur," but the performances will remind you more of Dickens than Hugo — particularly Oliver!,  Carol Reed's adaptation of the Broadway musical of Oliver Twist.
On that last count, Hooper is confident enough as a director that I suspect this is not accidental.  Oliver! was nominated for 11 Oscars in 1969 and won six, including Best Picture and Best Director. Les Misérables is poised to do the same.
Follow Frank DiGiacomo on Twitter. 
Follow Movieline on Twitter.