Hugh Jackman And Psy Dance Gangnam Style On The 'Wolverine' Set (VIDEO)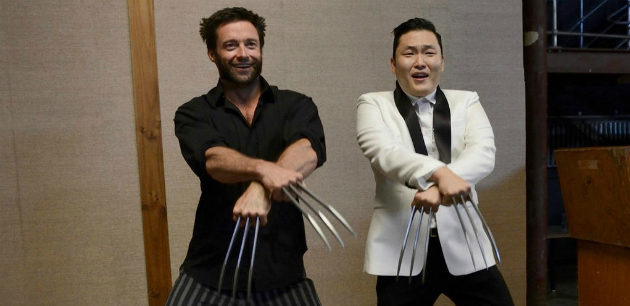 The Korean pop sensation that's taken over the world has found its way to the set of Wolverine, where the tuxedoed Psy stopped by to teach star Hugh Jackman — wearing Wolverine's adamantium claws — how to dance Gangnam Style. And I thought the Filipino prison dancers marked the jumping of the shark!

Putting years of Broadway dance training to use, the enthusiastic Jackman seems to have picked up Psy's signature pony move pretty quickly, which is impressive if you've watched every celebrity this side of Ellen Degeneres attempt the dance craze of the year.
They even gave Psy his own Wolverine claws. Okay, that's pretty cool.
It's even better if you imagine this as the character Wolverine meeting Psy and indulging in a lighthearted moment of cross-cultural glee before an epic battle to the death. Because Psy is clearly some sort of mutant being whose power is the ability to entrance strangers with his syncopated gyrations and that damnedly irresistible ditty.
Slicing gangnam style!!!! Great to meet @psy_oppa who visited set yesterday. twitter.com/RealHughJackma…

— Hugh Jackman (@RealHughJackman) October 16, 2012
Oh, how Wolverine laughs! Is it too late to turn Wolverine into a K-pop musical?
[via @psy_oppa]