'SNL' Parody Of Brad Pitt Chanel Ad Does 'Nothing' For 'Subway Doctor' Zizmor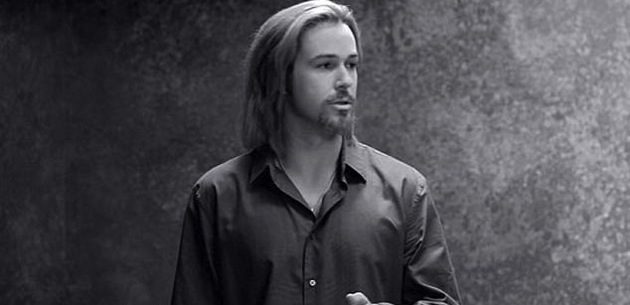 As the media debates whether Brad Pitt's nonsensical Chanel No. 5 ad is bad for the international fashion brand, it's a good time check in with New York City dermatologist Dr. Jonathan Zizmor.  The skin specialist, who has achieved cult status in the Big Apple because he markets his work as vigorously as Chanel does its clothing and bags mdash: albeit mostly on subway trains — got a national shout-out in the fourth parody ad that Saturday Night Live aired over the weekend, and he tells me it's done absolutely nothing for business.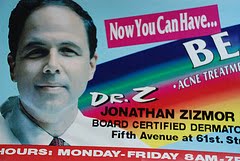 In the parody, which I've embedded below,  SNL cast member Taram Killam refers to Zizmor (left) as "the subway doctor" who can remove embarrassing tattoos, such as "an anchor that says 'slut.'" Given that Zizmor got a free shot of publicity in the fake-ad series, which was a hot topic on morning TV and radio shows as well as the blogosphere on Monday,  I thought I'd call him to see if he was reaping any benefits from the whirlwind.
"Zero," said Dr. Zizmor, who's based in Manhattan and told me that I was the first person to call him. He had not seen the SNL clip, and may stil have not seen it. After I emailed him a Hulu link ,  Zizmor called back to say that he was unable to watch the clip because he didn't have Adobe Flash installed on his computer.
Fortunately, one of his staffers had watched it and recounted it to him. Regarding the parody itself, Zizmor said, "I have no comment positive or negative about it," but when we did ask him if the SNL name-check has spurred any business or even curious calls,  Zizmore said, "Nothing," adding "That's why I'm not even excited. It's amazing that it does nothing."    Maybe Dr. Z isn't all atwitter over this, but I still think it's funny and it only reinforces my feeling that Killam is one of the long-running sketch show's most valuable players.
I also called Chanel USA to ask if the fashion giant had issued any reaction on behalf of the media debate over the $7-million commercial, which features Pitt as the feminine fragrance's first male spokesman.  The company had no comment, but I can't imagine how this could be bad for the brand.  Until Pitt made headlines last week, the male most associated with the Chanel brand was Karl Lagerfeld, who, despite his iconic status as a fashon over-achiever, looks a bit like a platinum-haired comic-book vampire.  Yes, Pitt played undead, too, in Interview With The Vampire, but he did not look like he was a few dozen feedings short of a full stomach.
Update:  Our friend Matt Singer sent us this YouTube video of a Dr. Zizmor ad. Thanks, Matt!  This is not a parody, by the way.
Follow Frank DiGiacomo on Twitter.
Follow Movieline on Twitter.