Justin Bieber in Book Of Mormon Movie? (And What Scientology Can Learn From Mitt Romney's Religion)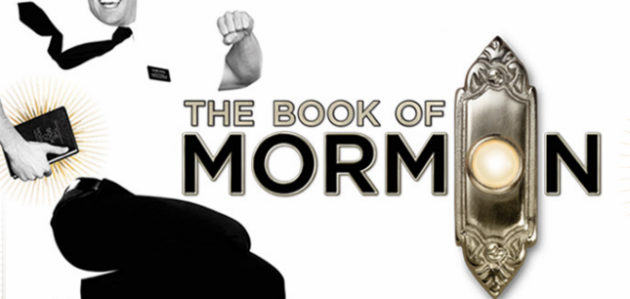 Last week at the Pantages Theater in Hollywood, South Park creators Trey Parker and Matt Stone debuted their Broadway hit The Book of Mormon in L.A. previews and, following an enthusiastic opening, spoke about the catchy Mormonism-skewering play, future plans to adapt it into their third film musical. Parker even — half-seriously, I think — suggested who might be the perfect young actor to play the good-looking, All-American missionary hero who finds his dream of Latter Day stardom dashed when assigned to a remote African outpost with a schlubby, geeky partner. "Justin Bieber as Elder Price!" exclaimed Parker.

Parker and Stone's fearless sense of humor permeates Book of Mormon, an energetic satire of the Mormon faith and practices including the tradition of sending young, clean-cut, and homogenized missionaries out into the world to spread the gospel and recruit new members, one doorbell at a time.
Like South Park and Parker and Stone's previous movie projects — Orgazmo and Team America: World Police, for instance — Book of Mormon turns a hilariously caustic eye toward the relentlessly chipper Mormon missionaries and the cultural chasm that exists between them and the third-world inhabitants they seek to convert.
Elder Price (Gavin Creel) is the all-star missionary who dreams of being assigned to his happy place (Orlando, Florida) but finds himself — and, eventually, finds himself — in Uganda, where folks are more concerned with war, AIDS, and female genital mutilation than learning about the origins of the Mormon faith. His partner, Elder Cunningham (Jared Gertner), is a compulsive liar who seizes his chance to be hero by enticing local villagers with his own version of the gospel — the one where Darth Vader and Lt. Uhura and a few unfortunate frogs play prominent roles.
The story unfolds at a breakneck pace as Parker and Stone force their misguided heroes through to their soul-searching reckoning, skewering religion, cultural tourism, Joseph Kony (represented by a murderous warlord named General Butt Fucking Naked) and Disney's The Lion King along the way. The stage presentation is visually dynamic throughout, changing gears from Salt Lake City, Utah to rural Uganda without skipping a beat; choreography and musical numbers by co-writer/composer Robert Lopez (Avenue Q) are remarkably tight and fresh. It's no wonder Book of Mormon swept the Tonys last year.
It's not difficult to imagine a film version of the musical. But while Parker and Stone are still, constantly, tweaking the L.A. national tour production, not to mention working on their long-running TV series ("We don't even know what we're doing for South Park in three weeks") and not close to focusing on a movie adaptation, they have something of a cinematic vision for Book of Mormon: The Movie.
"We want to do a movie of it someday but, right now, we're just trying to get our head around this version," said Stone. "We wouldn't want to just do this on film," added Parker, who was quick to dismiss the notion of letting anyone else direct a big screen version in their stead. "We'd have to really rethink it. But I think we could redo it."
As for stars, they'd want more age-appropriate cast members to bring the film to life. "A young cast would be cool," Stone mused. "Younger than the cast we have on stage because you'd be much closer. But nobody really [is in mind yet]. Except for Justin Bieber, of course."
Like Paul Thomas Anderson's new film The Master, which reportedly had the Church of Scientology up in arms, Book of Mormon sets itself up for scrutiny by the Church of Latter-Day Saints — but despite the play's pointed critiques, many Mormons have embraced the phenomenon. Stone credits it to the conscious choice he and Parker made to avoid polygamy humor — easy jokes that are played out, he argues. "[They're] so sick of that lazy joke," he surmised. "It's definitely part of their history and it's not like it's not there, but it just doesn't apply to mainstream Mormons anymore."
In a surprisingly savvy move, a few good-humored Mormon organizations even took out ads in the Book of Mormon playbill. "We're the only ones who aren't surprised," said Parker. "We were the only ones who were like, 'They're going to be totally cool with it. Just watch. That's the way Mormons are.' They've just proven themselves. They've put a nice little period at the end of the whole musical. No matter what they do, they will out-nice us guaranteed."
"There are three pages of it. One of them says, 'You've seen the play, now read the book,' and I think that's awesome. But then one says, 'The book is better. And I just disagree. Definitely Act Two of ours is much, much better."
Meanwhile, with the presidential election looming, the show is in the unique position of bringing the Mormon Church into the theater and arts conversation. Candidate Mitt Romney has been invited to see the show, but the pair say he's been too busy. "If he gets elected, it's because of us," quipped Stone. "If he doesn't get elected, it's because of us."
Find more info on The Book of Mormon here.
Follow Jen Yamato on Twitter.
Follow Movieline on Twitter.