Following Reported Scientology Calls, Weinstein Co. Increases Security For The Master Premiere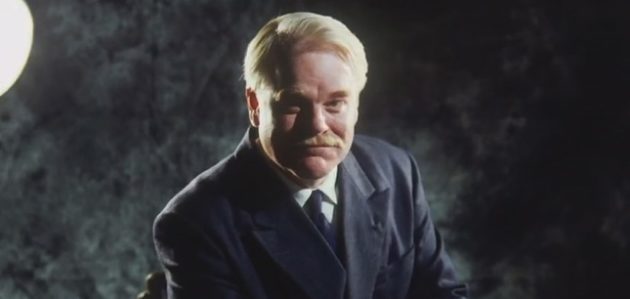 Do Paul Thomas Anderson and The Weinstein Co. need to worry about the Church of Scientology? Following the New York Post's report of "strange calls" and mounting opposition among members of the organization to pseudo-Scientology pic/festival darling The Master, TWC confirmed to Movieline that the studio has increased security for tonight's premiere at New York's Ziegfield Theatre.

The Master, which opens in limited release on Friday, stars Philip Seymour Hoffman as a charismatic spiritual leader, a la Scientology founder L. Ron Hubbard, who launches a religious organization in the 1950s while his right hand man, a former soldier/drifter (Joaquin Phoenix), begins to question everything.
The film's ties to Scientology have been a focal point of the buzz around the film since even before Anderson shot it, but in interviews Anderson and Hoffman have downplayed suggestions that the film is a direct depiction of the church and its leader.
Still, it's not surprising that The Post claims efforts from within the organization are underway to battle The Master's marketing campaign ahead of its September 14 release. Before getting an official title, The Master was pretty much known as "Paul Thomas Anderson's Untitled Religious/Scientology Drama," so the Scientology camp must have been preparing for its release for a long while.
What makes the clash of interests more curious is the claim by a Post source that "strange calls" thought to be from Scientology members have been streaming into the distributor to the point that "some on the film's team have hired extra security." A studio source tells Movieline that security for tonight's premiere has been beefed up as a result, though the nature of said calls and the Weinstein Co.'s exact security concerns are unknown.
It should be interesting to see how the image-conscious Church of Scientology reacts to the film and its contents, and to what extent they might feel it necessary to combat The Master's huge (and only getting huger by the day) buzz in the name of defending their own image. (Guess they can't count on Sci-celeb Tom Cruise to be their public delegate, even if pal Anderson has screened the film for him.)
The Master's profile has been steadily ascending with cinephiles swooning in surprise screenings around the country and its recent Venice Film Festival wins, not to mention the added profile boost of having awards guru Harvey Weinstein (who has his own personal crazies to deal with) on its side. This is all shaping up to be a strange case of religion butting heads with the Oscars as awards season gets an early start. And while Scientology certainly has an weird, omnipresent, boogeyman-esque mystique in this town, I'd put my money on Weinstein emerging victorious.
Read more on The Master.
[NYP]