The Master Rules In Chicago: 70 mm Screening Of Anderson Film Recalls Welles' The Lady From Shanghai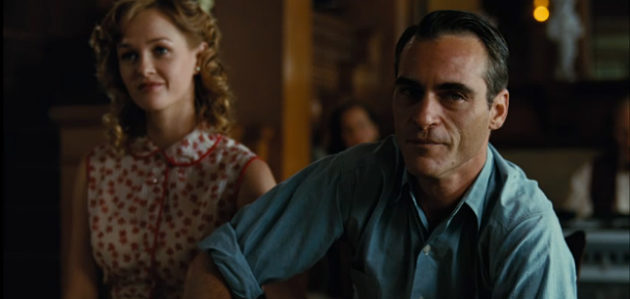 Thanks to the cajoling of a local critic, Chicago cinephiles got an advance look at Paul Thomas Anderson's The Master on Thursday night at a special 70 mm screening of the highly anticipated feature.
The sold-out benefit screening took place at Chicago's Art Deco landmark, the Music Box Theatre, which is the only movie house in the Windy City capable of projecting 70 mm film stock.
Anderson was present at the Music Box, although he did not introduce the film and was not available for comment afterward. The advance screening, which doubled as a benefit for Martin Scorsese's Film Foundation (which is dedicated to film preservation), followed a much-talked about  surprise showing of the picture at Santa Monica's Aero Theatre on Aug. 3.  (The film will make the festival rounds in Venice and Toronto.)
Anderson and his superb cinematographer Mihai Malaimare Jr. shot most of The Master in 65mm, marking it the first fictional film project since Kenneth Branagh's 1996 four-hour adaptation of Hamlet to utilize the wide-gauge format. The advent of digital projection has rendered the costly and time consuming format largely obsolete and only a handful of theaters around the country have the proper technological specifications to project such films.
The Music Box is one of those theaters, and just as critics petitioned a recalcitrant Fox Searchlight to offer more screenings of Kenneth Lonergan's second feature Margaret, Time Out Chicago film editor Ben Kenigsberg was instrumental in bringing about the Chicago event after he wrote a series of well-reported blog posts insisting on the need for a screening in Anderson's preferred 70mm format.
Within moments of the public announcement of the screening late Wednesday night, Chicago cineastes were abuzz.  The theater sold out its allotment of more than 700 tickets in 85 minutes, according to Dave Jennings, the theater's managing director. "We'll project in whatever format we receive them, but we love film," Jennings said in his prefacing remarks.
Running 137 minutes (without final credits), The Master traffics in the director's trademark themes. The first third of the story appears highly indebted to Orson Welles's great and potent 1946 noir The Lady From Shanghai. It's another of Anderson's brittle and audacious portraits of wounded masculinity and sexual panic. Set in 1950, the story details the complicated emotional interaction of Freddie (Joaquin Phoenix), a hollow-eyed World War II veteran who casually insinuates himself into the inner-workings of Lancaster (Philip Seymour Hoffman), a huckster proselytizing for a new self-help religion that has been likened to Scientology.
Like Mark Wahlberg's debased porn actor in Anderson's Boogie Nights, Freddie constructs an elaborate alternative family from Lancaster's entourage that results in much unintended conflict when some members of the insular and tight-knit group — especially Adams, who plays Lancaster's wife — consider him too willful, naive and insufficiently faithful to be a worthy apostle.
Visually, the movie is a marvel of precise and lyrical imagery. One sustained single-take tracking shot follows a young woman as she models a fur jacket. In another vivid, sexually hallucinatory moment, Freddie imagines all the women surrounding Lancaster during a musical number naked.
The 70mm image, with its saturated colors and solidity, casts its own spell. In the first of several tense encounters between the two men that functions as Lancaster's inquisition of the tremulous Freddie, Anderson unflinchingly keeps the camera tight on their faces. The scene plays out in one long, unbroken take, and the effect is hypnotic. As with There Will Be Blood, Radiohead's Jonny Greenwood provides a percussive score that's even more astringent.
The second half is less audacious and more problematic. The crowd's reaction was excited though also muted, possibly as a result of fatigue since the closing credits didn't roll until just before 1 a.m..
Given its complex — and dark — subject matter, The Master is likely to be championed by critics and specialized audiences and largely ignored by the larger public.
But last night in Chicago, it ruled.
Follow Movieline on Twitter.