Paul Thomas Anderson Not Angered Over Apparent Venice Award Snafu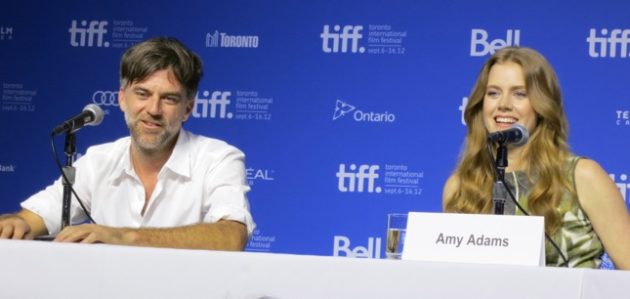 If there is any disappointment or bitterness that The Master was set to receive the Golden Lion at the Venice Film Festival today, only for the top prize there to be "re-assigned" due to a rule limiting the number of awards one title can receive, then director Paul Thomas Anderson did not show it this afternoon at the Toronto International Film Festival where the film is having its North American premiere. Anderson along with actress Amy Adams and producer JoAnne Sellar spoke with reporters at the festival along with TIFF co-director Cameron Bailey.

"It was amazing what happened in Venice. Philip [Seymour Hoffman] was able to go over there because Joaquin [Phoenix] and I have duties over here at this festival," said Anderson. "And, it was amazing what they gave us. The best part was that they gave [awards] to both of the boys."
Anderson acknowledged that he was aware of the apparent controversy, but said he was satisfied with the prizes The Master received at the Italian festival.
"I'm thrilled with whatever they want to hand over. I heard some of the scuttlebutt recently but I'm just thrilled with what they hand over. And that's all."
Along with the Best Actor prize being split by Hoffman and Phoenix, Paul Thomas Anderson was awarded Venice's Silver Lion for Best Director, while Korean director Kim-Ki Duk's Pieta received the festival's Golden Lion.
Asked if he was disappointed he couldn't be in Venice to pick up the awards personally, Anderson joked, "Through our studies on this film we've gotten to where we can do time travel. I'm actually at two places at once. I'm at the Pizza Hut and the Taco Bell."
Audiences in Venice and now Toronto are buzzing over The Master. Laura Dern also stars in the film along with Hoffman, Phoenix and Adams revolving around "drifters and seekers" in post World War II America. The film revolves around the journey of a Naval veteran (Joaquin Phoenix) who arrives home from war unsettled and uncertain of his future - until he is tantalized by "The Cause" and its charismatic leader (Philip Seymour Hoffman).
Anderson appeared to be a bit surprised by the buzz the film is generating, but said he is pleased. "I don't know why the film is resonating. I'm not sure what's going on. We were proud to show it, but for people to be gravitating to it in such a way, it just feels so gratifying."
"It's a film you really have to think about and it's part of the time we're living in," added Sellar. "There aren't a lot of films out there at the moment like that."
Amy Adams said her experience on the set were not quite what she had expected going in, saying she was surprised by the leeway that she and her fellow actors were given. "I thought it was going to be very very serious, but we actually laughed a lot and had a lot of fun," said Adams. "There was a lot of freedom and we were allowed to experiment and fail. But going into it, I thought it would be very, very serious."
"Over the years, Paul has become a freer director [and] more organic," added Sellar. "For me and Daniel [Lupi], my producing partner, we were able to support his vision and make changes and go on the fly."
And now that Venice's awards are history, chatter in Toronto is now already looking toward Oscar and The Master is getting plenty of buzz. Asked about the Academy Award conversation among TIFF attendees this weekend, Anderson said simply, "Great."