Handicapping The Performances Of 'Les Misérables' — Who Will Dazzle In the Movie Musical?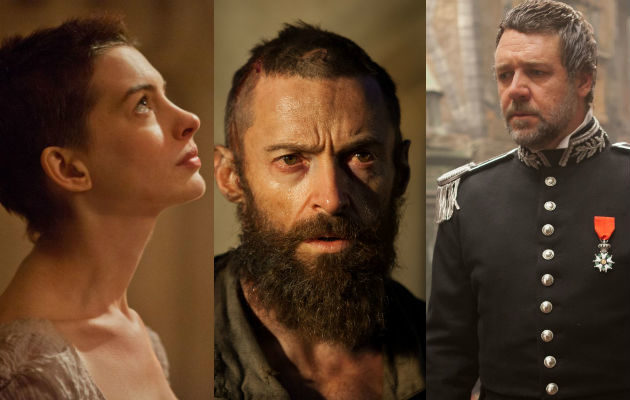 The highly anticipated Les Misérables is on track to become this year's Chicago — a crowd-pleasing, award-winning, budget-busting musical extravaganza that will sharply divide audiences on the respective talents of its singing, emoting, showboating stars. The stakes are raised by the actors having sung their parts live on set — accompanied by a piano, with the orchestra added in post-production — instead of recording the songs in the safety of a studio and lip-synching during their scenes. The debates over who proved a genuine triple-threat and who embarrassed themselves will last for weeks as we barrel into Oscar season, but let's get the ball rolling now by ranking who we're expecting to dazzle us — and who'll disappoint.

Spoilers — for a 27-year-old musical and a 150-year-old novel — below.
Hugh Jackman as Jean Valjean. Ever since he slashed and sneered his way to the big screen in X-Men, we've been hearing nonstop about the one-man entertainment machine that is Hugh Jackman. Although he's been a staple on Broadway for the last decade, Les Miz is Jackman's biggest opportunity yet to show off those fabled lungs. There's reason to expect much from the Tony-winning actor; his live performances amply attest to his vocal clarity and range and effortless panache. But there's always a chance that Jackman might become a victim of high expectations — or drown in the fuddy-duddy cheesiness of his musical theater background.
Anne Hathaway as Fantine. Hathaway's supporting turn as the doomed, consumptive prostitute is the closest thing Les Miz currently has to an Oscar clinch. After a surprisingly foxy performance as Selina Kyle in this summer's The Dark Knight Rises and a tabloid- and award-friendly 25-lb weight loss — perhaps she got some dieting tips from co-star Christian Bale? — all eyes are on her. The actress's musical resume is thin, but previews show an emotion-choked rendition of "I Dreamed a Dream" that might not work for, say, the radio, divorced from the context — but sounds perfect for an extended death scene.
Russell Crowe as Inspector Javert. Like his colleagues Gadget and Clouseau, Inspector Javert is a somewhat ridiculous figure: an uptight dunce who can't see what's right in front of him. Crowe seems slightly miscast as the relentless lawman; Javert doesn't deserve the actor's heartbreakingly wounded eyes. The tantrum-prone actor has received a lot of ridicule over the years for his soft rock vanity band 30 Odd Foot of Grunts, a band whose name's so awful it's got to have broken some record for terribleness. But all of that hardly matters when Crowe's voice is such a sexy combination of tenderness and gravel you'll forgive him for stealing Captain Crunch's uniform.
Samantha Barks as Éponine. For a certain generation, there is no other Éponine than Joey Potter. The challenger to our nineties nostalgia is Samantha Barks, a 22-year-old West End veteran who first found fame as third-placer on an American Idol-style singing competition in the U.K. Barks went on to perform the role of Éponine on stage for a year. Her version of "On My Own" for the Les Misérables 25th Anniversary concert, already all over the Internet, shows off her tasteful but slightly too pop-influenced take on the lovelorn aria. Barks can outbelt Katie Holmes by a mile and a half, but can our hearts be full of love enough for two Éponines?
Eddie Redmayne as Marius Pontmercy. As an oblivious rich kid and a character that appears out of nowhere halfway through the story, Marius is one of the more challenging roles to nail. Add a dopey romance based on love at first sight, and Redmayne seems set up for failure. Fortunately, the trailers and some pre-fame memorabilia suggest that the freckle-faced Brit with the unexpectedly low baritone will more than acquit himself.
Amanda Seyfried as Cosette. Of all the characters in the main cast, Cosette is by far the most thankless. She's a boring beacon of virtue without a single song to call her own. (Even the iconic "Castle on a Cloud" is shared with the grasping Mde. Thénardier.) This makes the casting of Seyfried, who displayed her thin, reedy trill of a voice in Mamma Mia!, the world's first narrative karaoke video, a decent if unexciting choice. With a cast already so bursting with talent, though, Seyfried's minor role might turn out to be a blessing in disguise.
Sacha Baron Cohen and Helena Bonham Carter as Monsieur and Madame Thénardier. The closest thing the ultra-serious Les Miz has to comic relief are the black humor exploits of the corrupt Thénardiers, Éponine's parents and Cosette's temporary guardians. Baron Cohen and Bonham Carter are undeniably gifted, intelligent, hard-working performers, but their recent film roles — mostly as cartoonish villains who don't have a chromosome in common with actual human beings — have become increasingly one-note. If the musical Sweeney Todd, in which SBC and HBC co-starred, is any indication, they'll be just fine for actors without musical training — as well as gratingly and hopelessly stuck in a never-ending Borat joke/Tim Burton movie.
More on Les Miserables:
Early Reaction: Oscar Race Heats Up As NYC Screening Of 'Les Miserables' Prompts Cheers & Tears
New 'Les Miserables' Trailer: Will Jackman, Crowe, Hathaway Sing Their Way To Oscar?
WATCH: Jackman, Hathaway And Seyfried Sing In Extended Making Of Les Miserables Clip
Inkoo Kang is a Boston-based film journalist and regular contributor to BoxOffice Magazine whose work has appeared in Pop Matters and Screen Junkies. She reviews stuff she hates, likes, and hate-likes on her blog THINK-O-VISION.
Follow Inkoo Kang on Twitter.
Follow Movieline on Twitter.