WATCH: Jackman, Hathaway And Seyfried Sing In Extended Making Of Les Miserables Clip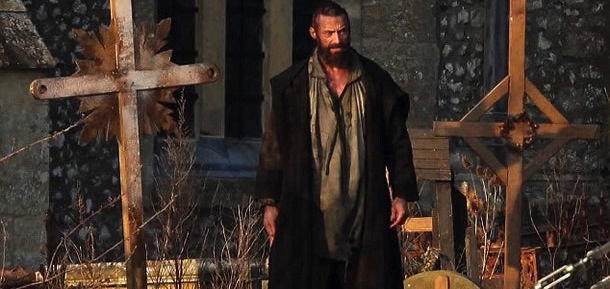 Do you hear the people sing? Actually, they're not just people, they're ac-tors! I'm talking Hugh Jackman, Anne Hathaway, Amanda Seyfried and Eddie Redmayne, the cast of Oscar winner Tom Hooper's poverty-never-looked-so-expensive film adaptation of Les Miserables. Each can be heard performing in this extended clip about Hooper's novel approach to making of the movie musical that's based on Victor Hugo's classic novel about French politics and revolution. Russell Crowe, who plays Inspector Javert and once sang for the much-mocked band 30 Odd Foot of Grunts, is also in the clip, although he doesn't show off his pipes.
As Jackman, Redmayne, Hooper and others explain in the video, the songs for musical films are usually recorded before filming starts, a potentially antiseptic process that doesn't take into account the emotional give-and-take that occurs when actors face off in a scene or tweak their performances from take to take.  Instead of pre-recording the songs for Les Miz, Hooper had his actors perform their songs live in each scene while listening to a pianist whose also-live accompaniment was piped through the actors' earpieces.  (The tinkling of the ivories will be replaced by a full orchestra when the finished film debuts on Christmas Day.  The process  allowed the actors  "the spontaneity of normal film acting," explains Jackman in the clip, which appears below.
Make sure to watch Hathaway's heart-wrenching singing as the dying prostitute Fantine.  Powerful stuff, and when you factor in her much-different but no less compelling performance as Catwoman in The Dark Knight Rises this past summer, it looks like this is going to be a big year for the dark-haired beauty.
Follow Frank DiGiacomo on Twitter.
Follow Movieline on Twitter.