Russell Crowe Reportedly Set to Face Off Against Hugh Jackman in Les Miserables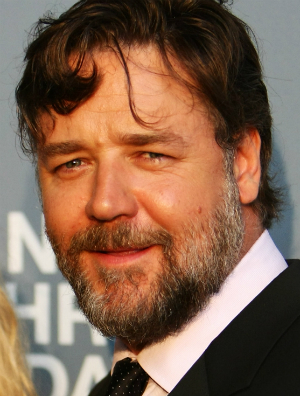 Though Anne Hathaway is still just rumored to be a potential addition to Tom Hooper's musical film adaptation of Les Miserables, star Hugh Jackman is already getting some company for the December 2012 release. According to Variety, Russell Crowe will play foil to Jackman's Jean Valjean as Inspector Javert. Could Crowe's past experience singing with his bands 30 Odd Foot of Grunts and The Ordinary Fear of God have given him the casting edge?
UPDATE: THR also reports that Geoffrey Rush and Helena Bonham Carter are in talks to play Thénardier and Madame Thénardier, the saga's villainous and greedy innkeeping couple.
Hooper (The King's Speech) will direct from William Nicholson's adaptation of the famous Broadway musical, which is itself based on Victor Hugo's 1862 novel of the same name. The stage version's original music by Claude-Michel Schoenberg will be used in the adaptation, so you can expect to hear Crowe warble Javert's best known ditties in his film musical debut, although it will reportedly not be sung through entirely and will instead feature new dialogue and songs.
But let's examine some previous examples of Crowe's crooning to get an idea of what could be in store:
Sultry and moody at the AFI awards:
This one's about going to the post office, I think:
Oh, a Crowe original that could work its way into an updated Les Miz score! Spanish bullfighting, 19th century France. Imagine a slightly nicer Javert singing this to Valjean, or something. Close enough!
I actually think Crowe has a lovely voice, full of charisma, even if his songs aren't quite for me. Should be interesting to hear how it translates the beloved tunes of Les Miserables, one of the world's best-known musicals. Verdict, Broadway-watchers?
• Russell Crowe set for 'Les Miserables' [Variety]