'Les Misérables' Hits High Notes, But Also Skitters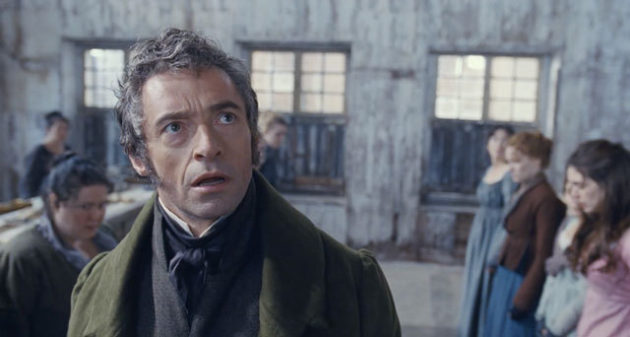 I feel I have to confess to a certain partisanship. I grew up listening to Les Misérables. I've seen it performed twice and as a girl had the original Broadway cast recording down cold. It's been years since I've heard it, but watching Tom Hooper's adaptation of Claude-Michel Schönberg, Alain Boublil, Jean-Marc Natel and Herbert Kretzmer's musical I realized with amusement and discomfiture that I could still sing along to just about every damn word, at least until whomever was sitting near me took it upon themselves to murder me for the greater good. These songs — and the bridges in between, for Les Misérables is a sung-through affair with almost no spoken dialogue — are permanently etched in my psyche, and I am as far from being able to look at this material with critical distance as a highly trained stage star is from an actual consumptive 1800s French urchin.
That said, can we admit that Les Misérables is an absolute beast of a musical? It faces the impossible task of compressing Victor Hugo's 1500-page novel into three hours (the screen version running a leaner 157 minutes), starting in a prison in the south of France in 1815 before leaping ahead to the town of Montreuil in 1823 and then Paris in 1832, where the main action takes place against the backdrop of the June Rebellion. It's the story of ex-convict Jean Valjean (Hugh Jackman), but it has a notable array of other significant characters to be dealt with, ones who love and suffer and (quite frequently) die, and all with musical accompaniment. The signature staging of the play involved a giant turntable that allowed for more fluid scene changes. On screen, that can be accompanied efficiently with an edit, but then you have to deal with the fact that smooshing a whole storyline about Valjean giving up a chance to let a stranger go down for his crimes and choosing to go on the run again ("Who Am I? / The Trial") looks incredibly rushed when taken out of the abstract.
In staging Les Misérables for screen, Hooper has taken a relatively naturalistic and grounded approach to the musical, a choice that's better suited to the subject matter of the story than to the fact that it takes place entirely in song. The vocals were recorded live on set, the backdrops are grimy in a poetic period Gallic style and the big numbers are frequently recorded in close-up, the camera holding on intimate shots of the performers as they stand or sit and sing. The film (which was shot by Danny Cohen, who also served as cinematographer on The King's Speech) treats its songs as it would dialogue, except that dialogue rarely involves spouting about one's feelings at length out loud to no one, a tic that makes much more sense set to music. It's an infuriatingly static way to shoot musical numbers, and it diminishes the bombastic grandeur many of these songs have. 
Éponine (singer and stage actress Samantha Barks) belts out her anguish about her unrequited love while huddled against a pillar; on the big sequence "One Day More" we cut abruptly between different faces as if everyone's in their own individual music video. It's only Russell Crowe in the role of Javert, the police inspector who's devoted his life to chasing down Valjean, who gets the kind of grandiose staging the material demands in his two big songs, as he wanders along prominent Parisian landmarks and the camera swings out to take in the city.
Crowe is, perhaps not coincidentally, the weakest singer, and despite his musical side career looks uncomfortable in the role of Javert, his concentration all seeming to go toward his serviceable warbling rather than acting. But much of the rest of the cast is terrific, particularly not-so-secret theater geeks Jackman and Anne Hathaway, who settle into their roles like they've spent their lives waiting for this opportunity. Hathaway's in fact so good as Fantine, the factory worker forced into prostitution to support her daughter Cosette near the start of the story, that the film staggers a bit after her character departs, her killer rendition of "I Dreamed a Dream" one of its emotional highlights. 
Eddie Redmayne's a pleasant surprise as Marius, the idealistic student torn between his love for the grown Cosette (Amanda Seyfried) and his desire to join his friends at the barricades for the uprising — the lovers tend to be the two blandest characters in the ensemble, but he finds a genuine gallantry and sweetness to the would-be revolutionary. Sacha Baron Cohen and Helena Bonham Carter, on the other hand, play designated comic relief couple the Thénardiers even broader than that description would suggest — though "Master of the House" is one of the most dynamically staged of the songs, the tonal difference between their appearances and the rest of the film is jolting.
Even at a generous running time that matches this season's other giant award candidates, Les Misérables seems like it's in a hurry, skittering from one number to the next without interlude. After Hathaway's early high point, it starts to feel numbing, an unending barrage of musical emoting carrying us through Valjean's adopting of Cosette, the latter's first encounter with Marius, the battle at the barricade and a last hour that can feel like it's a non-stop series of death arias. But even if this isn't a great screen adaptation of the musical, there's no resisting the ending, which pairs the film's two brightest stars and then has everyone join in on a reprise of "Do You Hear The People Sing?" Say, do you hear the distant drums? Maybe not, but at that moment the voices coming from the screen and the tune they're crooning are rousing enough to draw a few tears.
Follow Alison Willmore on Twitter.
Follow Movieline on Twitter.