The Twilight Saga: Breaking Dawn Part 2 Final Teaser: RPattz and KStew Get Ready To Rumble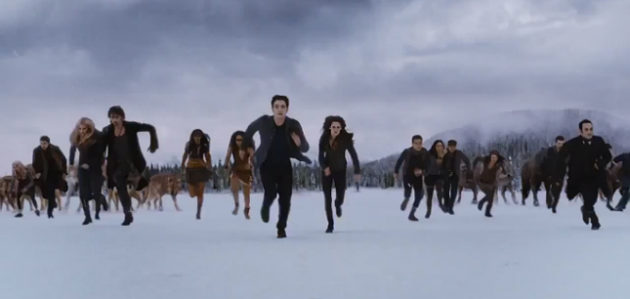 It's hard to believe that The Twilight Saga is coming to a close, four years and $2.5 billion and just one (!) world-shattering, tabloid-splattered cheating scandal later. Which means that the blink-and-you'll-miss-it final teaser for the last trailer for the second part of the final series-ending chapter is the last ridiculously sparse preview of a preview for Breaking Dawn - Part 2 we'll see. Sniff. Watch Robert Pattinson, Kristen Stewart and Co. get ready to rumble and pour one out for all 14 glorious seconds of the final Twilight teaser.

The full final Twilight trailer will debut during Thursday's MTV Video Music Awards, where Pattinson is expected to put in time while Stewart promotes her On The Road at a safe distance at the Toronto Film Festival; check back at Movieline on Friday to view it online.
Breaking Dawn - Part 2 will vampire-run its way into theaters on November 16.
Follow Jen Yamato on Twitter.
Follow Movieline on Twitter.