Is Kristen Stewart Breaking Up with Robert Pattinson, or the Twilight Phenomenon, or Both?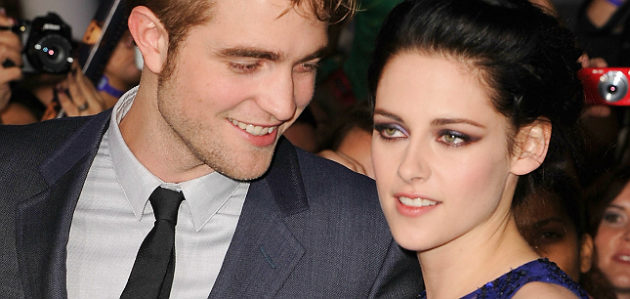 I should admit up front that I've long been skeptical of Kristen Stewart and Robert Pattinson's off-screen romance. They make a beautiful couple, as the Twilight franchise box-office numbers demonstrate, but, if you ask me, their real-life relationship has always had an odor of Hollywood hoodoo — the inspired idea of some marketing or public-relations executive who saw a way to keep fan interest in the blockbuster saga alive between movies.
Then again, a slew of respectable publications and websites are telling me it's real, and so who am I to disagree? People.com reported today, for instance, that a "heartbroken and angry" Pattinson had moved out of the Los Angeles home that he shared with Stewart, despite her head-turning public apology for cheating on him by making out in a car with married Snow White and the Huntsman director Rupert Sanders.
The whole episode and the media frenzy it has provoked  brings out the armchair analyst in me (I do have a Bachelors in psychology, by the way) and, whether I look at this from the perspective of a couples counselor or a cultural critic, I can't help but think that Stewart — subconsciously or consciously — is telling  us that she doesn't want us to think of her as Bella anymore.
Although she  seems to have become better adjusted to being in the spotlight recently, Stewart has never appeared comfortable with the insane kind of fame that the Twilight movies brought her. (Indeed, the last time she had to issue an apology was when she compared the paparazzi's photographing of her to being raped.)
I've never met her, but I wonder if that discomfort has to do with her self-image as an actress instead of teen idol movie star. Stewart's excellent performances in Into the Wild and the extremely underrated  Adventureland tell me that she has Oscar potential. (I also thought she did Joan Jett justice in The Runaways.) With the right roles, she could be her generation's Jodie Foster. But at the moment, she's got to feel more like Mark Hamill.
Stewart's headlines-making cheating episode reminds me of the furor that erupted in 2008 when Vanity Fair published a tastefully topless photo of Miley Cyrus in the magazine. Like Stewart, Cyrus apologized for the incident saying she was "embarrassed" by the photo.
But  the episode was really a smart bit of positioning on Cyrus' part: the image sent the message that Cyrus was leaving the adolescent world of Hannah Montana behind.
Intentionally or impulsively, Stewart has sent a similar message to the millions of Twi-hards out their who breathlessly monitor her every move.  Bella, and maybe Robsten too are history. As one friend told People: "I'm not sure they'll be able to recover from this." I bet that friend is right.
Sometimes you have to break a few hearts to get what you want. Even when those hearts belong to your biggest fans.
Follow Frank DiGiacomo on Twitter.
Follow Movieline on Twitter.
Watch the video on YouTube.