Are Breaking Dawn Fans In For 'Big Shock' Ending?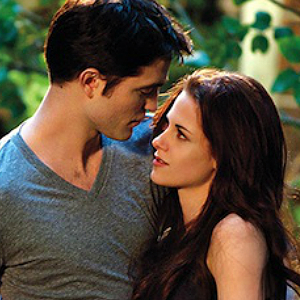 Given author Stephenie Meyer's close connection to Summit's Twilight films (she came onboard to produce the final two films), the vampire saga has retained a firm sense of authenticity even as scripter Melissa Rosenberg has tweaked and added details to translate Meyer's vision for the big screen. But a new EW Breaking Dawn Part 2 preview teases a "pretty big shock" for fans expecting stark faithfulness to the series-ender. What could be more shocking than the all-out vampire/werewolf/baby-loving party that already is Breaking Dawn?

According to EW, who has a slew of new Breaking Dawn Part 2 images including the above look at Kristen Stewart and Rob Pattinson in happier, more undead times, Rosenberg changed plot elements in the film's last act that had Pattinson going, "What?" (Seriously. That's what he says he said.)
The good news is, Rosenberg didn't act alone; she and Meyer supposedly conjured this maybe-huge, probably not-so-earth-shattering deviation together:
Even devoted readers of Meyer's books are in for a pretty big shock in the final third of the film, when the plot strays from the last novel in a sequence dreamed up by Meyer and longtime screenwriter Melissa Rosenberg one night over dinner. "When I first read the script, I got to that part and was like, 'What?'" Pattinson says. "And then I had to go back a page." Still, even those averse to change will be more than satisfied, and probably thrilled, by how the series ends. The actors certainly are. Says Pattinson, "It does it a serious justice."
The bad news (for now) is, fans have no idea how major or minor said change is. Since much of Breaking Dawn the novel is spent rallying for an epic final showdown between Edward and Bella's army of vampire friends and family and the insidious Italian coven fronted by Michael Sheen, there's a good chance the tweak is related to the X-Men: The Last Stand-like standoff between the two opposing enemies. Then again, since that standoff also happens to be rather anticlimactic — it's the reason I never thought the book could be adapted easily to the screen — any injection of some new dramatic advancement would be welcome.
But hey, who knows? Maybe it's something as simple as a flashforward to Jacob and Renesmee's happy future together, which isn't weird at all.
[EW via CinemaBlend]