Oscar Index: Draggin' Tattoo? Don't Bet on It
The first Oscar Index entry of 2012 finds Movieline's Institute for the Advanced Study of Kudos Forensics a little hungover from the holidays and lot bored from the protracted inertia of awards season. Not even this week's Producers Guild Award nominations could do much to shake up a contest that appears to be both wide open and solidifying into place at the same time. Let's investigate...


The Leading 10:
1. The Artist
2. War Horse
3. The Help
4. The Descendants
5. Hugo
6. Midnight in Paris
7. Moneyball
8. The Tree of Life
9. Bridesmaids
10. The Girl With the Dragon Tattoo
Outsiders: The Ides of March; Extremely Loud and Incredibly Close; Tinker, Tailor, Soldier, Spy; Drive
The awards cognoscenti weighed in where they could after Tuesday's PGA nomination announcement, but on the whole it came down to a few routine observations:
· Even the "surprises" (e.g. The Ides of March, The Girl With the Dragon Tattoo) aren't really surprises.
· Bridesmaids reflects less an Oscar boost than the Guild's customary tendency to recognize one or two critically approved blockbusters (including The Help -- sorry, Harry Potter).
· The Tree of Life isn't dead yet, but it will need some TLC to live to see the Oscar race.
That's the way the pieces always tend to fit within the PGA nomination puzzle. Zeroing in a little
more on the eternal box-office conundrum, however, may reveal truths more pertinent to 2012: "If Oscar buzz only drives a limited section of the general public to the multiplex of what use is it, ultimately?" asks Sasha Stone, pointing to the widening gap between popular entertainment and that preferred by the Academy "old guard." That gap that may be best exemplified this year not by the modest-grossing Tree of Life or Ides of March, but rather by Hugo -- a hugely expensive, vastly acclaimed film that nevertheless has earned back less than a third of its budget worldwide since opening a month and a half ago. (Those numbers will no doubt improve, however; Hugo has yet to open in two-thirds of its global markets.) Even a great filmmaker like Martin Scorsese adapting a beloved book in 3-D is still "cinema" -- without superheroes or aliens or vampires or robots (automatons don't count, sorry), Hugo evinces the kind of rarefied product for whom critics and awards voters might symbolize limitations rather than support. Unless the Oscar "hate kids," as one wag suggested, in which case who knows?
Anyway! How does this affect conversations inside the Academy? Oscar oracle Mark Harris has as good a read as anyone:
The Oscars are not a barometer of popular taste (nor should they be), but that's not to say that popular taste has nothing to do with the balloting. Academy voters want their own convictions ratified by something external, and if it's not blockbuster grosses (and this year, it certainly won't be), then it has to be great reviews, or a slew of ads informing them that some company is willing to spend a pile of money to encourage their vote in a particular direction, or — the hardest thing to quantify — a shared intensity of feeling among some of their peers. A conversation between two voters that begins "You know what I really thought was the best performance of the year even though nobody's talking about it?" and ends "You did? So did I!" is a conversation that is going to lead to two first-place votes for some lucky actor.
Or some lucky film. Many would say Bridesmaids, which would defy the reality that everybody is at least talking about Bridesmaids. I still lean toward Dragon Tattoo, whose backers are steadily working to counter perceptions that it's underperforming. (And at $60 million domestic in less than two weeks, they shouldn't have to work very hard.) We shall see.


The Leading 5:
1. Michel Hazanavicius, The Artist
2. Steven Spielberg, War Horse
3. Alexander Payne, The Descendants
4. Martin Scorsese, Hugo
5. Woody Allen, Midnight in Paris
Outsiders: Bennett Miller, Moneyball; Tate Taylor, The Help; David Fincher, The Girl With the Dragon Tattoo; Stephen Daldry, Extremely Loud and Incredibly Close; Nicolas Winding Refn, Drive
At some random point in the season, Photoshop gives me cause to smile as I lay out each week's charts. This year it was the miraculous prompt: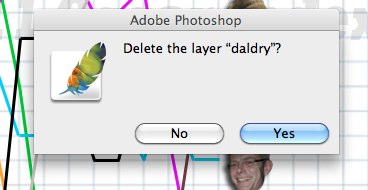 Ha! Oh, all right. [Click]
Meanwhile, Tate Taylor finally cracked the top seven thanks to continued guild love for The Help, support from pundits like Stone and Scott Feinberg, and the inability thus far of either Fincher or Miller to establish any of the word-of-mouth mobility cited in the Picture category. And for what it's worth, Hazanavicius signed this week with CAA, which also represents Spielberg. That should make for a few friendly cafeteria wagers come Oscar week. Well, not "friendly" ("I'll see your spit-roasted toddler, motherfucker, and raise you a dozen chocolate-covered embryos..."), but you know what I mean.


The Leading 5:
1. Meryl Streep, The Iron Lady
2. Viola Davis, The Help
3. Michelle Williams, My Week With Marilyn
4. Tilda Swinton, We Need to Talk About Kevin
5. Rooney Mara, The Girl With the Dragon Tattoo
Outsiders: Glenn Close, Albert Nobbs; Charlize Theron, Young Adult; Elizabeth Olsen, Martha Marcy May Marlene
Thanks to a bulwark of bad reviews, Hurricane Meryl barreled into art houses with winds at speeds slightly less than last week's Category 5 gale. But then she picked up again, with the Berlin Film Festival announcing it would deliver her its Golden Bear Lifetime Achievement Award and critic Thelma Adams urging the film's ideological detractors to look past Margaret Thatcher's work and respect performance and character -- much the way Streep did:
We meet this once-powerful character at a point of intense yet mundane vulnerability, and we empathize. The scene succeeds because Streep, too, seeks anonymity within the role. She disappears, humanizing the public figure in these private moments. [...] Resistance to The Iron Lady as a whole, rather than simply a single Streep performance, reflects unspoken but existing conflicts. Liberal viewers are not supposed to like this woman, but if we get wrapped up in the story as we should, then we do. If we deny her humanity, what does that say about our own politics?
The only other actress around whom we're seeing such conversations stir is Mara, who is a definitive fifth in the race as Close and Theron fade away and Mara holds down magazine covers and captivates critics. And yet she's barely there in the eyes of some insiders, meaning less opportunity to peak early. This is the year's ingenue spot once thought meant for Elizabeth Olsen or Felicity Jones -- so what if Mara wasn't a Sundance it-girl or doesn't have a specialty juggernaut like Fox Searchlight or The Weinstein Company behind her? She has Sony. She has Scott Freaking Rudin and David Fincher. She has the 2011-12 awards season's most awesome animated GIF. She has a date in a couple weeks with the Golden Globes. She is an overnight franchise cornerstone. And as far as I'm concerned, she's going to be an Oscar nominee.


The Leading 5:
1. Jean Dujardin, The Artist
2. Brad Pitt, Moneyball
3. George Clooney, The Descendants
4. Michael Fassbender, Shame
5. Gary Oldman, Tinker, Tailor, Soldier, Spy
Outsiders: Demián Bichir, A Better Life; Leonardo DiCaprio, J. Edgar; Ryan Gosling, The Ides of March; Michael Shannon, Take Shelter; Woody Harrelson, Rampart; Ralph Fiennes, Coriolanus
Meanwhile in Best Actor, is anyone working harder on the campaign trail than Demián Bichir? The only real rival at the moment would appear to be Oldman, who has the advantage of both familiarity and a well-performing film still in theaters. In any case, wherever you care to slot them should be above the utterly invisible and generally forgotten DiCaprio, who -- let's face it -- made a shite film and is entitled to nothing in one of the year's most fiercely competitive categories. Much as Mark Harris's hypothetical Academy-voter conversation ("You know what I really thought was the best performance of the year even though nobody's talking about it?") could favor Bichir, the inverse -- "God, is anybody seriously voting for Leo? For that? -- will likely erode DiCaprio's chances for good.


The Leading 5:
1. Octavia Spencer, The Help
2. Bérénice Bejo, The Artist
3. Jessica Chastain, The Help
4. Shailene Woodley, The Descendants
5. Melissa McCarthy, Bridesmaids
Outsiders: Janet McTeer, Albert Nobbs; Vanessa Redgrave, Coriolanus; Jessica Chastain, The Tree of Life; Sandra Bullock, Extremely Loud and Incredibly Close; Jessica Chastain, Take Shelter
McTeer and McCarthy will fight it out to the bitter end ("[McCarthy] has to overcome an Oscar-unfriendly genre in order to reach the final five; a vote for her is not just a vote for a terrific performance, but a vote to make a point," Harris also observes), while Tree of Life distributor Fox Searchlight and Help studio DreamWorks scuffle over who gets to lay claim to Chastain nomination. But who cares? If you haven't yet written Octavia Spencer's name in pen at or near the top of your Oscar-night pool, then you're either procrastinating or not paying attention.


The Leading 5:
1. Christopher Plummer, Beginners
2. Albert Brooks, Drive
3. Jonah Hill, Moneyball
4. Nick Nolte, Warrior
5. Kenneth Branagh, My Week With Marilyn
Outsiders: Max von Sydow, Extremely Loud and Incredibly Close; Armie Hammer, J. Edgar; Ben Kingsley, Hugo; Andy Serkis, Rise of the Planet of the Apes; Corey Stoll, Midnight in Paris; Patton Oswalt, Young Adult; Kevin Spacey, Margin Call
I probably should have been kinder to Ben Kingsley, particularly in light of the stillbirth that was von Sydow's turn in The Daldry and the perceptive Hollywood Elsewhere commenter who noted that "If Hugo is really going to be a BP nominated film, and [Hill, von Sydow or Hammer] gets passed over, I have to believe that Kingsley gets in to the field." That's pretty much fair, and it puts Kingsley ahead of Serkis in any event. Still: Plummer won months ago. Enough's enough. Someone buy me a drink.
Follow S.T. VanAirsdale on Twitter.
Follow Movieline on Twitter.