Oscar Index: Enough About Bridesmaids, Already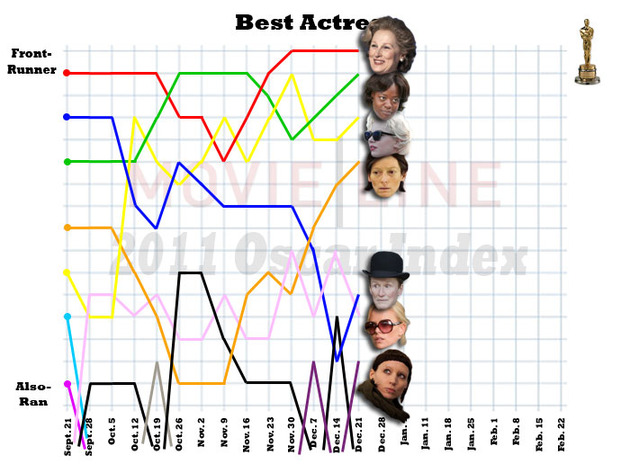 The Leading 5:
1. Meryl Streep, The Iron Lady
2. Viola Davis, The Help
3. Michelle Williams, My Week With Marilyn
4. Tilda Swinton, We Need to Talk About Kevin
5. Glenn Close, Albert Nobbs
Outsiders: Charlize Theron, Young Adult; Rooney Mara, The Girl With the Dragon Tattoo; Elizabeth Olsen, Martha Marcy May Marlene; Felicity Jones, Like Crazy; Kirsten Dunst, Melancholia
Oscar oracle Mark Harris had the key insight this week for all the acting categories, effectively singling out those who went three-for-three in the Critics Choice, SAG, and Golden Globe nominations as the most formidable to date. Which is sort of stating the obvious until Harris reminds us about the last time this happened -- 2010, when Mila Kunis drew recognition from all three bodies for Black Swan only to be snubbed by the Academy. Womp woooommmp. And then it's still stating the obvious: Streep, Davis, Williams and Swinton are about as close as you get to locks with a month still remaining before Oscar-nomination morning.
Among them, Streep bolstered her campaign this week with a profile on 60 Minutes, which performed the neat trick of getting The Iron Lady in front of casual moviegoers while impressing the fence-straddling, over-45 voting bloc that Harvey Weinstein needs to woo away from Davis. Meanwhile, one observer asked if Williams -- a precursor-awards darling (who also happens to be Streep's Weinstein Co. stablemate) -- should actually be the frontrunner for My Week With Marilyn. Davis continues to have her supporters as well, though Team Nobbs wins the week's Big Balls prize for awards-campaign audacity after scheduling their New York premiere directly opposite that of The Iron Lady. Incredibly Close, indeed! Ugh, forget it.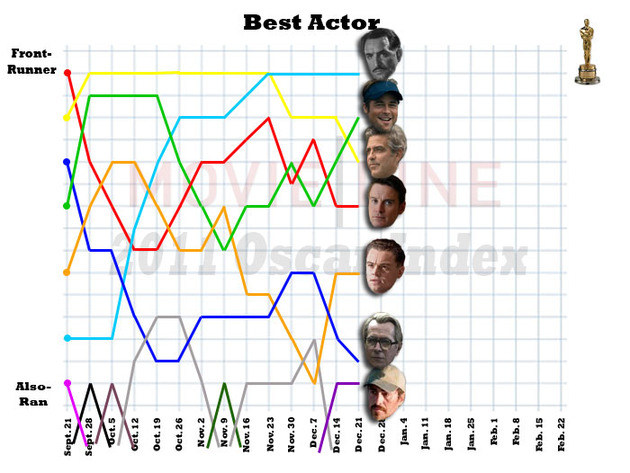 The Leading 5:
1. Jean Dujardin, The Artist
2. Brad Pitt, Moneyball
3. George Clooney, The Descendants
4. Michael Fassbender, Shame
5. Leonardo DiCaprio, J. Edgar
Outsiders: Gary Oldman, Tinker, Tailor, Soldier, Spy; Demián Bichir, A Better Life; Ryan Gosling, The Ides of March; Michael Shannon, Take Shelter; Woody Harrelson, Rampart; Ralph Fiennes, Coriolanus
Pitt is on a roll, still plugging away on the campaign trail while pundits like Harris and Jeffrey Wells make a persuasive case for not only a nomination, but also a win. Pitt's secret weapon? Try The Tree of Life, writes Harris:
[A]t this time of year, I always want to tell the voters, "Forget everything you've heard so far and just vote for greatness wherever you find it." As an example, I'll cite the single best piece of screen acting I saw this year: Brad Pitt in The Tree of Life. So far, this performance has not figured in the Best Supporting Actor race at all. It should. [...] Nobody in the Supporting Actor category did more nuanced, layered, complicated work this year. But instead of being at the center of the discussion, his performance is on the fringes, because the system has decided that Pitt will be "taken care of" with a Best Actor nomination for Moneyball. He deserves that nomination. He deserves this one even more.
Perhaps so. Politically speaking, neither Moneyball nor Tree of Life's studios wants Pitt anywhere near Supporting Actor: Sony doesn't want him sharing the category with his co-star Jonah Hill in a competing film, and Searchlight, knowing that Christopher Plummer already has Supporting Actor locked up, doesn't want to indirectly juice Pitt's Best Actor chances against their guys Fassbender and Clooney.
Fassbender, meanwhile, came back a bit with his Golden Globes nod but still breaks even after his SAG snub a week ago. In sadder news, this may be goodbye for Oldman after his Globes love went to the twice-nominated Gosling, though we saw the same thing happen last year with Biutiful's Javier Bardem -- who also went 0-fer in the BFCA/SAG/HFPA triathlon. So nobody panic just yet! Except you, Woody Harrelson. Panic all you want. That said, if Bichir's supporters continue to seem more intent on credit for his SAG recognition than the continued recognition of Bichir himself, then hell, maybe Harrelson could come back. It's early! Focus, people!