Oscar Index: Extremely Artist and Incredibly Horse
It's week three of the 2011-12 Oscar Index, and the latest measurements, readings and conclusions are in from Movieline's Institute for the Advanced Study of Kudos Forensics. And aside from a few startling exceptions, they don't look that different than the ones disseminated here last week. But make no mistake: Like it or not, stuff is happening! Read on for the latest developments.
[Click the graphs for full-size images.]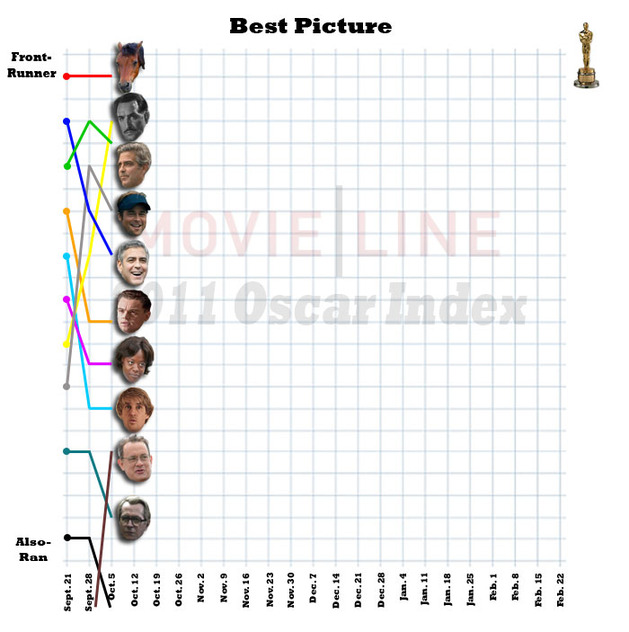 The Leading 10:
1. War Horse
2. The Artist
3. The Descendants
4. Moneyball
5. The Ides of March
6. J. Edgar
7. The Help
8. Midnight in Paris
9. Extremely Loud and Incredibly Close
10. Tinker, Tailor, Soldier, Spy
Outsiders: The Tree of Life, The Girl With the Dragon Tattoo, The Iron Lady
So last week, I finished up Oscar Index and then walked up to my local watering hole, where I proceeded, as usual, to ruthlessly drown the floating heads and other nightmarish visions that invade my consciousness in the feature's immediate aftermath. And one of my friends, a pretty serious cinephile, says, "Yeah, I saw Extremely Loud and Incredibly Close."
"Say whaaaa?", I said.
"I saw Extremely Loud and Incredibly Close," this friend repeated, explaining having attended a test screening here in New York over the preceding weekend. Pretty much everything this friend proceeded to tell me wound up corroborating another report from the same screening: Specifically, that Stephen Daldry's adaptation of the Jonathan Safran Foer bestseller about a newly fatherless boy's post-9/11 experience is really sad and affecting and looooong and contains Oscar-caliber work from Sandra Bullock and Max von Sydow.
"Von Sydow?", I said. "Say whaaaa?"
More on the actors in a bit, but the bottom line is that with a few judicious trims, early word from actual viewers and our first glimpse at the film's trailer suggests that Extremely Loud will supply the spirited emo boost Paramount is looking for in this year's Oscar race. Which only affirms the suspicions of many Oscar-watchers who've long presumed the Scott Rudin production was the snake in the shimmering gold awards-season grass. Some sniffed at the trailer in particular as persuasive but inconclusive evidence of Oscar-worthiness, but come on. One look at the new War Horse trailer proves that if studio marketing drips like Oscar bait and smells like Oscar bait, then it's Oscar bait. And with the Rudin/Daldry/Tom Hanks trinity at its core (to say nothing of Bullock and von Sydow and young X-factor Thomas Horn), you won't likely go broke betting on it to at least make the Best Picture cut.
Nevertheless, don't think that anything yet comes close to matching War Horse's profile. Surprisingly or not (mostly not), the nearest may now be The Artist, Michel Hazanavicius's silent, audience-pleasing tribute to vintage Hollywood. As foreseen last week, master awards-pizzaiolo Harvey Weinstein is crafting one of his finest pies to date, with zesty punditry from Sasha Stone and Nathaniel Rogers among others boosting the Oscar flavor. Moreover, check out Harvey's toppings at the moment, including the mogul's own exhorting of Ides of March -- which is shaping up for a middling critical and commercial response this weekend -- as the film to beat in this year's race. Genius! Nothing like foisting high expectations on a movie that won't deliver them. That's not to say that Harvey didn't like it! But it's a delicious insight into what he thinks his real competition is, at least in this early stage.
Moneyball, meanwhile, could use that kind of seasoning: Last week's reported Academy goodwill has deteriorated into guys like Scott Feinberg presenting this kind of statistic as encouraging news: "Moneyball, which opened at #2 at the box-office last weekend with nearly $20 million in sales, earned 43% less this Friday than it did last Friday, only a 3% worse drop-off than the one experienced by The Social Network last year." Uh, what? Then there are the doubts as to whether or not the Academy will really go for a baseball movie, or the proposal that it could advance on the strength of guild-awards recognition, and it all just seems kind of... bleak. Unlike its subject, Moneyball will need more than hard numbers to get by the competition this fall. It needs longevity, visibility and some considerable luck. Maybe it can start with Harvey Weinstein not suggesting it will go all the way.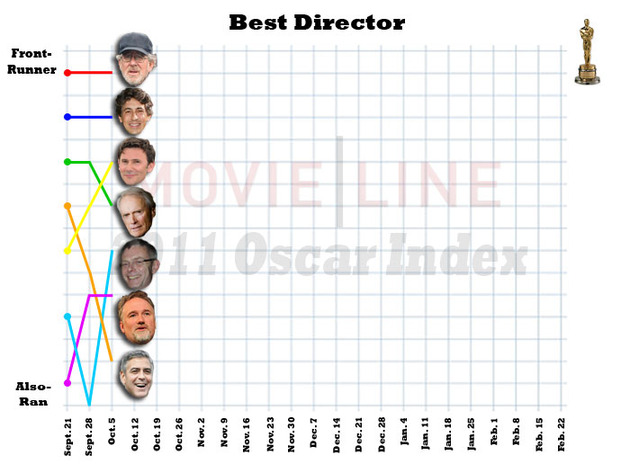 The Leading 5:
1. Steven Spielberg, War Horse
2. Alexander Payne, The Descendants
3. Michel Hazanavicius, The Artist
4. Clint Eastwood, J. Edgar
5. Stephen Daldry, Extremely Loud and Incredibly Close
Outsiders: David Fincher, The Girl With the Dragon Tattoo; George Clooney, The Ides of March; Bennett Miller, Moneyball; Woody Allen, Midnight in Paris; Tomas Alfredson, Tinker, Tailor, Soldier, Spy; Tate Taylor, The Help; David Cronenberg, A Dangerous Method
On the basis of their films' Index boosts alone, Hazanavicius and Daldry were the week's big directing beneficiaries, while Clooney is like, "Harvey, for Christ's sake, stop it, already." Relax, George! You've still got The Descendants, for which Payne remains a consistent darling in this category and for which you are a front runner for acting. Don't get greedy!