Oscar Index: Argo-Sell Yourself — It's Crunch Time, Nominees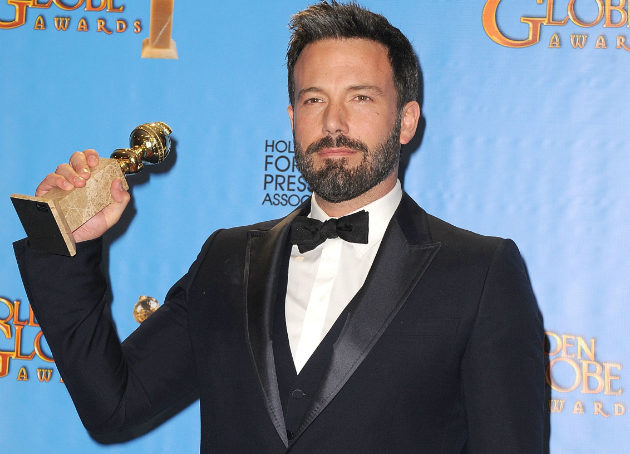 "It just doesn't matter," Bill Murray pep-talked to his misfit campers in Meatballs. You've got to think that Teams Lincoln and Silver Linings Playbook similarly rallied the troops in the wake of Argo's surprise Best Picture and Best Director wins at the Golden Globes. Go home, they might have said, it's the Golden Globes. It just doesn't matter.
Except that it does, contends In Contention's Kris Tapley: "Anyone who dismissively calls it a non-issue doesn't get it. With six weeks, every little nuance and acceptance speech will be grist for the mill. It matters."
That means that Tommy Lee Jones better start smiling, Golden Globe-winner Anne Hathaway better keep all her acceptance speeches as gracious and humble, and Jennifer Lawrence better recover from her rivals-slamming turn hosting Saturday Night Live.
But what matters more are the major Guild award ceremonies in the offing: The Producers Guild Awards on Jan. 26, the Screen Actors Guild Awards on Jan. 27, and the Director's Guild Awards on Feb. 2. These should give a clearer picture of the Oscar race. Or not. A DGA award, one of the most reliable Oscar indicators, will come to naught should either Ben Affleck or Kathryn Bigelow, neither nominated for an Oscar, win.
As Times-Picayune critic Mike Scott noted on NOLA.com, "Usually the Golden Globes at least do a little to clarify an Oscar race or two, but in what is shaping up to be a more difficult-than-usual year in which to predict the Oscar winners, Sunday's Globes only clouded things… many of the Oscar races would appear to be coin-flip races at this point."
One thing is irrefutable after Sunday night: After Tina Fey and Amy Poehler's hosting triumph at the Globes, Seth MacFarlane needs to have better jokes than his Hitler gag on nomination morning.
No Best Picture-nominee had a better week than Argo with its seven Oscar nominations and Critics Choice and Golden Globe wins for Best Picture and Best Director. No Oscar nomination for Best Director; no problem. Writes Tom O'Neil on GoldDerby.com:
"There is a clairvoyant member of the academy's producers' branch whose judgment I've learned to trust through the years. He's never been wrong about Best Picture as far as I know, not even when Crash pulled off an upset over Brokeback Mountain. Now he's backing Argo and feels very strongly about it. Right after Oscar noms were announced and before Argo pulled off those jaw-droppers at the Critics Choice Awards and Golden Globes, he roared at me, 'Mark my words, Argo is going to win the Oscar. I don't give a damn that Affleck isn't nominated for Best Director. That only makes me more hellbent to vote for his movie!"
But despite Argo being "back in the mix," wrote Steven Zeitchik and Glenn Whipp in The Los Angeles Times, Lincoln, leading the pack with 12 nominations, remains the frontrunner.
Or not. Silver Linings Playbook, like Lincoln, had a disappointing night at the Globes, but it is the first film since Reds at the 1982 ceremony to have received nominations for Best Picture, Director, all four acting categories, and screenplay. Plus: "People love Silver Linings Playbook; they respect Zero Dark Thirty," write Michael Hogan and Christopher Hogan for their For Your Consideration blog on Huffington Post.
Silver Linings Playbook producer Harvey Weinstein catered an Italian lunch for members of the Hollywood Foreign Press, the New York Times reported. Lincoln director Steven Spielberg pulled off the coup of getting the services of "Hillary Clinton's husband" to introduce his film at the Golden Globes. Advantage: Spielberg. Like Tapley said: It matters.
Meanwhile, Kathryn Bigelow, mired in the controversy surrounding her film's depiction of "enhanced interrogation techniques," gamely reiterated her "depiction is not endorsement" line of defense in a self-penned article in Wednesday's The Los Angeles Times.
1. Lincoln
2. Silver Linings Playbook
3. Argo
4. Zero Dark Thirty
5. Life of Pi
6. Beasts of the Southern Wild
7. Les Miserables
8. Amour
9. Django Unchained
With Affleck and Bigelow out of the Best Director race, Spielberg's chances for a third Academy Award for Best Director are looking good, unless David O. Russell benefits from all that Academy love for Silver Linings Playbook. But don't count out Ang Lee, noted Anne Thompson on her Thompson on Hollywood blog:
"Lee survived the brutal directors derby that left Kathyrn Bigelow, Ben Affleck and Tom Hooper hanging, and he commands serious respect inside the Academy, which gave him the Oscar for Brokeback Mountain. Remember, these 5700 voters are people who know what goes into making movies and this gorgeously executed heart-tugger with worldwide appeal ($400 million and counting) had a high degree of difficulty."
1.Steven Spielberg (Lincoln)
2. David O. Russell (Silver Linings Playbook)
3. Ang Lee (Life of Pi)
4. Benh Zeitlin (Beasts of the Southern Wild)
5. Michael Haneke (Amour)