'Hunger Games' First Look: Katniss And Finnick Get Cozy In 'Catching Fire'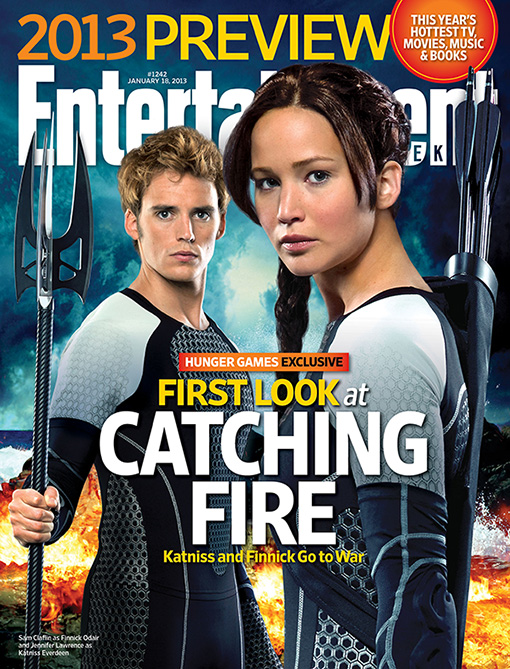 Let the Games continue! EW has your first look at the Hunger Games sequel Catching Fire, with a peek at Jennifer Lawrence's Katniss and cast newcomer Sam Claflin as returning Games victor Finnick Odair.

Katniss and her baker boyfriend Peeta are back in Catching Fire, based on Suzanne Collins's second Hunger Games book, but things haven't exactly settled down; with revolution sparking in the Districts, the duo are sent back on the Games circuit and thrust into a new, even more dangerous competition.
In the next ten months you're going to see a lot of Claflin (Pirates of the Caribbean, Snow White and the Huntsman), the British up-and-comer who plays charismatic Finnick, a previous Games winner known for his seductive charm... who also has a notable scene in which he's clad only in a fishing net. Ahem.
Joining Claflin in the Francis Lawrence-directed sequel are new castmates Jena Malone as Johanna Mason, Philip Seymour Hoffman as Plutarch Heavensbee, Amanda Plummer as Wiress, and Jeffrey Wright as Beetee.
For now, enjoy this first image of Finnick cozying up to Katniss in what might be the knot-tying scene. To borrow from the master R. Kelly: Peeta, don't bring your girl around Finnick because he's a flirt (with a trident). Catching Fire hits theaters November 21.
Synopsis:
THE HUNGER GAMES: CATCHING FIRE begins as Katniss Everdeen has returned home safe after winning the 74th Annual Hunger Games along with fellow tribute Peeta Mellark. Winning means that they must turn around and leave their family and close friends, embarking on a "Victor's Tour" of the districts. Along the way Katniss senses that a rebellion is simmering, but the Capitol is still very much in control as President Snow prepares the 75th Annual Hunger Games (The Quarter Quell) – a competition that could change Panem forever.
Follow Jen Yamato on Twitter.
Follow Movieline on Twitter.