Sam Claflin on Pirates of the Caribbean and the Possibility of Chemistry with Kristen Stewart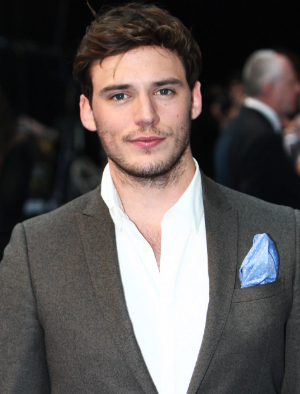 In this summer's swashbuckling sequel Pirates of the Caribbean: On Stranger Tides, British newcomer Sam Claflin goes toe to toe with Captain Jack Sparrow (Johnny Depp) and a much more fearsome pirate: Blackbeard (Ian McShane), the legendary captain of a zombie ship on a quest to find the Fountain of Youth. But while Claflin holds his own as idealistic young Philip Swift, the missionary who falls for a mermaid (Àstrid Bergès-Frisbey) and defies Blackbeard on pain of death, in real life he owes a debt of gratitude to the erstwhile Al Swearengen.
Visibly nervous at his very first cast read-through for On Stranger Tides, Claflin got a much-needed reassurance from McShane, with whom he'd starred in the 2010 miniseries The Pillars of the Earth. "Ian just put his hand around me and went, 'You'll be fine,'" Claflin shared during an amiable chat with Movieline. "Honestly, that guy's really kind of kept me together."
At 24, Claflin is set to make his mark with Pirates, his first big screen feature credit; he'll next co-star with Chris Hemsworth and Kristen Stewart in Snow White and the Huntsman. In any case, he's building an solid resume within Hollywood -- and, having amassed about a thousand new Twitter followers since the time of our chat, it looks like the fans are taking note as well.
How are you liking your first big movie press tour?
I'm really enjoying it, because obviously I've never done this before. The first time is always the best, right? But I'm actually having a blast.
Now that you're getting your big breakthrough, do you think you'll relocate from London or stay put?
I think stay put. It's home, you know. My girlfriend is there, and my friends and family. My history is all back home and the thought of moving anywhere else at the moment isn't even in the cards. I definitely feel that in the future if work brought me out there then obviously I'd have to move, but right now I'm very settled and very comfortable.
How much pressure did you feel when you first landed the Pirates of the Caribbean gig?
There's not anything to describe the feeling I was going through! There was such a fine line between nerves and excitement and I was feeling both, so the adrenaline was doubly attacking my nervous system. No, but I definitely felt the pressure, especially to begin with to be consistently compared to sort of "the new Orlando Bloom." And he and Keira Knightley left very large shoes to fill and a high bar to match up to. I know that both me and Àstrid [Bergès-Frisbey] were kind of like, "OK, we've really got to pull something out of the bag that's special." And who knows if we've done that or not, but nevertheless it was an amazing experience and an opportunity for me to really knuckle down and get stuck in. I tried not to think about it too much, but it's hard, you know? [Laughs] I'm very anxious to hear what people say about it all.
Do you watch your own performances on screen?
I do, because I don't think I could learn if I didn't. And I feel that as much as I've learned about the process of filmmaking, I feel watching my performances, "Oh my God, I do that -- and I do this as well... I need to stop doing this. I look silly."
It seems like as a performer, that's just getting to know your own tools.
Yeah. I feel there are a few habits that I've started picking up on after watching a few things that I've done.
Like what?
I have a gamey eye. [Laughs] No, occasionally I see, I don't know, little twitches and facial expressions. I go, "I do that way too much, and I'm going to try to avoid it in the future."
Fair enough! What was the audition process like for Pirates? I imagine it was a huge ordeal and a long process, given the enormity of this franchise.
The initial audition, the first ever audition -- firstly, I kind of walked into it expecting to hear nothing back. I've been on so many auditions in my time that I was expecting... it was an impossible feat.
It was recently announced that you got the Snow White and the Huntsman role, so congratulations! Were you just going out for every big movie out there?
Yeah -- I think people have heard of me now, as much as people haven't seen me so much. But a few people, especially in the industry, are kind of asking, "Who the hell is this weird kid who's just appeared on my Internet page?" It's exciting because people are talking. I'm thrilled that people are talking; they really didn't have to be, and I'm honored, really, that my name is on people's lips. But nothing's really changed. Even the initial audition was just an ordinary audition. It seemed impossible and somehow it's all worked out for the best.
You were in Pillars of the Earth, with Ian McShane --
Yes!
Was it total coincidence, or did that connection help you at all in getting the Pirates job?
I know for a fact now, today -- Rob Marshall told me today that when they were sort of thinking of offering me the part, he asked Ian's opinion of me. So I guess, thanks Ian, because I'm here! What was said, I have no idea. But nonetheless I owe a lot of my life to both of those two men, and I'm very thankful and lucky to be here. Ian has really sort of been there from the beginning for me. He was the first person I saw when I got off the plane in Hawaii. From the beginning he's really taken me under his wing and given me such support and help.
How sweet! How so?
The initial time when I met the big actors -- Penélope Cruz, Geoffrey Rush, Kevin McNally, Stephen Graham, Johnny Depp -- was during this read through. It was coming closer and closer to my line during this read-through, and I'd heard everyone do their first lines, it was my turn. You know, the nerves were building, my heart was pounding. Ian just put his hand around me and went, "You'll be fine." And I was able to relax. Honestly, that guy's really kind of kept me together.
That's really adorable. Now to switch it up a bit -- you've got so many new fans on Twitter already.
It's because... A famous actor told me once -- I don't want to name names, I hate that sort of thing -- but I was at his house and he said, "Are you on Twitter?" I said yes, I am. And he said, "There'll be one day when you'll have, like, five friends. And in the same day it'll go to five thousand." And, you know, I've not got five thousand followers, but this week I had two hundred followers to begin with. On Wednesday I had 210 followers. I'm checking -- he told me to keep checking every now and then and then see how quickly it sort of shoots up. Today, Friday, I have 850 or something. And you're just like, "How has that just happened?" [Ed. note: Claflin now has nearly 1,800 followers.]
So, for the record your Twitter account is...
@SamClaflin. Simple as! Hook me up, follow me!
Lastly, regarding Snow White and the Huntsman: Have you yet met with Kristen Stewart?
No!
So there was no chemistry read, you were cast separately for your roles?
No, but from my understanding she seems like an absolute legend of a girl. I have a friend who worked with her, my friend Eddie Redmayne, and he says she's really down to earth, really talented. She's so talented, I'm a big fan of hers. So fingers crossed there'll be chemistry. But no, I didn't have the opportunity to meet her, which is a bit of a shame.
Get more on Pirates of the Caribbean: On Stranger Tides, in theaters May 20.