Oscar Index: Jennifer Lawrence Is The Best Actress To Beat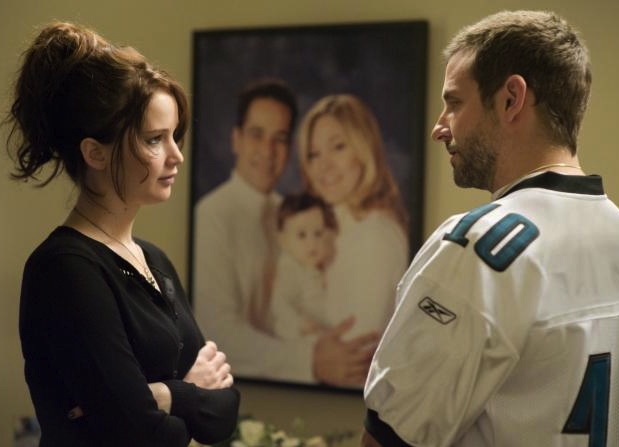 This is getting exciting — not so much the Oscar race; but the recent spate of news about the Academy Awards telecast on Feb. 24. Things are shaping up for a evening that may be  less cringe-worthy than usual and that could improve on last year's slight ratings boost. You've got Adele to perform  Skyfall"  you've got the 50th anniversary James Bond tribute, and now comes confirmation that Barbra Streisand will perform for the first time in 36 years. (Just please, God, not with Seth MacFarlane.)  Plus, the "In Memorium" segment should feature some especially beloved character actors (Andy Griffith, Ben Gazzara, Ernest Borgnine and Jack Klugman).
With less than a month to go, it's Oscar Unchained from here on out. Let's go to the Gold Linings Playbook.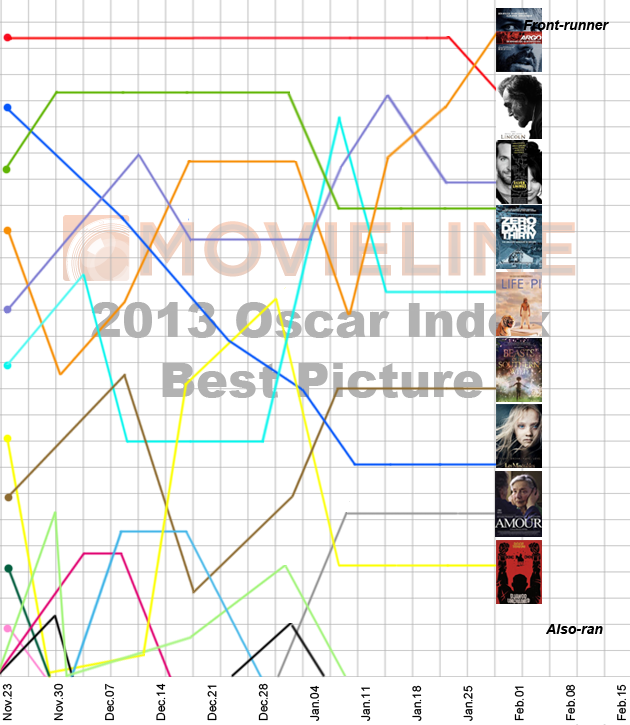 Best Picture
No one is talking about the Academy Awards at all," groused Showbiz 411's Roger Friedman last week. That changed with Argo's truly game-changing wins last weekend at the Producers and Screen Actors Guilds award ceremonies. "Momentum helps in an Oscar race, and right now, Argo's got it," notes New York magazine's Kyle Buchanan. "If Argo does take home Best Picture, it will still feel like a surprise because there's so much Oscar history stacked against it. As Ben Affleck has no doubt memorized by now, the last film to win Best Picture without a corresponding Best Director nomination was Driving Miss Daisy."
Awards Daily's Sasha Stone offers more Oscar lore that might steady Team Lincoln: It has been 61 years since a film with 12 nominations and the biggest box office lost to a film with less of both. "The last time it happened," she notes, "was when An American in Paris beat A Streetcar Named Desire. In addition, Marshall Flores, on behalf of AD, crunched the numbers and found that the film with the most nominations has won Best Picture 57 times in the 85 years that the Academy has been giving out Oscars.
 Here's an interesting Argo scenario posited by Gold Derby's Zack Laws: "In every other category in which it contends, our experts are predicting another nominee to win. So you have to stop and wonder: can Argo be the first film since 1935 to win Best Picture without winning anything else? "
Several pundits questioning whether the Argo buzz is more than just wishful thinking have pointed to the fate of Apollo 13 as a cautionary tale. Like Argo, Apollo 13 took home PGA and SAG honors (not to mention a DGA Award for Ron Howard), but it lost Best Picture to Braveheart. Pundits, we have a problem, counters Gold Derby's Tom O'Neil:
"Braveheart pulled off a sneaky win because Oscar-watchers weren't paying attention to what was showing up in academy members' mailboxes. Braveheart was the first major Oscar contender ever to send out screeners to voters. Nowadays, of course, all contenders send screeners. Academy members received more than 50 this year. So it's an equal playing field that way….Yes, Lincoln can still win. I'm not discounting that. But it doesn't have the same secret ambush advantage that Braveheart had.
1. Argo
2. Lincoln
5. Life of Pi
6. Beasts of the Southern Wild
8. Amour
Best Director
America has spoken: Steven Spielberg should win the Academy Award for Best Director, according to a new Reuters poll. And while Lincoln has taken some serious shots in the last two weeks, Spielberg could recapture some of his momentum with a DGA win this weekend. Except that pundits now are predicting that Ben Affleck is the DGA frontrunner in the wake of Argo's PGA and SAG Awards wins. But this being one of the most unpredictable Oscar seasons in years, Affleck isn't nominated for an Oscar, so don't lose faith, America.
 1.Steven Spielberg (Lincoln)
2. David O. Russell (Silver Linings Playbook)
3. Ang Lee (Life of Pi)
4. Benh Zeitlin (Beasts of the Southern Wild)
5. Michael Haneke (Amour)