Glimmers Of Gold: Let The Oscar Index Begin!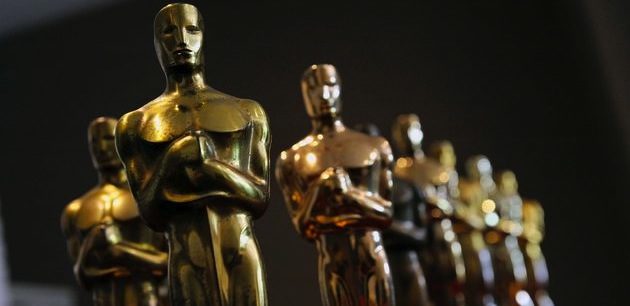 If you haven't noticed, there's a fierce battle being fought out there for the right to heft a gold statuette at the Dolby Theater on Feb. 24 and forget to thank some vital member of your family.  And though more than a half dozen pictures and performances that the blogosphere is touting as Oscar-worthy have yet to be seen by the public (and, in some cases, the very bloggers who are touting them), the virtual home office at Movieline has decided it's time to throw open the doors to the Institute For the Advanced Study of Kudos Forensics and start up the Oscar Index.
How The Oscar Index Works
This year, Movieline's Oscar Index will be presented differently than it has been in the past.  We'll soon add the now-iconic graph that tracks the weekly rise and fall of the candidates based on fluctuations in the Institute's extremely sensitive media seismometers. What will be different is that, with each award category that we track, we'll present four different rankings.
Movieline Executive Editor Jen Yamato, Managing Editor Brian Brooks and myself will each provide our personal weekly rankings of the movies and actors in the running, and then those results will be weighted and averaged to determine an official Movieline ranking for each category. This week, we begin with the Best Picture category. Next week, we'll weigh in on the Best Director, Best Actor, Actress and Best Supporting Actor and Actress races.
Oscar for Best Picture 2013
Right now, Lincoln is the picture to beat with its heart-and-soul performance by Daniel Day-Lewis — his world-weary slump-shouldered walk alone is worth the price of admission — a beautiful script by Tony Kushner and some pitch-perfect scenery chewing by Tommy Lee Jones and James Spader. The picture finishes at the top of two of our three lists, and Awards Daily calls it "Arguably, the best film of the year so far," adding: "Films this thoughtfully created don't come around very often."
The consensus at a number of blogsites, such as Indiewire, is that Ang Lee's Life of Pi, Ben Affleck's Argo and David O. Russell's Silver Linings Playbook are also going to be nominated for Best Picture. Paul Thomas Anderson's The Master has also been mentioned, but the film opened so early in the race and, with the exception of Joaquin Phoenix's comments about how he really feels about Oscars, the movie could use a second wind unless The Weinstein Company is shifting its weight to a Silver Linings push.
But coming up fast is Tom Hooper's Les Misérables, which our own Ms. Yamato notes, is "scaring" a lot of the other contenders.  Meanwhile, Michael Haneke's Amour and Benh Zeitlin's Beasts of the Southern Wild are long shots, but still in the race. Indeed, the latter film finished in the number 10 spot on each Movieline editor's list. An even darker horse is Skyfall, but I (alone) agree with Deadline that the movie's critical and box-office success and its popularity among Academy members bode well for a best-picture nomination.  Here's the rundown of each Movieline editor's Best Picture picks in descending order:
| | | |
| --- | --- | --- |
| Frank DiGiacomo's Picks | Jen Yamato's Picks | Brian Brooks' Picks |
| 1.  Lincoln |  1.  Les Misérables |  1. Lincoln |
| 2.  Silver Linings Playbook |  2.  Lincoln |  2. Silver Linings Playbook |
| 3.  Argo |  3.  Silver Linings Playbook |  3. Les Misérables |
| 4.  Les Misérables |  4.  Argo |  4. Argo |
| 5.  Life of Pi |  5.  Life of Pi |  5. Life of Pi |
| 6.  Skyfall |  6.  Zero Dark Thirty |  6. Amour |
| 7.  Zero Dark Thirty |  7.  Anna Karenina |  7. Django Unchained |
| 8.  Flight |  8.  The Master |  8. Anna Karenina |
| 9.  The Master |  9.  The Hobbit |  9. The Dark Knight Rises |
| 10. Beasts of the Southern Wild | 10. Beasts of the Southern Wild | 10. Beasts of the Southern Wild |
And the winners are...
Pages: 1 2