Damon Lindelof Has Some Zany Ideas For 'Star Wars Episode VII'!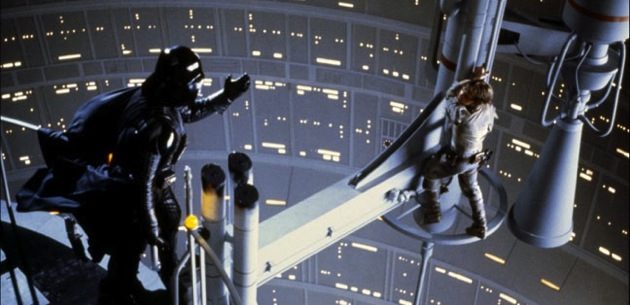 Prometheus writer Damon Lindelof may not be writing Star Wars Episode VII, but he can still suggest plot points. On Thursday, FirstShowing.net debunked some pretty rampant and persistent speculation that 1952, the science-fiction project that Lindelof and Brad Bird are writing for the new owner of LucasFilm, Disney, was the code name for a new Star Wars trilogy.  But just two days earlier, when rumors were still making the rounds, Lindelof took to his Twitter feed, to suggest some Episode VII ideas that were better suited to a Robot Chicken Star Wars special.

Damon Lindelof's Star Wars 7 Plot Ideas
"Chewbacca's great-great grandson is named Drewbacca and he must overcome his allergies to lasers and meat,"  wrote in one Tweet, which sounds just a tad more entertaining than the plot to the Star Wars Holiday Special.
In another, he suggested: "Yoda's Ghost gets annoyed by Obi-Wan's Ghost (too much whining) and they fight with Ghostsabers."
Lindelof posted both with the hashtag, "#IdeasForEpisodeVII"
Star Wars Fans Are Not Impressed
On Thursday, he also alluded to reaction over his rumored involvement in the new Star Wars trilogy. Linking to a post by Ain't It Cool News, Lindelof tweeted: "If I ever need a suicide note, I'll just print out this comments section," in which he gets  a bit of a thrashing.  Wrote one commenter: "Keep fucking Damon Lindelof away from this!"
George Lucas Donating Money From Star Wars Sale
In other Star Wars News, whatever you think about George Lucas' decision to sell LucasFilm to Disney, it's hard to take issue with his announcement that he'll be giving a chunk of the $4 billion sale of his company to a foundation supporting education.
"For 41 years, the majority of my time and money has been put into the company," 68-year-old Lucas said in a statement reported by The Wrap.com on Wednesday. "As I start a new chapter in my life, it is gratifying that I have the opportunity to devote more time and resources to philanthropy."
In 2010, Lucas signed the Warren Buffet and Bill Gates Giving Pledge in which participants commit "to giving the majority of their wealth to the philanthropic causes and charitable organizations of their choice either during their lifetime or after their death."
The website noted that Lucas is the chairman of Edutopia, which is part of part of the George Lucas Educational Foundation, and could put the Disney money into the foundation or create a new one.
[FirstShowing.net, Ain't It Cool News, The Wrap.com]
Follow Frank DiGiacomo on Twitter.
Follow Movieline on Twitter.