Q*Bert Lives! Disney Reveals More Photos From The Video Game World Of Wreck-It Ralph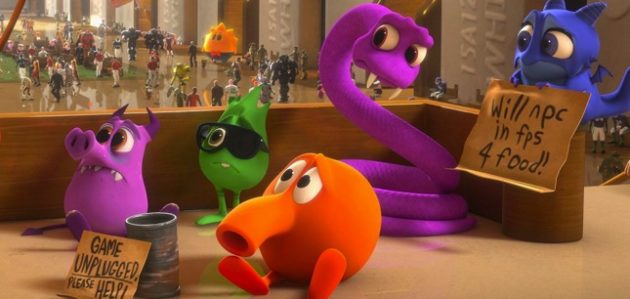 As Movieline's The Player columnist Luke McKinney noted earlier this week, Disney's Wreck-It Ralph could be the first true video gamer movie, in part, because of the way its animated cast of original characters mingle with some very recognizable classic video-game stars. And on Friday the studio offered a much deeper look into the world that Emmy-winning director Rich Moore has created for the big screen by releasing stills of characters from Wreck-It Ralph's world as well as some familiar computer-generated faces from other games.
Voiced by John C. Reilly,  Wreck-It Ralph's journey begins when he tires of always playing the bad guy to Fix-It Felix (30 Rock's Jack McBrayer) and heads off on a long, strange (but family friendly) trip through multiple generations of video games to prove that he's got the right stuff to be a hero.  On his vision question, Ralph meets some new pixillated friends, including  no-nonsense Sergeant Calhoun (voiced by Glee's Jane Lynch) from the Call of Duty-like Hero's Duty, and Vanellope von Schweetz (Sarah Silverman), a feisty gal in the candy-centric Mario Kart homage, Sugar Rush.  If I'm putting money on which of those two characters becomes the chaste love interest, it's Vanellope.  These and other answers will be revealed on Nov. 2 when the picture is released in Disney Digital 3D.