WATCH: The New Wreck-It Ralph Trailer Is The Best Thing Ever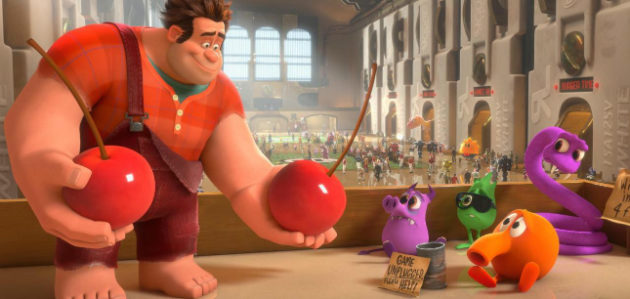 Children of the Nintendo generation, take heed: Disney's Wreck-It Ralph was made just for you. In addition to setting up a rather compelling hero's journey for video game character Wreck-It Ralph (voiced by John C. Reilly) — an arcade villain who goes "game-hopping" to reinvent himself as the good guy — the animated adventure stuffs in more Gen X/Y video game references than you can count. Who will weep for Bowser as he gives his testimony at AA for baddies!?

I say Nintendo generation (and by that, I mean NES) because we bridged the gap between the 8-bit/Atari era and the slicker Xbox crowd that followed years later. We who popped quarters into stand-ups and owned Sega Dreamcasts know the sorrow of saying goodbye.
Wreck-It Ralph features the voices of Sarah Silverman as Vanellope von Schweetz, Ralph's 9-year-old new BFF from the Candyland-like game Sugar Rush, Jane Lynch as Sergeant Calhoun from the first-person shooter Hero's Duty, and Jack McBrayer as Fix-It Felix, the handyman hero of Ralph's world. Also onboard bringing Wreck-It Ralph to life: Dennis Haysbert, Mindy Kaling, Alan Tudyk, Rachael Harris, Ed O'Neill, Adam Carolla, Horatio Sanz, and Edie McClurg.
Credit for the film's fresh, zingy spirit goes to director Rich Moore, veteran of The Simpsons and Futurama, and a script credited to Phil Johnston (Cedar Rapids) and first-timer Jennifer Lee. Wreck-It Ralph hits theaters November 2.
Verdict: Jokes! Drama! Q*bert! Maybe I'm still high off the nostalgia factor but I declare this a must-see.
[Via Yahoo]