Sarah Silverman Talks Peep World and Distancing Herself from 'Jewish Comedian Sarah Silverman'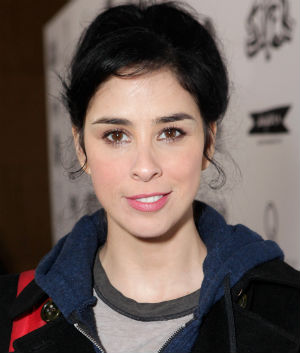 Speaking with Movieline at the end of a long day of interviews for Peep World, an ensemble comedy-drama in which she plays a spoiled aspiring ingenue, comedian/television star/film actress/bestselling author Sarah Silverman clutches a red backpack close, prepared to escape the strange confines of the luxury hotel she's been sitting in for hours. At odds with the confrontational comic persona that dominates her screen and stage persona, Silverman is gracious and thoughtful discussing her character, the wonders of Twitter, and more, but there's one thing she's really tired of: Being known as the "Jewish comedian Sarah Silverman."
It's a quandary of her own making, she admits; in branding herself with her Jewish princess persona, a sly mockery of a culture filled with shallow perceptions and labels, Silverman inadvertently dug herself into a hole when she broke out of the stand-up comedy circuit years ago. Ironically, her latest film role finds Silverman playing Cheri Meyerwitz, the coddled sister in a group of adult siblings whose family is, to put it bluntly, a horrible band of self-involved Los Angelenos.
But Peep World offered Silverman a unique opportunity: The chance to play a more textured character than "what Jewish girls get offered" in a cast that includes Rainn Wilson, Michael C. Hall, Ben Schwartz (recently interviewed by Movieline's Christopher Rosen), Stephen Tobolowsky, Ron Rifkin, Leslie Ann Warren, Judy Greer, and Lewis Black. Currently on tour with her one-woman stand-up show, Silverman will next be seen in writer-director Sarah Polley's Black List entry Take This Waltz.
You recently popped up on Bill Maher's 12 Mile...
He tricked me into that! But I don't regret it. I would have liked to put a little red on my cheeks, but it was fun.
In it, ironically, he asked you why you're not in more movies. But here we are talking about Peep World. What did this offer you that so many other movie projects don't?
You know, I've played plenty of bitches or whatever because that's what Jewish girls get offered, but this was not some two-dimensional, lazy exposition, being put in to be a foil for the protagonist [character]. It was very three-dimensional character, part of a family, a person who is awful and you don't want to be around but who is drowning and you can probably sympathize with her. Who is a malcontent, unable to be happy not in a tortured sense, but in a finger-pointing, blaming [way]. The image in my head is that she's drowning, and if you try to save her she'll pull you down with her. So she's very needy but she makes it impossible for anybody to satiate that need. She's unbearable. And I think that's interesting. I know people like that. It's interesting to me.
Not coincidentally given all of that, she's also an actress -- a struggling actress, that is.
Ugh. Just delusional and heartbreaking and a bummer. And I think that's neat.
Despite -- or perhaps because of -- her miserableness, was the dinner scene a particularly fun one to film, with so many funny people sniping at each other?
It was so fun. We had all shot our separate stuff and the dinner was the last week. It was so fun to come together and just fall in love with each other. Ben [Schwartz] and Mike [Michael C. Hall] and I became really good friends. But everybody loved each other. Ron Rifkin and Stephen Tobolowsky are just the best storytellers, and tell the greatest stories about their long careers. I love great stories. I'll just listen all day. So it was a joy, it was so fun. And then you say, "Action!" and we get to hate each other and be angry. It felt playful, just really, really, really pretending.
You were one of many celebrities who Tweeted about Charlie Sheen when he first began his warlock shtick. Do you see his shenanigans on some level as a comedy routine, some sort of performance art?
No, no. It's amusing, but it's amusing in the "slowing down to see a car accident" kind of way. It's ultimately sad, you know. I'm completely drawn to that stuff and I love it, but it's sad.
Over the course of your career you've branched out from stand up into television and film, books, web series, and Twitter...
I love all the different kinds of mediums! I love how accessible everything is right now. When I have friends that say, "I can't get a break," -- really, you're a comedian! You're a writer. Make something great and put it on the Internet for no money! Everything is so totally accessible and I love taking advantage of that. Twitter, I scoffed at it at first and it's become this really special message in a bottle for me; a way to try jokes, a way to actually express myself sometimes -- even real feelings sometimes, even. I just love all these chances. I want to take advantage of all of them.
Years ago in an interview, Michael Musto described you fondly as a "wonderfully high-reaching Jew," riffing on the self-identified image you broke out with. How do you feel about that label now?
"High-reaching Jew..." You know, it's funny. I'm so associated with being Jewish -- and I do it myself -- but I have no religion. To me it's cultural, it comes out of my pores. I can't control it. I wasn't raised with any religion, I have no religion, but it's become such a part of me. "Jewish comedian Sarah Silverman!" You know what I mean?
Is that an association that you'd like to pull back from?
I'd love to just be called "comedian Sarah Silverman." Also... comedienne. "Oh, you're the funniest, uh, female comedian." Really? Do you say that Chris Rock's the funniest black comedian when you see him? It's such an odd thing. I don't get offended; I just find it so peculiar and odd, but it's just normal to people. It's normal because everyone does it.
Peep World is in limited release today.