Jane Lynch on Glee, iCarly and SNL: 'I'm Scared to Death!'
It feels like Jane Lynch is everywhere these days, even though Glee doesn't return until next month and her highly anticipated Saturday Night Live stint isn't until October. Last night, the ubiquitous star popped up at a Chopard pre-Emmy bash at Cecconi's (that's her in the Audi R8 Spyder above), and Movieline grilled her about new Glee adversaries, SNL jitters, and the iCarly gift she made to her daughter.
So, Saturday Night Live! Way to go.
I don't even know if I'm allowed to confirm or deny it now!
Oh, it's confirmed.
Yeah, I think it's confirmed, too. I'm going in October and I'll be there for a week and I'm scared to death. But I'm really excited, too.
You have a pretty strong sketch comedy background. Is SNL something you had hoped to do someday?
Well, yes. It's always something I've aspired to do, and I love sketch, but I've been doing TV a long time now, and you get to have "take two." Not on Saturday Night Live! You get "take one" and that's it, baby.
I heard that one of your Glee writers might be going out to New York with you?
Well, I don't know if that's going to happen, but I begged them to allow Ian Brennan to come with me. He writes everything Sue Sylvester says, so it'd be nice if they let him come. I don't know.
Would that just be for the Glee sketch I'm assuming will happen?
I'm not sure, but Ian's just a great writer. He's hilarious, and I just always want him around me.
Let's talk about the upcoming season. Does Sue have any new nemeses this year?
Yes, there's a character named Coach Beast. She's a six-foot-four lady, and she's the new football coach. I give her a very, very hard time.
Who's playing her?
Dot Marie Jones is her name. She's this wonderful actress, six-foot-four. She is a beast! Very tall, strong hands. She gives a great massage.
You're a tall lady too, Jane.
I am. It's so funny, because I go eye-to-eye with her, and then she rears up, and I'm like, [shrinking down]. I'm only six feet!
Only six feet.
[Laughs] Yes, only six feet.
Have you taped any musical moments for the season yet?
Not yet, and I don't know if I'm going to have any.
Do you get notified well in advance when that happens?
Oh yeah, you get fair warning. So I haven't heard yet.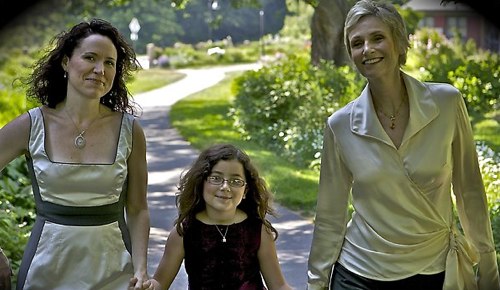 I heard you recently taped an episode of iCarly...
Yeah, that was the best! My daughter's a huge fan and I'm a huge fan of that show -- we watch it together and I think it's so clever. It got out that in my wedding vows, I promised to get her iCarly tickets, and somebody told them I said that, and they said, "Well, we don't do audience tapings, but do you want to be on it?" And I said, "Yeah!" So Hayden and her best friend Miles were both on set for the whole thing. It was great.
Did they lose their minds?
They were like, [eyes widened]. I looked over to the side and Hayden was bouncing up and down. She couldn't control the energy in her body! She kept saying, "Can I hug you? Can I hug you?" She wanted to get in on the act.
And you played a very important character.
I play Sam's mom, who's been long referred-to.
Like Carol Burnett, coming to play Sue's long referred-to mother on Glee.
Exactly. I got to play someone who's been existing in people's minds for a long time, and I hope I did not disappoint.