WATCH: The Cults of Celebrity: Famous Faces at The Master Screening in New York Reveal What They Worship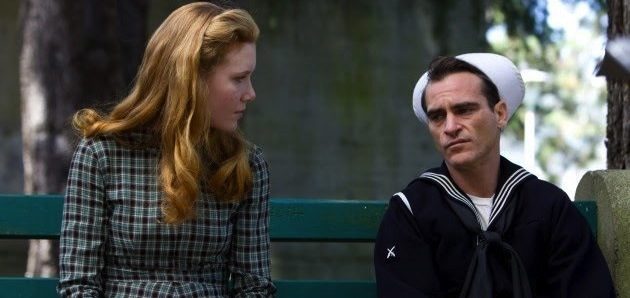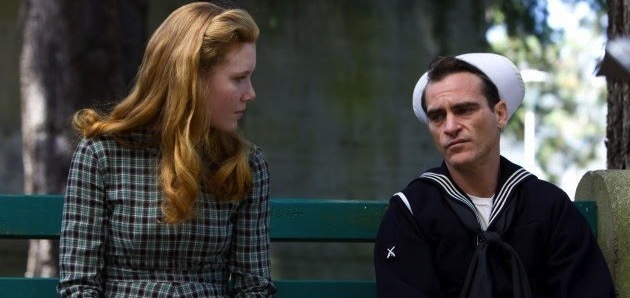 An advance screening of Paul Thomas Anderson's The Master brought out the glitterati to New York's Ziegfeld Theater on Tuesday night. Walking the red carpet before show time were cast member Amy Adams, actors Adrien Brody and Edward Norton, plus a few of our favorites from everyone's latest HBO obsession, Girls.
During the frenzied step-and-repeat, reporters referenced the film's story — which involves an L. Ron Hubbard-like cult founder — to pose questions about Scientology. This didn't exactly go over well, and a lot of those questions went unanswered. Given the film's title, Movieline decided to let our interview subjects be the, um, masters of their own domains and asked them a single question: if you were going to start a cult, what would be its core idea or principle?
Read on for responses from Master cast member Madisen Beaty – who plays the object of Joaquin Phoenix's affection, Doris  – fashionista Derek Blasberg and Huffington Post founder Arianna Huffington.
Also, make sure to check out the video of Movieline pal Grace Randolph's interviews with Adams, who talks about playing Lois Lane in next year's Superman movie,  Beaty, and Across the Universe director Julie Taymor.
Dylan Baker, actor: "Peanut-butter-and-jelly Fridays. Maybe chips, if you'd insist."
Geoffrey Fletcher, screenwriter: "Tolerance."
Madisen Beaty, actress (Doris in The Master): "To accept people as they are. I know that might sound cliché but, a lot of times today, it's all about your looks and what you do. I think it should be more about who we are as individuals. Whatever you believe, everyone should be accepting."
Olivia Culpo, Miss USA 2012: "A cult?! Confidently beautiful. It would be a cult of people trying to make everybody feel as beautiful as they can — not because of how they look but because of how they feel."
Derek Blasberg, writer/author: "I'd make everyone dress up. I spend so much time in airports, so I get to see the really poorly dressed subsets of American culture. So, I'd ban sweat suits in airports. That would be the basis of the cult."
Emily Meade, actress: "Any ideas I would have would go against starting a cult, but maybe the cult would be anti-cult, finding your own inner path and whatever you feel is right is right. So, it'd be a very ironic cult."
Albert Maysles, filmmaker: "Direct cinema!"
Arianna Huffington: "It would be about reducing stress in our lives. I think we're all too stressed out. It would be about unplugging and recharging."
Thomas Matthews, actor: [Guttural/maniacal laugh] "Metropology*: the worship of a city. You know how pantheism is the worship of nature? This would actually be worshipping somebody like Frank Lloyd Wright. So, you could actually pray to the city gods, for, like, the subway to come sooner and that kind of stuff."
*an invention of Matthews, we presume.
Josh Hamilton, actor: "I'd start a cult of my son."
Jennifer Missoni, actress: "It would be about acceptance. Acceptance to surrendering to whatever is. But, then again, I could never define anything that I would do in terms of being in a cult because I believe in 'to each his own' and whatever makes anyone happy. But, for me, it would be generally about acceptance and allowing what is to just be."
Nell Alk is an arts and entertainment writer and reporter based in New York City. Her work has been featured in The Wall Street Journal, Manhattan Magazine, Z!NK Magazine and on InterviewMagazine.com, PaperMag.com and RollingStone.com, among others. Learn more about her here.
Follow Nell Alk on Twitter.
Follow Movieline on Twitter.