Lena Dunham Sexes Up The New Yorker! Girls Creator Subs For Remnick In Short Film For Mag's iPhone App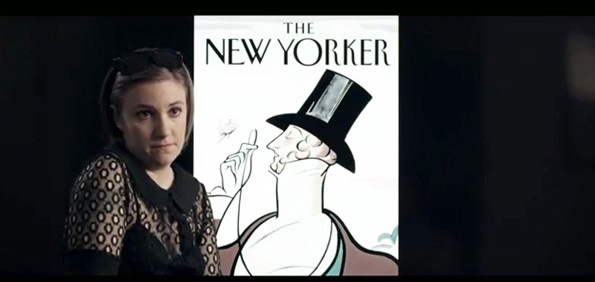 Lena Dunham pokes a nice-sized hole in The New Yorker's we're-witty-not-funny facade with her promotional-film-within-a-film for the magazine's new iPhone app.
In the first part of the clip, the Tiny Furniture filmmaker and Girls creator — who never lets her ego get in the way of good comedy — lolls around in a ridiculous pair of pants on a talk show hosted by Mad Men's Jon Hamm. After explaining to Hamm's technologically retarded character just what an iPhone app is, Dunham does what every talk-show guest does eventually: urges him to play her clip.
Dunham stars as the New Yorker's editor, despite bearing little resemblance to the publication's actual chief, David Remnick. Girls cast member Alex Karpovsky also appears as her slow-witted assistant and offers up a series of slyly stupid reaction shots as Dunham then gives a so-rudimentary-its-funny demonstration of the app for those New Yorker readers who are really fighting the leap from print to digital. After breaking it down for the Luddite crowd, Dunham then suggests that she and her assistant have sex the following week.
Actually, that's the one false note of Dunham's short. Everyone who's ever worked at Conde Nast knows that the first rule of The New Yorker's Sex Club is that you don't talk about Sex Club — until a fact checker vets your comments.
Check out the clip below, then write the New Yorker to suggest that Dunham, who has contributed a couple of smart pieces to the magazine, guest-edit a future special issue about anything she damn well wants. That kid is full of good ideas.
Watch It on YouTube.
Follow Frank DiGiacomo on Twitter.
Follow Movieline on Twitter.