WATCH: Trailer For The Master Declares 'Man Is Not An Animal' (The Elephant Man Would Agree)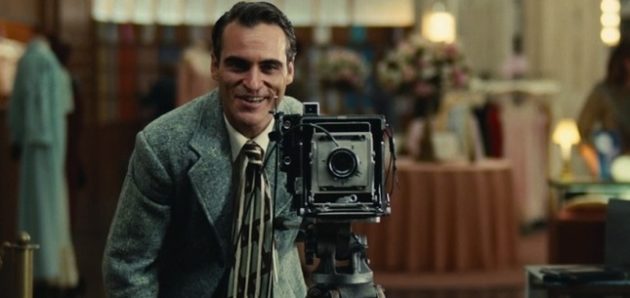 I'm glad Philip Seymour Hoffman is in voiceover — and not in his underwear — when he declares "Man is not an animal" at the beginning of the final theatrical trailer for Paul Thomas Anderson's highly anticipated film, The Master.  Otherwise, the line — which is accompanied by a scene of Phoenix rhythmically pounding his fists on a table — would recall a little too closely the scene from David Lynch's classic 1980 film The Elephant Man in which the tormented titled character, played by John Hurt, wails "I am not an animal...I am a human being!"  (Actually, I'm conflating here. Hurt isn't in his underwear in that scene, but Bradley Cooper did play the character, as directed, in his skivvies in Williamstown, Mass. just a few weeks back.)
Phoenix, who acts out with his fists more than once in the trailer — and with a pistol —  plays a Navy veteran who falls in with the charismatic leader of The Cause (Hoffman), a quasi-religious movement with parallels to Scientology. In one scene, a character portentously declares: "Good science allows for more than one opinion. Otherwise you really have the will of one man, which is the basis for a cult." That's followed by a voiceover of Amy Adams, who plays Dodd's wife, saying: "The only way to defend ourselves is to attack," a line that could be interpreted as a reference to Scientology's  reputation for fighting back aggressively, particularly in the media, when its organization comes under scrutiny.  Here's the trailer.  The Master opens on Sept. 21.
Follow Frank DiGiacomo on Twitter. 
Follow Movieline on Twitter.