Alternative Music Pioneer Peter Ivers Lives On Via Limited-Edition Eraserhead Soundtrack Release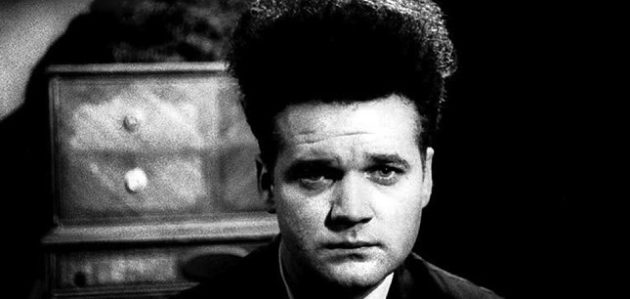 Still enthrallingly spooky after all these years, the soundtrack to David Lynch's groundbreaking — and mind-blowing — 1977 film Eraserhead got a lovingly produced limited-edition vinyl release on Tuesday that, I hope, refocuses attention on the life and tragic death of one of its key contributors, Peter Ivers.
Sacred Bones records released a sweet deluxe edition of the soundtrack that initially was limited to just 1,500 copies, but after that first edition sold out, the Brooklyn, NY-based indie label has agreed to press a second edition of just 1000 copies, which it's selling for $25.00.
The package includes the soundtrack in vinyl and digital form — a convention-shattering soundscape of industrial bleeps, buzzes and hums that Lynch and sound designer Alan Splet spent years perfecting. Also included: a 16-page booklet featuring beautifully reproduced production stills that show Lynch dressed like a 20th-Century iteration of Johnny Appleseed.
For me, the cornerstone of the release is Ivers' work, not only the movie's eerily old-timey theme song, "In Heaven," which was sung by the Lady in the Radiator in Lynch's film, but a previously unreleased Ivers composition, "Pete's Boogie," that was discovered during the transferring of the original soundtrack audio tapes.
The Illinois-born, Brookline, Mass.-raised Harvard graduate was a musician whose close friends included National Lampoon founder Douglas Kenney and Saturday Night Live and Animal House star John Belushi.
In the 1970s, Ivers recorded for Epic and Warner Bros Records, and beginning in 1981, he amassed a fervent cult following as the free-associative poetry-spouting host of New Wave Theatre on the USA  cable network's  Night Flight program block. A kind of underground SNL, the show  featured comedy and alternative bands such as the Dead Kennedys and the Angry Samoans that were really not ready for prime time.
Like his friends Kenney and Belushi, who died, respectively, in 1980 and '82, Ivers would not make it to mid-decade. In March  1983, he was found bludgeoned to death in his Los Angeles apartment.  According to Wikipedia, new information in a book about Ivers' life prompted the L.A, Police Department to reopen the investigation into his death.  I contacted the LAPD to see what the status of that investigation is, and am waiting on a reply.
Stay tuned.  In the meantime, here's an example of Ivers' inspired New Wave Theatre work — further proof,if you ask me, that his life is worth reexamining.
Watch It On YouTube.
Follow Frank DiGiacomo on Twitter.
Follow Movieline on Twitter.