Seven Psychopaths Filmmaker Martin McDonagh Hopes To Revisit Musical With Tom Waits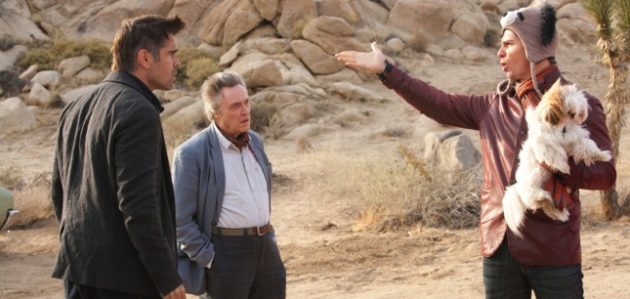 One of my favorite movies to screen at the Toronto International Film Festival was Seven Psychopaths, which was written and directed by Irish playwright-turned-filmmaker Martin McDonagh.  Beginning in the mid-1990s, McDonagh caused quite a stir in New York's theater world with his funny, macabre plays,  The Beauty Queen of Leenane,  A Behanding in Spokane and The Pillowman. And in 2008, he turned heads in the film world with his debut feature, In Bruges, which he also wrote and directed.  (If you haven't seen that film, you should before CBS Films releases Seven Psychopaths on Oct. 12. It's a dark comic gem with genuine emotional depth about two hit men who go on the lam when a job goes wrong.
Seven Psychopaths finds McDonagh in Quentin Tarantino territory, and dare I say, the Pulp Fiction director should watch his back. (By the way, the two have never met.) McDonagh has a stylish way with violence — there's an exploding head scene in the movie that rocked my world — he structures his films to move like sleek sports cars, and his black wit is sharper than QT's. (Yes, I did just assert that.)  Check out the trailer below for a riff on Gandhi's "an eye for an eye" quote that, thanks to Sam Rockwell's delivery, makes me laugh every time I hear it.
In Seven Psychopaths, Rockwell plays a struggling smart-ass actor who, with his non-violent partner-in-crime (Christopher Walken), does a bit of dog-napping to make ends meet. The fun begins when he makes off with the Shih Tzu of a cold-blooded gangster (Woody Harrelson) and implicates his blocked screenwriter friend (Colin Farrell), who happens to be working on a script identical to the film's title.  (By the way, Farrell, who's tight with McDonagh, has done some of the best acting in his career in In Bruges and Seven Psychopaths.)
I interviewed McDonagh in Toronto, and I'll be posting the results on Movieline closer to the release date of Seven Psychopaths.  In the meantime, there was one morsel from our conversation that I wanted to share now. The film also stars singer/songwriter Tom Waits as a bunny-loving psycho with some Dexter similarities, and when I asked McDonagh what his next project might be, he told me that he and Waits had been working on "a creepy fucked-up musical" that, he said, Waits was calling A Very Dark Matter.  He added that their collaboration was in the vein of The Black Rider: The Casting of the Magic Bullets, the creepy-funny stage musical that Waits created with avant garde theater director Robert Wilson and Beat maniac William S. Burroughs.
After my interview with McDonagh, I searched through some of Waits fan forums and found reference to the project. According to one,  Wilson was involved with the musical, which was supposed to debut in Paris in 2011, and the story was based on Hans Christian Andersen's 1847 fairy tale The Shadow, in which a man's shadow gets the better of him.
"It kind of fell through," McDonagh said of his collaboration with Waits. But, he added, "it's in the back of my mind to do."
I think a musical by these two masters of black comedy is an exciting idea, and I encourage their fans to encourage them to resume collaborating.  In the meantime, watch the Seven Psychopaths trailer.
Follow Frank DiGiacomo on Twitter.
Follow Movieline on Twitter.