Quentin Tarantino Tackles Slavery: 'You're Going to Want to Talk After' Django Unchained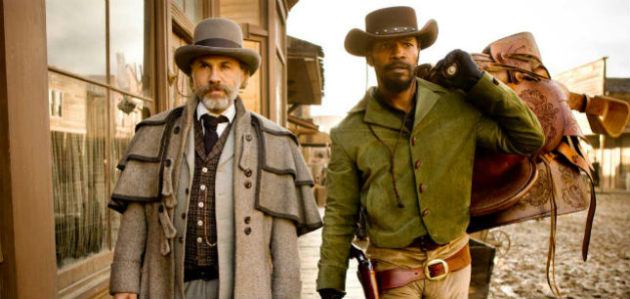 Re-writing the fate of Hitler's Nazi Germany was just the start for Quentin Tarantino, whose American South-set spaghetti western Django Unchained, his follow-up to the Oscar-winning Inglorious Basterds, tackles another ugly moment in world history: Institutionalized slavery. But are audiences ready to process the tough reminder of America's regrettable past that lies not-so-deep beneath the surface of Tarantino's revenge Western?

Tarantino and stars Jamie Foxx, Kerry Washington, Christoph Waltz and Walton Goggins hit Comic-Con to share footage from Django Unchained, the tale of a slave (Foxx) freed by a bounty hunter (Waltz) who sets off to rescue his wife from a Southern plantation owner (Leonardo DiCaprio). While grindhouse-esque violence, a bright pop canvas, an oily and evil DiCaprio, and Tarantino's encyclopedic affinity for the genre have already made Django one of the most anticipated films of the year, deeper reflections demanded by the s-word — slavery — could make Django a real socio-historical conversation-starter.
"When I read this script the first time I thought, this was going to start a revolution," recalled Goggins, who filmed his part as Billy Crash, Candie's right hand man, during time off from TV's Justified. "Not necessarily people in the streets, but an inward revolution. I think it's going to play a significant part in race conversations. I keep saying this over and over again: Make your dinner reservations now, because you're going to want to talk after this movie."
In the film, Foxx's Django is freed from bondage on the condition that he help Waltz's Dr. King Schultz hunt down a pair of sibling outlaws, a set-up that allows Django to literally cast off his shackles and start kicking ass in retribution. But while Foxx seems to acquit himself quite while in the first promos, he points to castmate Washington for her bravery in the face of some of the film's most difficult scenes.
Between takes of a scene in which Washington is lashed, Tarantino piped in a song by gospel singer Fred Hammond through on-set speakers per Foxx's request. The actor recalled the emotional scene. "The song was, 'No weapons formed against me shall prosper,'" he said, singing the melody. "When that song was playing, one black lady [extra] from New Orleans who had never been on a set before, I see her hands go up like this. And I see her rocking back and forth with the child that she was standing with… You'll see it on screen. You'll feel it."
Washington, meanwhile, found strength within the love story at the center of Django (which reunites her with Foxx, who played her onscreen husband in Ray). "One of the things I loved about this character is that she exists in a time when historically, black women were of a necessity independently strong, and the breakdown of the black community in order to maintain slavery began with the breakdown of the black family," she said. "I loved that this film is about two people who, even though they exist in a time when in our Constitution they're only 3/5 a human being, they so believe in their own humanity and so believe in the love that they share and their illegal marriage that they risk life to find each other."
While Washington's Broomhilda isn't the kind of action-oriented leading lady of Tarantino's previous films, she marks a different kind of cinematic milestone. "The fact that Broomhilda gets to be the princess in the tower that gets rescued by her man in a way that kind of reclaims black marriage and black love, to me, is a different kind of strength," Washington said. "I felt like the black woman as the princess in the tower who's rescued is an archetype we haven't been able to enjoy."
Diving into the themes and world of the antebellum South was tough for everyone on set, Goggins admitted. His Billy Crash — a "mandingo fight trainer extraordinaire" on Candie's plantation — serves as one of the film's antagonists, and required Goggins to go to some particularly ugly places in character. "While liberal Walton didn't have anything to apologize for, I began every take with an apology because these are my friends, outside of what it means to a race of people and to everybody," he said.
"It's not easy. It's awful to say these things, but you're in the service of something much greater than yourself and you're telling a piece of history that is the biggest blight on our history as a country, and it needs to be retold."
Django Unchained hits theaters this Christmas.
Read more from Comic-Con 2012 here.
Follow Jen Yamato on Twitter.
Follow Movieline on Twitter.