Wah-Wah-Weekend Receipts: Not Screened Cold Light Of Day Rings In Lousy Box Office Weekend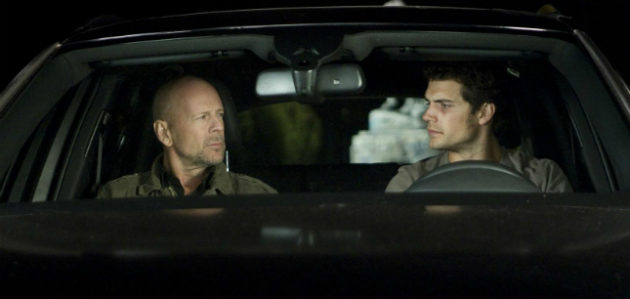 Woe is the poor, lonely Henry Cavill actioner Cold Light of Day, which opened in wide release and climbed its way to the bottom (well okay, #13) with a paltry $1.8 million take. As in, TOTAL. Not screening a film and giving it virtually no promotion will do that, even with the future Superman holding a gun and Bruce Willis and Sigourney Weaver posing like the T-800 on the poster. But it was also a terrible movie-going weekend all-around, with the bleakest numbers in recent memory spreading across all comers. Hit it for the Debbie Downer of Weekend Receipts and let's all look to Finding Nemo and Milla Jovovich's leather pants next week for salvation.

1. The Possession
Gross: $9,500,000 (Cume: $33,349,000)

Screens: 2,834 (PSA: $3,352)

Weeks: 2 (Change: -46.4%)
Lionsgate's supernatural horror-thriller held the top spot with just $9.5 million in receipts - yikes. Expect the Jeffrey Dean Morgan-dybbuk picture to drop next week when real competition from genre sequel Resident Evil: Retribution muscles its way into the box office.
2. Lawless
Gross: $6,002,000 (Cume: $23,520,000)
Screens: 3,138 (PSA: $1,913)
Week 2
How refreshing to see a movie for grownups zooming up the charts! Even with a less-than-stellar $1,913 per-screen take, the violent, sweater-filled Shia LaBeouf-Tom Hardy period drama is still director John Hillcoat's biggest opener to date, behind 2009's The Road ($8.1M gross) and 2006's The Proposition ($1.9M gross).
3. The Words
Gross: $5,000,000
Screens: 2,801 (PSA: $1,785)
Week: 1
Despite a concerted marketing push, CBS Films notched a dud with this Bradley Cooper drama about a writer and a book and his lady and something something something... which goes to show that if your target audience doesn't quite get what your film is about, they won't show up in droves to see it. The Words was acquired at Sundance for $2 million, so at least it's not a huge wash, but don't expect this one to break out in the coming weeks.
4. The Expendables 2
Gross: $4,750,000 (Cume: $75,417,000)
Screens: 3,260 (PSA: $1,457)
Week: 4 (Change: -47.4%)
Sly Stallone & Co's old dudes kicking ass sequel made a splash this summer but suffered a -47.4% drop off. Could it be the testosterone-seeking set stayed home to watch beefy men hit each other on the football field instead?
5. The Bourne Legacy
Gross: $4,000,000 (Cume: $103,700,000)
Screens: 2,766 (PSA: $1,446)
Weeks: 5 (Change: -44.7%)
At least the terrible weekend put Bourne Legacy into the $100 mil club. (Worldwide take to date: $165 million.) Just a few weekends more and Universal should make back its costs + P&A!
6. ParaNorman
Gross: $3,830,000 (Cume: $45,098,000)
Screens: 2,856 (PSA: $1,341)
Weeks: 4 (Change: -41.7%)
The technically amazing (but pretty damn dark) stop motion/CG kids tale earned some of the highest critical praise of late, matching The Dark Knight Rises with an 87 percent Tomatometer ranking. Fingers crossed more kids and parents seek it out next week as the much fluffier Finding Nemo 3-D re-release barrels into theaters.
7. The Odd Life of Timothy Green
Gross: $3,650,000 (Cume: $43,007,000)
Screens: 2,717 (PSA: $1,343)
Weeks: 4 (Change: -41.8%)
The tree-child-made-of-wishes picture suffered its biggest decline in week 4, on par with most of the weekend's contenders. Was this odd fantasy not what children everywhere were jonesing for as they began their intrepid march back into the classroom? Did parents the nation 'round not clamor to see a weird-ass movie about infertility and magical babies as they re-acclimated to the grinding realities of sending their young back to school??
8. The Campaign
Gross: $3,530,000 (Cume $79,473,000)
Screens: 2,542 (PSA: $1,389)
Weeks: 5 (Change: -38.2%)
Well, we had more interesting (and comical) political entertainment to watch on TV last week.
9. The Dark Knight Rises
Gross: $3,285,000 (Cume: $437,849,000)
Screens: 1,987 (PSA: $1,653)
Weeks: 8 (Change: -46.3%)
I love it when huge blockbusters with record-breaking box office tallies still sneak their way into the Top 10 with tiny returns. Are these repeat viewings or first-time TDKR-watchers? Who waits two months to see The Dark Knight Rises?? So many questions.
10. 2016 Obama's America
Gross: $3,281,000 (Cume: $26,088,000)
Screens: 2,017 (PSA: $1,627)
Weeks: 9 (Change: -41.5%)
Despite a significant -41.5% drop-off from last week (when it ranked #9), the polarizing partisan doc has reached its widest release, hitting 2,017 theaters nationwide. It's now the longest in-theater release in the Top 10, with a $26 million cume to date.
--
13. The Cold Light of Day
Gross: $1,800,000
Screens: 1,511 (PSA: $1,191)
Weeks: 1
WOW. Despite starring Bruce Willis, Henry Cavill, and Sigourney Weaver, poor little Cold Light of Day - the first wide release of its kind to not be screened for critics in a while - opened in wide release outside of the Top 10. The cold shoulder from Summit Entertainment helped the thriller on its way to an early theatrical grave.
[Source: Box Office Mojo]