Lawless Director Says Story-Driven Filmmaking 'Tough' In U.S.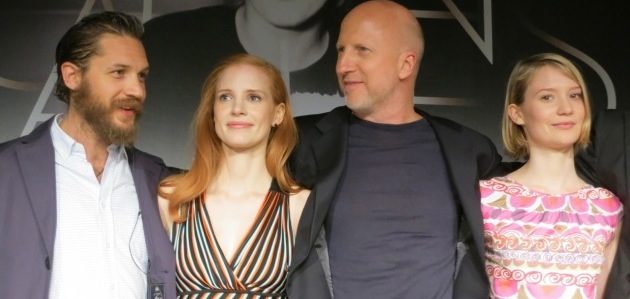 Director John Hillcoat spent ample time in the the American South, the setting for his latest bootlegging drama Lawless. Starring Shia Labeouf, Tom Hardy, Gary Oldman, Guy Pearce, Jessica Chastain and Mia Wasikowska, the film is inspired by the true-life stories of Matt Bondurant's own family in his novel, The Wettest County in the World and adapted for the screen by rocker Nick Cave. Lawless begins its roll out in the U.S. Friday.

A native of Australia and raised in Canada, Hillcoat nevertheless seems at home in the U.S., or at least feels in the know when it comes to non-studio filmmaking. In Cannes ahead of its world premiere in May, Hillcoat sounded off on the arduous undertaking of film that is story-driven and not reliant solely on gimmickry. Without mentioning any specific examples, he lamented that the business of motion pictures has crowded out filmmakers who use plot as a vehicle for entertainment.
"I'm interested in stories in America and Australia or anywhere really, but the state of this is pretty tough now," he said. "My world [of filmmaking] is medium budgets with characters and story. Those are not words you can use right now in the U.S., unfortunately."
The director of The Road (2009) and The Proposition (2005) and a host of music videos by artists including Siouxsie and the Banshees, Bush, Depeche Mode and Nick Cave (who adapted the screenplay for Lawless after previously collaborating with Hillcoat on The Proposition), said there is one medium that dominates storytelling, at least in America.
"Television has picked up characters and drama," he said. "Hopefully this will filter back into films once again."
Though his story is set against Depression-era Appalachia, Hillcoat sees Lawless as a parallel to a litany of social crises that have arisen in subsequent decades after the 21st Amendment to the U.S. Constitution effectively ended the federal prohibition against alcohol.
"There are a lot of parallels to today with the economic crisis, today's Mexican cartels, heroin in New York, crack and cocaine in the '80s and the war on drugs. All this feeds back to Prohibition in the '30s."
[Movieline first published a version of this article at the 2012 Cannes Film Festival]